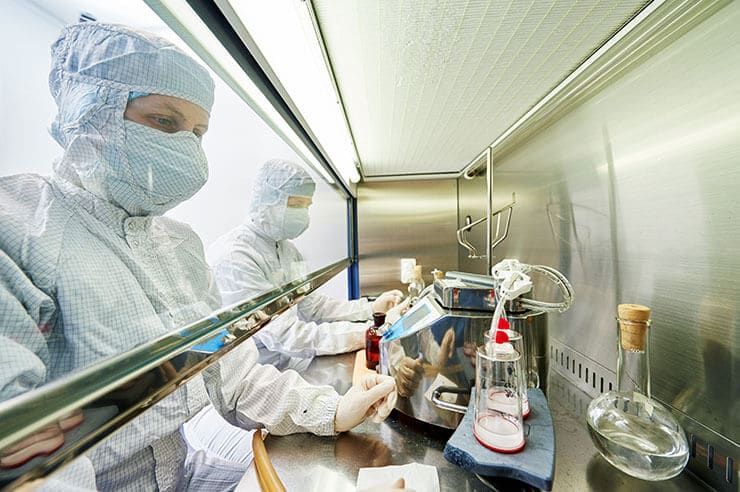 What are Careers in Pharmaceuticals?
There are a huge variety of careers available in the pharmaceutical industry from laboratory-based research and development, clinical trials, regulatory affairs, manufacturing, engineering, quality assurance, quality control, validation all the way through to marketing, sales and distribution. Almost any skill set will find a career to match.
On this page you'll find:
Click on a link above to jump straight to that section, or scroll down to read them all!
Pharmaceutical manufacturing is the making of medicines on an industrial scale.
For a medicine to get to the manufacturing stage, it has already gone through all research and discovery phases, and has been thoroughly tested. The manufacturing stage is about following the same "recipe" to create the same medicine again and again.
For this reason, manufacturing medicines isn't really about science, it's about systems. It's about following processes and checking quality. This helps to make sure that the products are the same every time they're made so that patients can rely on their medicines. For a tablet product, the manufacturing process can be broken down into a series of steps:
Chemical Synthesis:
Combining chemicals together to make the "raw medicine" (the part that has the medical effect on a patient). This is known as the Active Pharmaceutical Ingredient or API.
Formulation or preparation:
The medicine is then mixed with other ingredients (known as pharmaceutical excipients) that are needed within the final the product. Different pharmaceutical excipients serve different purposes in the final medicine.
Examples include making sure it's protected and stable enough to be packaged and get to the patient, making sure the API can be used by the patient's body, or making sure the tablet is identifiable (which is important for patient safety). Processes like milling and granulation also happen here.
Tablet compression:
Shaping the final mix of ingredients into pills.
Tablet coating:
Often done to protect the pills and make them easier for a patient to swallow.
All stages of pharmaceutical industry operations are closely regulated and monitored by bodies such as the US Food & Drug Administration (FDA) and the European Medicines Agency (EMA).
This level of regulation ensures that products are made safely and correctly, every single time. Which is important, there doesn't get to be "good" batches and "not so good" batches of medicine… for obvious reasons! Because of this, pharmaceutical manufacturing is a unique and highly regulated environment.
Check out this video from AstraZeneca for an overview of the pharmaceutical manufacturing process…
If you're considering this type of manufacturing career, there are some related industries that might also be of interest. These industries rely on the same strict regulations and specialist training…
Pharmaceutical Manufacturing
The traditional idea of medicines – made using chemical synthesis, as outlined above. Making small active molecules from scratch and 'packaging' them in a way the body can use (like in a tablet). The painkiller aspirin is a great example.
Biopharmaceutical Manufacturing
Biopharmaceutical products are made using a biological process (things we see happening naturally in biology, think alcohol fermentation which is used to make beer or wine). At its simplest, biopharmaceuticals are capturing things that are produced in biology and finding a way to make them into a usable medical treatment.
The processes here take larger, naturally occurring molecules such as proteins, genes, and cells and (again) 'package' them in a way that the body can make use of.
For a closer look at manufacturing biologics specifically, check out the video below. It's a little science-heavy at the very start but gives a great overview of the manufacturing process as it progresses.
Nutritionals:
A segment of the pharmaceutical industry that involves the research, development, and manufacturing of nutritional products (such as milk powder for babies).
Medical Devices Manufacturing
Also referred to as Medical Technology (or MedTech). This is a wide encompassing term for any product, instrument, or item that is used to diagnose, prevent, treat, or cure health conditions without any chemical or pharmacological action on or within the body. Examples include heart monitors, blood glucose meters, surgical equipment, artificial joints or even contact lenses.
Combination Products:
These are products that combine a medical device and a pharmaceutical/biopharmaceutical product. An example would be drug eluting stents, prefilled drug delivery systems (syringes, EpiPen, insulin injector pen, metered dose inhaler).


Is your career stuck?
Is your industry in decline?
Want a great job with a higher salary?
Our online Conversion Course into Pharmaceutical Manufacturing may be the answer…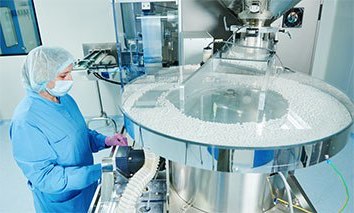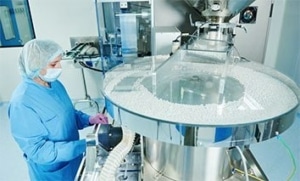 Part-time – you only need 10-12 hours per week

Completely online – study at a time and place that suit you

No previous experience required