Is It Time To Change Your Career?… And Could The Pharmaceutical Industry Be What You're Looking For?
Do you feel like your career is stuck in a rut?
Are you are wasting time with your current job or don't think your salary reflects your current value?
Is your current industry struggling or are you living with the constant fear of losing your job?
Unfortunately, it's a pretty common situation these days.
If you've found yourself out of a job or are looking to make a change to an industry that offers more stability, the pharmaceutical industry is definitely worth serious consideration.
The pharmaceutical industry researches, discovers, develops, manufactures and markets pharmaceutical products. These are the drugs and other products prescribed by doctors or sold over the counter to be used as medicines by patients.
The bonus is, if you have a technical background, you may be much closer than you think to being an ideal candidate. But first…
What is Pharmaceutical Manufacturing?
Traditional pharmaceutical manufacturing is the synthesis and manufacture of medicines on an industrial scale. The process can be broken down into a series of steps such as:
Chemical synthesis of the medicine that helps the patient – the raw medicine is known as the API or Active Pharmaceutical Ingredient.
Formulation or preparation – the medicine is mixed with solvents, binding agents, and pharmaceutical

excipients along with milling and granulation.

Tablet compression – shaping the medicine into pills.
Tablet coating – to protect the pills and make them easier to swallow.
All stages of pharmaceutical industry operations are closely regulated and monitored by bodies such as the US Food & Drug Administration (FDA) and the European Medicines Agency (EMA). This level of regulation ensures that products are made safely and correctly, every single time.
Because of this, pharmaceutical manufacturing is a unique and highly regulated environment.
Check out this video from AstraZeneca for an overview of the pharmaceutical manufacturing process.
If you're considering a career in pharmaceutical manufacturing, there are also some related industries that might also be of interest. These industries rely on the same strict regulations and specialist training:
Pharmaceuticals

– medicines made using chemical synthesis. Making small active molecules and 'packaging' them in a way the body can use (like in a tablet).The painkiller "aspirin" is a great example.

Biopharmaceuticals

– Where as pharmaceutical products are made using a chemical synthesis, biopharmaceutical products are made using a biological process or biotechnology. For example, think of how beer is made. The brewer mixes hops, barley, yeast and sugar and the yeast does all the hard work making the beer. So at its simplest, this means capturing things that are produced in biology and finding a way to make them into a usable treatment. The processes here are producing larger naturally occurring molecules such as proteins, genes and cells, and (again) 'packaging' them in a way that the body can make use of. For a closer look at manufacturing biologics specifically, check out the video below, from Amgen.

 It's a little science-heavy at the very start but gives a great overview of the manufacturing process as it progresses.

BioTechnology – utilizes biological systems, living organisms or parts of this to develop or create different products. Biotech generally refers to products that result from biology, where as biopharma refers to drugs manufactured from biological processes.
Nutritionals – a segment of the pharmaceutical industry that involves the research, development, and manufacturing of nutritional products (such as milk powder for babies).
Medical Devices – a wide encompassing term for any product, instrument or item which is used to diagnose, prevent, treat or cure health conditions without any chemical or pharmacological action on or within the body. Examples include machines to monitor blood glucose, surgical equipment or even contact lenses.
What are the Jobs in the Pharmaceutical Industry?
There are a huge variety of job roles available with the pharmaceutical company. The types of roles are determined by the departments and include:
Research & Development
-typically working in labs to identify new drugs or molecules that could be used in medications, or on current medications to improve them.  
Typical Job Roles – Scientists, Senior Scientists, Principal Scientist, Research Scientist, (It's likely a specialism will be mentioned in the title — e.g pharmacology, neuroscience, oncology etc.) Biochemist, Microbiologist, Product Development Scientist, BioMedical Scientist.
Clinical Trials
– Clinical trials are research studies performed in people that are aimed at evaluating a medical, surgical, or behavioural intervention. They are the main way that researchers figure out if a new treatment, like a new medicine or medical device is safe and effective in people and to get regulatory approval (from the FDA or other regulatory bodies).
Typical Job Roles – Clinical Scientists, Clinical Research Associate, Epidemiologist. In addition, people with a background in pharmacy, pharmacology or healthcare (nurses) find roles here.
Production/Manufacturing (Process)
– the machinery and systems that actually produce the pharmaceutical product. (Approx 50% of total staff in a manufacturing plant)
Typical Job Roles – Process Engineers, Production Manager, Manufacturing Engineers, Instrumentation Engineer, Process Technicians, Chemical Process Technician BioProcess Technician, Cleanroom Operator, Manufacturing Technicians, Production Operator, Manufacturing Operator.
Validation
– assess and document all equipment and processes to ensure that an action, process or system leads to a consistent and reproducible result. 
Typical Job Roles – Validation Engineer, Validation Technician, Validation Team Member, CSV Engineer.
Quality Assurance
– is process oriented and focuses on eliminating process variation by creating, revising and strictly implementing a set of tightly and precisely defined process/procedures/quality standards that when exactly followed, ensure the final quality of the product. Quality Assurance is preventative by nature and makes sure you are doing it "Right First Time".
Typical Job Roles – Quality Engineer, Quality Assurance Associate, Quality Assurance (QA) Technician, QA Specialist Documentation Specialist, Document Controller, Documentation Coordinator.
Quality Control
– is product oriented and focuses on testing a sample of a manufacturing process to make sure that meets the required design specifications or quality standards. In pharmaceutical manufacturing, the sample testing is done in a laboratory so people who work in QC usually have a science/laboratory background.
Typical Job Roles – Quality Control Associate, QC Associate. Quality Control (QC) Technician, QC Specialist
Regulatory Affairs
– deal with the applications and paperwork surrounding regulations that have to be done before a medicine can be sold to the public. 
Typical Job Roles – Regulatory Affairs Specialist, Regulatory Affairs Officer, Regulatory Affairs Associate, Qualified Person (The QP is typically a licensed pharmacist, biologist or chemist)
Operations 
– Ensures the continuous functioning of the manufacturing plant and its equipment. 
Typical Job Roles – Maintenance Technician Calibration Technician, Electrical and Instrumentation Technician, Facilities Engineer, Automation Engineer, Project Engineer, Maintenance Engineer
Sales and Marketing
– Pharmaceutical sales and marketing or pharma marketing" is the business of advertising and promoting the sale of pharmaceutical drugs.
Other
Includes areas such as Supply Chain, Logistics, HR, Warehouse, Finance, etc.
The size of these departments depend upon the size of the pharmaceutical company (smaller companies may outsource some of these roles altogether) but they are all ultimately critical parts of the pharmaceutical manufacturing process.
Click here for more in-depth information on the structure and departments in a pharmaceutical manufacturing company.
What Qualifications Do I Need to Work in the Pharmaceutical Industry?
The type of qualification you need is going to vary hugely on the types of roles you wish to purse.
For Science/Laboratory roles generally you'd need a Degree or Masters in Chemistry, BioChemistry or Microbiology or related fields and may also need a doctorate, depending on the role
For Clinical Research/Clinical Trials roles again, generally you'd need a Degree or Masters or Phd in Chemistry, BioChemistry, Pharmacy, Pharmacology or Microbiology or related fields and may also need a doctorate, depending on the role. Medical doctors or healthcare (Nurses) qualifications are also relevant.
For Engineering roles, generally you'd need a Degree or Masters in an engineering discipline such chemical, mechanical, process, project, automation/instrumentation & calibration, quality or manufacturing engineering.
For Manufacturing/Production operator roles, in the past you may have gotten by without any third level qualifications but more recently pharma and med device companies are looking for people with academic qualification at a certificate or diploma level in science or manufacturing discipline. Please note that this requirement does vary widely.
For Validation roles, generally you'd need qualification in an engineering discipline such mechanical, process, quality or manufacturing engineering or related field. A background in lab/science also works. In addition, if you have a background as a pipe welder/fitter or in instrumentation.
For Maintenance roles, generally you'd need a Diploma Degree or Masters in an engineering discipline such mechanical, automation/instrumentation/calibration, process, project quality or manufacturing engineering.
For Quality Assurance roles, generally you'd need a Diploma Degree or Masters in an engineering discipline such chemical, mechanical, process, project quality or manufacturing engineering. A background in lab/science also works.
For Quality Control roles, generally you'd need a Diploma, Degree or Masters in Chemistry, BioChemistry or Microbiology or related fields depending on the role
What is the Typical Pharmaceutical Industry Career Path?
In Manufacturing/Production:
Operator > Senior Operator > Shift supervisor > Production Manager > Production Director
In Engineering:
Engineer > Senior Engineer > Engineering Manager > Engineering Director
In Maintenance:
Maintenance Technician > Maintenance Engineer > Maintenance Supervisor
In Quality:
Quality Technician > Quality Engineer > Quality Supervisor > Quality Manager > Quality Director
In Science/Laboratory:
Senior Laboratory Technician > Team Leader Technician > Laboratory Manager
In Validation:
Validation Technician > Senior Validation Technician > Validation Engineer > Validation Team Leader > Validation Manager
Here are 5 Reasons Why You Should You Consider Reskilling Into This Area
1. The Industries Are Growing
Worldwide pharmaceutical industry revenues have shown excellent growth for many years. The graph below shows the growth in revenue since 2001 (at $390bn) and also shows the projected revenue for 2018 and 2021 ($1.4tn).

In 2016, worldwide pharmaceutical revenues were over $1.1 trillion.
Even during difficult financial times for other industries, the pharmaceutical and medical device industries have been resilient.
At a company level (based on 2017 revenue) the biggest pharmaceutical companies are:
Johnson & Johnson – US$76.45 billion
Roche -US$57.37 billion
Pfizer -US$52.54 billion
Novartis -US$49.10 billion
Sanofi -US$42.91 billion
Click here for more information about the world's 15 largest pharmaceutical companies.
2. This Growth Has Led To Well Paying Jobs
Worldwide employment across these industries have grown from 3.64 million in 2006, to 4.91 million in 2016.
Here you can see a breakdown of current direct and indirect employment from the pharmaceutical and medical device industries across both USA and Europe.
And, possibly more importantly for those considering a mid-career change into pharmaceutical manufacturing, these jobs pay well.
In 2011, the total compensation for US biopharmaceutical industry employees averaged $110,490. The national average, across all industries, was $54,455.
In Ireland, people working in these industries earn approximately 30% more than the national average salary.
3

. They Don't Suffer From Cyclical Ups and Downs
As previously mentioned, even in the most difficult of financial times, the pharmaceutical and medical device industries have maintained success. A good measure of this success is how much money is invested in research and development.

The relatively high amount of money being allocated to research and development compared to other industries, is a good sign of industry stability.
And that investment into R&D is necessary when you consider that to get a new drug to market takes 12-13 years and costs an estimated $2,556 million.
4. They Offer Rich Opportunities For Career Growth
With so many companies operating within the pharmaceutical and medical device industries, there is a great scope to progress in your new career if you want to.
Companies in these industries also tend to be found in clusters. This is when many companies grow within a small geographic location. Some of the biggest pharmaceutical industry clusters include:
Ireland
United Kingdom
Germany
The Netherlands
Switzerland
Singapore
And in the United States:
Chicago, USA
Pennsylvania, USA
Raleigh-Durham, North Carolina, USA
Seattle, USA
San Diego, California, USA
New Jersey, USA
Maryland / Virginia / DC Metro
LA/Orange County, California, USA
San Francisco Bay Area, California
Massachusetts, USA
Puerto Rico
Check out The Top Pharmaceutical and Medical Device Manufacturing Hubs in the United States.
Being near such a cluster means that once you are "in" and skilled, there are likely to be a number of companies close by that you'd be suitable for.
5

. You Can Leverage Your Previous Work Experience
There can often be a misunderstanding about the skills needed to successfully begin a career in pharmaceutical or medical manufacturing.
Not necessarily needed:
Science degree
Multiple years of pharmaceutical industry experience
Experience in a lab
Also welcomed:
Engineering experience from another industry
Manufacturing experience from another industry
Experience in maintenance
Demonstrated technical skills
What Are The Next Steps?
Is your career stuck? Is your industry in decline? Want a great job with a higher salary? Our Online "Certificate in eBioPharmaChem" program may be the answer. Retrain and Get a Job in the Pharmaceutical Industry.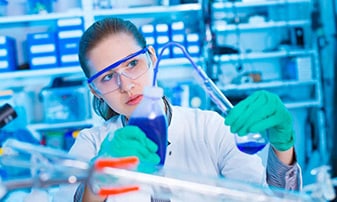 81% of 2016 graduates found a new job within 6 months

17% job growth over the next 5-years

10,000 New Jobs by 2021