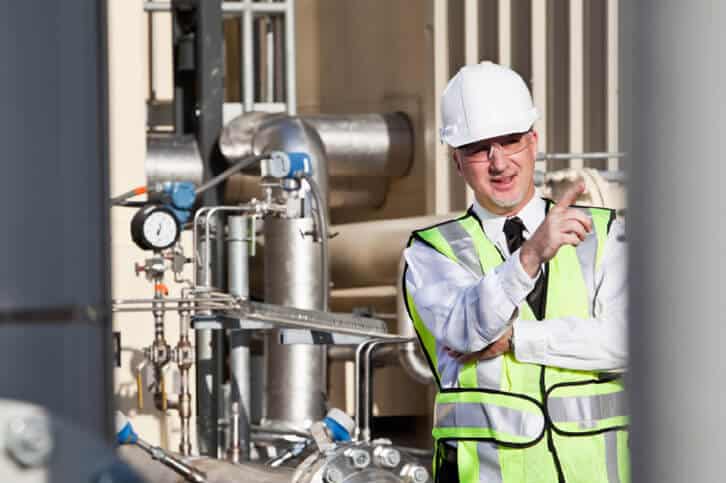 What is a Process Engineer?
Process Engineers are responsible for designing, implementing, controlling and optimizing industrial processes, especially continuous ones within the chemical, petrochemical, agriculture, mineral processing, advanced material, food, pharmaceutical, and biotechnological industries.
According to the BLS, the median annual wage for chemical/process engineers was $108,770 in May 2019 with projected job growth of 8% from 2016 to 2026.
What is Process Engineering?
Process Engineering provides the chemical or biochemical processes and equipment that are used to turn raw materials into an end product and is an essential part of the manufacturing industry.
Process Engineers create, set specifications, develop, implement and monitor this equipment or these processes as part of the manufacturing system. Within pharmaceutical and medical device manufacturing, the processes involved can be chemical or biochemical.
Process Engineering is at work during all stages of a continuous manufacturing process. These engineers can be designing innovative processes and equipment for a new facility or they can be involved in the modification and optimization of equipment and processes that are already in place.
As a result, Process Engineers work with people all across the manufacturing system including R&D, production staff, management and even customers.
Process Engineer Vs. Production or Manufacturing Engineer
Process Engineers work in Process or Continuous Manufacturing – takes a formulation or recipe of ingredients and blends them together using a chemical reaction, heat, cold, fermentation, etc continuously or in a batch into a final product which is usually a liquid, powder, gas or solid. (Think turning milk into baby formula, oil refining, gasoline, plastic, casein, cheese, butter, paint or pharmaceutical manufacturing,)
In a process manufacturing factory, you typically find, piping, pumps, tanks, flow valves, steam valves, temperature gauges, boilers, vessels, reactor vessels, crackers, distillation columns, heat exchangers, boilers, steam pipes, autoclaves, clarifiers, decanters, fluidised dryers, Program Logic Controllers (PLCs) PID (Proportional Integral Derivative) Controllers, etc,
Production and Manufacturing Engineers work in Discrete Manufacturing – machines and or assembles (screws, bolts, welds, glues, rivets) individual pieces into a distinct product often on an assembly line. (Think car assembly – Telsa's production line for its electric cars, shipbuilding, cell phones, computers, airplanes, syringes, medical pumps, scalpels, pacemakers, etc)
In a discrete manufacturing factory, you typically find, assembly lines, conveyor belts, U shaped assembly areas, machine tools, CNC machine centers, CNC lathes, stamping presses and dies, robots, welders, pick and place (SCARA) robots, injection moulding machines, packing machines, air-powered assembly tools, painting and finishing areas, etc.
Process Engineer Vs. Chemical Engineer
For some people, Process Engineers and Chemical Engineers are synonymous. For others and depending on the country you are in, a Process Engineer is a KIND of chemical engineer that designs manufacturing plants, which can do everything from recycling plastics to making jam. Here the emphasis is not on doing new chemistry. Instead, they focus on applying known chemical reactions to designing, maintaining, and improving manufacturing plants. There is more emphasis on mathematics and physics (specifically fluid mechanics) than chemistry, so they work more with mechanical engineers.
What Does a Process Engineer Do?
A Process Engineer is responsible for developing, installing and monitoring the equipment and processes that turn raw materials into an end product. As such, their job can be extremely varied.
In larger companies, Process Engineers may specialize in a niche area but in smaller facilities, a Process Engineer can be responsible for a huge variety of tasks.
These tasks can include:
Research and development of new equipment (this can include design responsibilities)
Monitoring of equipment – including regular testing and ensuring maintenance tasks are carried out
Completion of documentation to show and ensure compliance with both internal and external regulations and protocols
Oversight of processes and working to maintain optimization of the production line
Assisting Process Technicians in troubleshooting in the event of a problem
Data collection, interpretation and report writing
Presentation of data and reports to senior colleagues and management
Installation of new equipment
Risk assessments of the equipment and processes being used. Of course, this refers to staff safety and safety within the plant, but this can also extend outwards to include things such as the environmental impact
Continual evaluation of equipment and processes to ensure both efficiency and quality remain high
Budget responsibilities
Use of simulation software in the development of new processes
Watch this Video on a Process Engineer's Role!
To hear more about the work of a Process Engineer from someone in the role, check out this video from the About Bioscience website, produced by the North Carolina Association for Biomedical Research.
Becoming a Process Engineer
Typically, a Bachelor of Science (BSc) degree in a related field (such as engineering, chemistry or material science) is required. Management experience or business qualifications with accompanying engineering awareness or experience can also provide a route into these positions.
If you already work as a process engineer and would like to retrain to perform the same or similar role within the pharmaceutical industry, check out our 30-week Certificate in BioPharmaChem conversion program.
What Skills Do I Need?
The ideal skill set for someone moving into process engineering includes:
Critical/logical thinking – have to locate problems, and then think of those problems from a variety of perspectives to assess the best solution
Spatial reasoning – the ability to see a two or three-dimensional object and then mentally manipulate it
Excellent communication skills – working with people across the manufacturing process, they have to be able to manage people well and communicate new ideas effectively
Calm under pressure – must be able to troubleshoot at an advanced level. If a problem is delaying manufacturing, they must be able to come up with effective working solutions quickly
Commercial awareness – usually working within strict time and budgetary constraints
Excellent computer skills – IT is an essential part of this role, uses include simulation software, design software and reporting
Analytical skills – responsible for analysis and interpretation of data into charts, diagrams, and reports
Negotiation skills – vital if charged with budgetary or schedule management
Creative thinking and excellent problem-solving skills – have to be able to solve problems in a new way, seeing past what is established and create a new way of doing things
Process Engineer Salaries & Job Growth
Check out our salary guide for a Process Engineers for information local to you.
According to the Bureau of Labor Statistics, chemical engineer (its data includes that of process engineers) jobs will experience significant growth in the near future. For example, the BLS projects an 8% increase in demand for these engineering jobs between 2016 and 2026. Process engineers should experience similar growth.
In Ireland, CPL recruitment lists Process Engineers as an "In Demand" job for 2020.
Process Engineer Resume Tips
As with all resumes, it's extremely important that you tailor your Process Engineer resume to reflect the language used within the job advert. Where you have relevant experience or skills, use the words and phrases that the employer has used to describe them. Do not assume that someone will read similar wording and know what you mean.
Process Engineer roles will typically be looking for the skills previously outlined:
Excellent communication skills
Calm under pressure
Commercial awareness
Critical/logical thinking
Excellent computer skills
Analytical skills
Negotiation skills
Creative thinking and excellent problem-solving skills
For more help with your resume, check out these templates and this list of 30 tips to improve your resume.
22 Other Types of Pharma Job Roles
Manufacturing/Production
Engineering
Maintenance
Quality
Science/Laboratory
Validation
IT/Automation
Got More Questions?
USA/World
Call Geraldine: +1 (617) 901 9268
Ireland
Call Sinead: +353 (0) 21 2409016