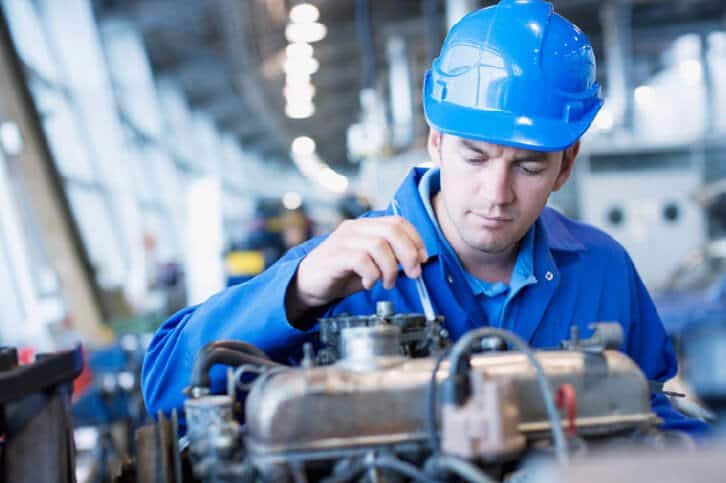 What is a Maintenance Technician?
A Maintenance Technician within a pharmaceutical or medical device manufacturing facility performs routine maintenance of equipment and machinery and helps troubleshoot and repair any mechanical or electrical problems when they arise. 
According to the BLS, the median annual wage for Maintenance Technicians was $52,860 in May 2019 with projected job growth of 10% from 2016 to 2026. In addition, maintenance technicians often have to work shifts or provide on-call support to deal with any emergency breakdowns and as a result, can earn significant amounts of overtime pay throughout the year.
Let's take a closer look at the details of maintenance and the role of a maintenance technician.
What does a Maintenance Technician do?
A Maintenance Technician performs routine maintenance procedures and helps troubleshoot and quickly repair any mechanical or electrical problems should they arise with the manufacturing processes and supporting equipment and systems in the facility. His or her day-to-day tasks can vary greatly based on what needs attention at the time.
The ultimate aim of the maintenance team in a company is to keep the manufacturing process 100% operational and minimize the amount of downtime. Failure in this can result in a reduction in output of a finished product,  compromised quality standards which can lead to the destruction of a faulty product, catastrophic reputational damage, and a loss of revenue for the company.
For that reason, the role of maintenance is crucial within a pharmaceutical or medical device manufacturing plant.
Another key responsibility is to keep up-to-date documentation especially in the highly controlled and regulated environment of pharmaceutical and medical device manufacturing.
This can be used to show that regular checks and preventative procedures were carried out in line with both company and external protocols. It also ensures a paper trail of interventions and repairs carried out on the manufacturing equipment – this is also essential to maintain adherence to regulation.
What are Maintenance Technicians Duties and Responsibilities? 
In larger companies, the role of a Maintenance Technician can be more specialized, including areas such as instrumentation, facilities, mechanical or electrical. In smaller companies or at smaller facilities, Maintenance Technicians may be required to take a more general role.
They may also be consulted in regard to continuous improvement of manufacturing equipment and processes.
Maintenance Technicians often work in shifts and can also be required to supply "on call" support to their facility, depending upon the specifics of the job role. Maintenance Technicians usually work as part of a wider maintenance team within the facility.
Specific tasks can include:
Assisting in the installation of new manufacturing equipment
Calibration of equipment or machinery
Routine inspection and testing of equipment and machinery – this needs to be planned to ensure minimal disruption of processes
Preventative maintenance tasks to try to minimize unexpected issues with equipment
Responding to alerts and operation messages – carrying out corrective procedures and repairs in line with SOPs and maintenance protocols.
Clear documentation of both routine checks and repairs needed, in line with both internal and external protocols and procedures
Maintains logs of any downtime within the manufacturing system
May be involved in training of production staff of routine maintenance procedures
Becoming a Maintenance Technician
Candidates will typically be required to have a high school/secondary level of education. A third level education in a relevant field, a relevant apprenticeship or industrial maintenance experience will be advantageous.
Certifications may or may not be required, although they can be useful as a means of demonstrating a candidate's ability to do the job effectively.  A plumber, fitter/welder or electrician's qualifications can demonstrate an applicant's expertise, range and versatility and provide added value compared to other applicants without similar qualifications.
A Maintenance Technician will likely receive on-the-job training for entry-level positions when first starting out.
Maintenance Technician in the Pharmaceutical Industry
If you already work as a maintenance technician and would like to retrain to perform the same or similar role within the pharmaceutical industry, check out our 15-week Conversion Course into Maintenance Roles in Pharma. This program is the quickest way to learn all you need to, to successfully move into maintenance or facility technician roles within the pharmaceutical & medical device industry from a different industry.
Here are some typical job titles we often see advertised and that you could apply for (and depending on your previous experience);
Maintenance Technician
Maintenance Fitter
Facilities Technician
Manufacturing Maintenance Technician
Facilities Coordinator
Facilities Technologist
Maintenance Technician (process equipment)
What Skills Do I Need?
The ideal skill set for someone moving into Maintenance Technician roles includes:
Deductive reasoning –  Must have the ability to independently work through, identify and isolate the root cause of a problem, based on observation or on the reporting of faults from the production team
Creative problem-solving skills – must be able to work independently, know or be able to source information to resolve issues with machinery. May have to jerry-rig a solution to get the plant up and running
Manual dexterity – be able to use their hands or tools in a skillful and coordinated way to grasp and manipulate objects with small, precise movements
Proactive – carry out preventative checks and routine inspections. Must be able to see potential issues, take corrective measures and anticipate ongoing needs. May also be required to keep a stock of spare parts, ordering and replacing as necessary
Attention to detail – must be able to observe the routine operation of manufacturing equipment, develop an intuitive understanding or "feel" for the machine and quickly spot when something is not right. Must keep clear and accurate records of routine testing as well as troubleshooting and repairs
Excellent verbal communication skills – must be able to interpret reporting of maintenance issues and provide clear instruction or update about interventions or repairs
Written communication skills – have to be able to read and interpret maintenance documentation, manuals, and plans. Also, have to keep required documentation up to date to ensure compliance with internal and external manufacturing guidelines
IT skills – including database upkeep, logs and reporting, and cross-team communication
Team working – as well as team working with maintenance colleagues, must be able to work efficiently with production team members to keep downtime of the manufacturing line to a minimum
Time management – must be able to plan and execute routine maintenance activities as well as responding to troubleshooting requests and unexpected equipment issues
Maintenance Technician Salaries & Job Growth
Maintenance Technician Resume Tips
As with all resumes, it's extremely important that you tailor your Maintenance Technician resume to reflect the language used within the job advert. Where you have relevant experience or skills, use the words and phrases that the employer has used to describe them. Do not assume that someone will read similar wording and know what you mean.
Maintenance Technician roles will typically be looking for the skills previously outlined:
Attention to detail
Excellent verbal communication skills
Written communication skills
Proactive
Problem-solving skills
IT skills
Team working
Time management
For more help with your resume, check out these templates and this list of 30 tips to improve your resume.
Other Types of Pharma Job Roles
Manufacturing/Production
Engineering
Maintenance
Quality
Validation
IT/Automation
Our Most Popular Programs and Courses