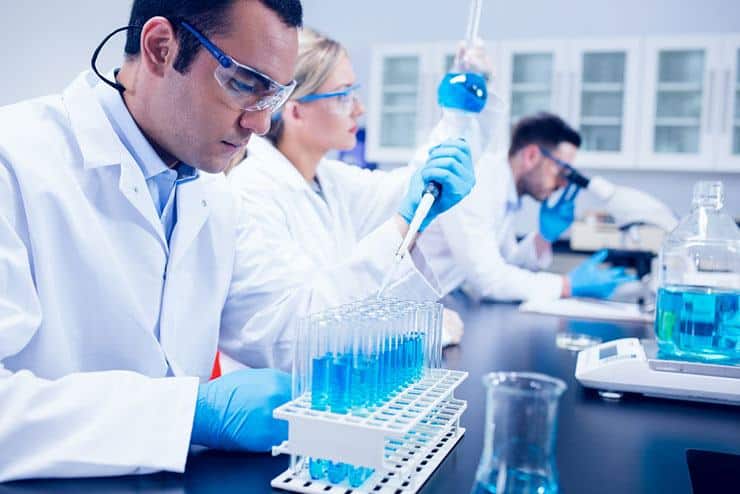 What is a Biochemist?
Biochemists are typically lab-based professionals who study and explore the chemical processes occurring within living things. They are employed across a wide range of industries and within academia.
Many Biochemists are employed within research but there are also opportunities in product development and some specialized manufacturing environments.
What is Biochemistry?
Biochemistry is the professional meeting point of chemistry and biology. It focuses on the chemical processes that happen naturally within living organisms – trying to solve biological problems through understanding chemical properties.
Biochemists can study across a wide range of organisms including humans, animals, plants, viruses, and bacteria. They can study and monitor "normal" chemical processes as well as observing how these processes are changed by a disease state or intervention. They may also be tasked with trying to change some chemical processes to produce an alternative output.
Generally, Biochemists are working to optimize positive characteristics and decrease negative characteristics across a specific organism.
If working in an industry (such as food, biotechnology, medical diagnostics or laboratory services), Biochemists are typically working towards optimization of a product.
What Does a Biochemist do?
The specific tasks of a Biochemist will depend upon their area of study or expertise. Typically involved in research or development, tasks may include:
Planning experiments

Developing new tools or equipment as necessary

Conducting experiments

Close adherence to both internal SOPs and relevant external regulations

Troubleshooting problems with laboratory equipment

Monitoring and recording experimental results

Analysis of results and writing of reports

Presentation of research findings

Management or supervision of junior laboratory staff
Biochemists can also be involved in a production or manufacturing team within certain highly regulated industries such as diagnostics or biotechnology. In this type of role, biochemists will typically sit within the quality department. Tasks might include:
Monitoring certain parts of a manufacturing process

Providing specialist quality control testing to a manufacturing team

Testing of product safety and assuring adherence to predetermined standards

Working closely with the manufacturing team members to solve any problems that arise
This is an extremely important function within highly regulated industries as their work confirms the safety, effectiveness, and reliability of a product. If working in this sort of role, Biochemists might be required to follow specialist manufacturing guidelines such as wearing personal protective equipment within a cleanroom environment.
Becoming a Biochemist
Individuals looking to become Biochemists will typically have a third level qualification in a relevant scientific discipline (e.g. BSc Biochemistry or similar). For those looking to enter academia, postgraduate courses are available. For those looking to begin a career in industry, some companies will offer graduate schemes or entry-level positions.
If you are already a Biochemist but want to retrain for other roles within the pharmaceutical manufacturing sector, check out our Conversion Course into Quality Roles in Pharma.
Typical roles;
What Skills Do I Need?
The ideal skill set for someone moving into Biochemistry includes::
Laboratory skills – even entry-level jobs will expect a level of lab experience from degree level study
Organisational skills – projects and experiments need to be completed within the timescales given to keep larger deliverables and schedules on time
Written communication skills – report writing, record keeping communication with other team members are important parts of the role
Verbal communication skills – must be able to discuss scientific ideas with stakeholders across teams and at all levels
Problem-solving skills – ability to find new ways of tackling a problem and finding innovative solutions is important in both academic and industrial settings
Biochemist Salaries & Job Growth
Biochemist Resume Tips
As with all resumes, it's extremely important that you tailor your Biochemist resume to reflect the language used within the job advert. Where you have relevant experience or skills, use the words and phrases that the employer has used to describe them. Do not assume that someone will read similar wording and know what you mean.
Biochemist roles will typically be looking for the skills previously outlined:
Laboratory skills

Organisational skills

Written communication skills

Verbal communication skills 

Problem-solving skills
For more help with your resume, check out these templates and this list of 30 tips to improve your resume.
Biochemist Job Vacancies
For more information on currently available Biochemist roles near you, head to our jobs boards and select Science in the "Jobs by Category" menu. We currently have jobs boards for Ireland and the UK.
22 Other Types of Pharma Job Roles
Manufacturing/Production
Engineering
Maintenance
Quality
Science/Laboratory
Validation
IT/Automation
Got More Questions?
USA/World
Call Geraldine: +1 (617) 901 9268
Ireland
Call Sinead: +353 (0) 21 2409016