What is a Validation Technician?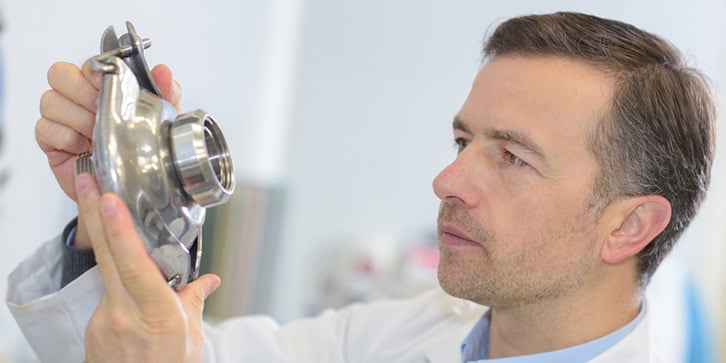 A Validation Technician works as part of the Validation team to measure and analyze the manufacturing process, audit and calibrate equipment and create a document trail that shows the process leads to a consistent result. This ensures that the product is consistently of the highest quality.
What is Validation?
Validation describes the process of creating an evidence trail to show that an action, process or system leads to a consistent and reproducible result. This 'result' is typically either taking a measurement or assessing product quality.
Validation is a central part of the manufacturing process within the pharmaceutical and medical device industries. The products made must be exactly the same every time and are tested at the end of the production process to ensure that this is the case but final end product testing isn't enough.
In addition, the processes, systems, and equipment that lead to their manufacture are closely scrutinized too. This establishes that they meet predetermined specifications and always produce the same result.
Each step in the manufacturing process is subject to validation, to ensure that the end products are safe and effective, every time.
Validation tasks are carried out during all stages of a product lifecycle – from research and development, through to manufacture and distribution.
Validation is not only important in the establishment of manufacturing protocols but it is also used to make that changes to systems, equipment or processes within an established manufacturing system, do not change the outcome or product.
Check out this article for a much more detailed look at validation in the pharmaceutical industry (with lots of baking analogies to make it easier to understand!)
What Does a Validation Technician do?
Working within the larger validation team, and typically under the management of a Validation Engineer, a Validation Technician can have a broad range of duties.
The specific tasks required by an individual will vary depending on the role and how big the validation team is. Examples of tasks could include:
Routine testing of manufacturing equipment
Collection, organization, and documentation of test data
Investigating abnormal testing results
Troubleshooting issues identified by other staff members
Ensuring accurate records of all validation activities
Participation in internal audits and external inspections as required
Becoming a Validation Technician
There is currently an acute shortage of validation skills in the industry so it could be a great time to consider a mid-career change into validation. 
To become a validation professional, a Bachelor's degree (usually in science or engineering, or something similar) is the typical requirement. A lower level qualification with accompanying work experience can be a realistic alternative though.
Retrain to Become a Validation Technician
If you have work experience in areas such as;
Pipe-fitter/Plumber
Pipe Welder
Piping Supervisor
Boiler Technician
Electrician
Instrumentation Technician
OR
You have commissioning & qualification, quality, maintenance, engineering, science or manufacturing experience in:
Oil and Gas
Semiconductor
Contract Engineering Consultancies
Food Manufacturing
Mechanical or Electrical Construction
Plastics Manufacturing
Service Industries to the Above
Check out our Commission and Qualification (IQ OQ PQ) of Equipment and Systems if you want to retrain for starter level positions such as Validation Technician (working directly for a pharma or medical device company) or Validation Team Member (working for an engineering consultancy or as an independent contractor).
Validation Engineer Programs – Senior Level
Take our academically accredited Pharmaceutical Validation Training Course and move into senior-level validation roles that are more challenging and pay more. This is an intermediate to advance course where you will develop process validation protocols, plan a validation strategy and become a validation professional.
This program is academically accredited by the Dublin Institute of Technology, Ireland.
What Skills Do I Need?
The ideal skill set for someone moving into validation includes:
Attention to detail – it is vital that validation technicians follow validation protocols precisely to ensure that the results are reliable
Team working – will usually be working as part of a larger validation team to accomplish larger validation goals
Good communication skills – Must be able to take and understand instruction well, putting them into action quickly and effectively
Mathematics – gathering, interpreting and reporting on numbers is a significant part of the role
Computer skills – there is a lot of organization and interpretation of data required, computer skills are essential
For more information on necessary skills, check out this post where we analysed validation job adverts to discover the 8 most "in-demand" skills for validation professionals.
Validation Technician Salaries & Job Growth
Validation Technician Resume Tips
As with all resumes, it's extremely important that you tailor your Validation Technician resume to reflect the language used within the job advert. Where you have relevant experience or skills, use the words and phrases that the employer has used to describe them. Do not assume that someone will read similar wording and know what you mean.
Validation Technician roles will typically be looking for the skills previously outlined:
Attention to detail 

Team working 

Good communication skills 

Mathematics 

Computer skills 
For more help with your resume, check out these templates and this list of 30 tips to improve your resume.
Validation Technician Job Vacancies
For more information on currently available Validation Technician roles, head to our jobs boards and select Validation in the "Jobs by Category" menu. We currently have jobs boards for Ireland, the UK, and Philadelphia, USA.
Other Validation & Quality Roles in Pharma
Validation
IT/Automation
Quality
Got More Questions?
USA/World
Call Geraldine: +1 (617) 901 9268
Ireland
Call Sinead: +353 (0) 21 2409016