Your Pathway to a Career in Validation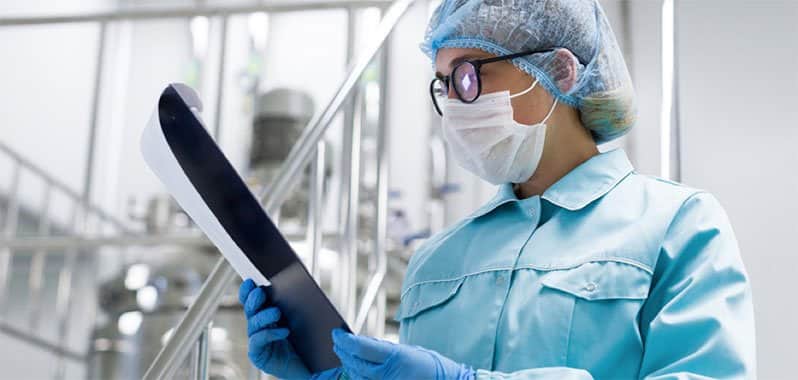 Validation is a specialist career path within pharmaceutical and medical device manufacturing. The purpose of this team is to create documentation and run tests to show that a manufacturing process and the equipment associated with it will produce a consistent and reliable result.
(We've got a much more detailed article on validation in pharmaceutical manufacturing industry if that's what you're looking for).
Validation roles are best suited to certain types of people
The most successful members of validation teams generally have the following:
Strong documentation bias – as you will be managing and documenting the entire validation process
Enthusiasm for working in a team – validation of equipment systems is a team activity and you will need good verbal and listening skills to share information amongst the team members
Good computer skills – there is a lot of documentation processed via computer systems.
Structured approach to working – your work will impact others in the overall Validation team, there will be many documents that require sharing and signing with multiple team members

(Be sure to check out the 8 most "in demand" skills for validation professionals for much more detail on this.)
Job roles within the team can vary
(for those with links, you can click to get a detailed look at what the role involves)
Validation Technician

– usually based within a manufacturing company, the focus of this role is likely to be Process Qualification. This will involve completing validation documentation for equipment upgrades, processes and small projects

Validation Team Member – typically based within an engineering consultancy, this role will involve work on large, capital projects. It will have a strong focus on commissioning and qualification of equipment and equipment systems

Validation Engineer

– a more senior member of validation teams, this role will involve the writing of validation documentation as well as testing and analysis

Validation Team Leader – working to complete the validation plan, with supervisory responsibilities over other team members
Validation Manager/Lead – head of a validation team with overall responsibility for successful completion of validation activities
Your pathway to joining & progressing within the validation team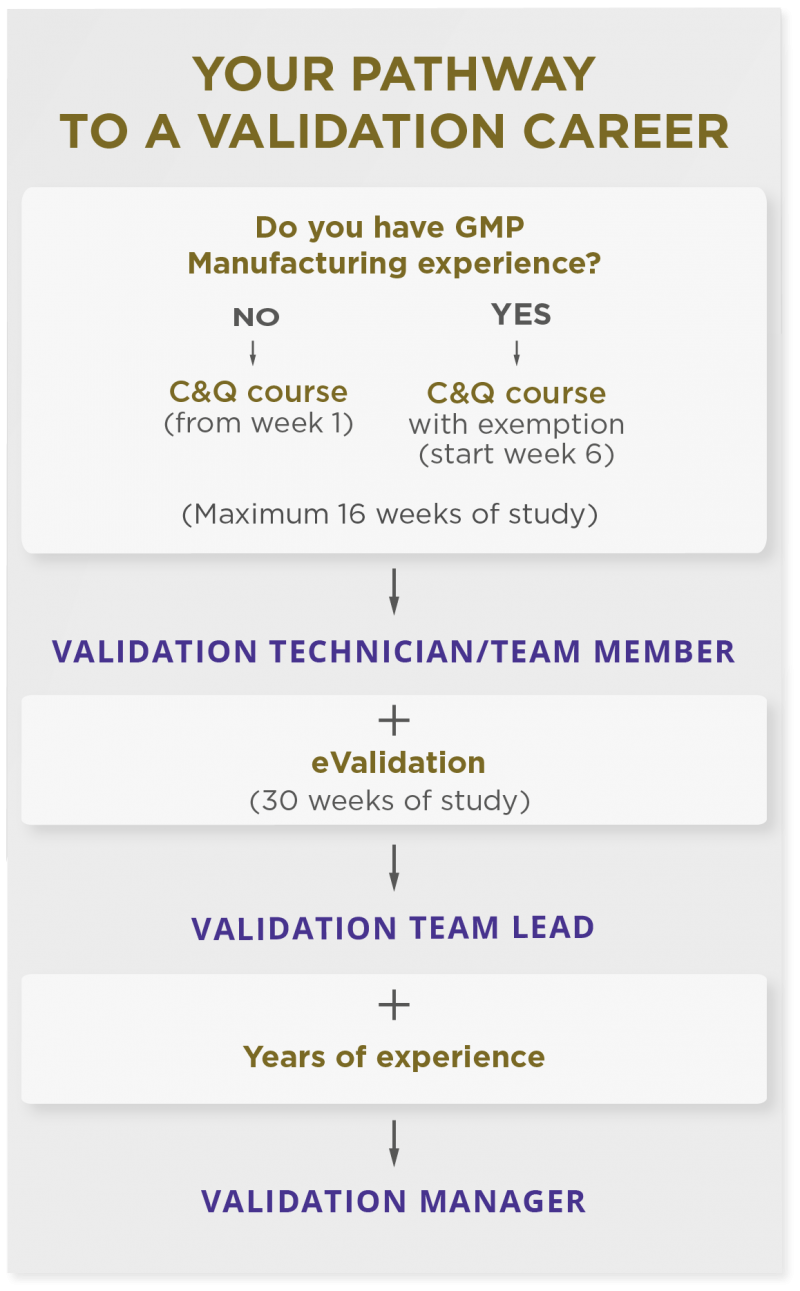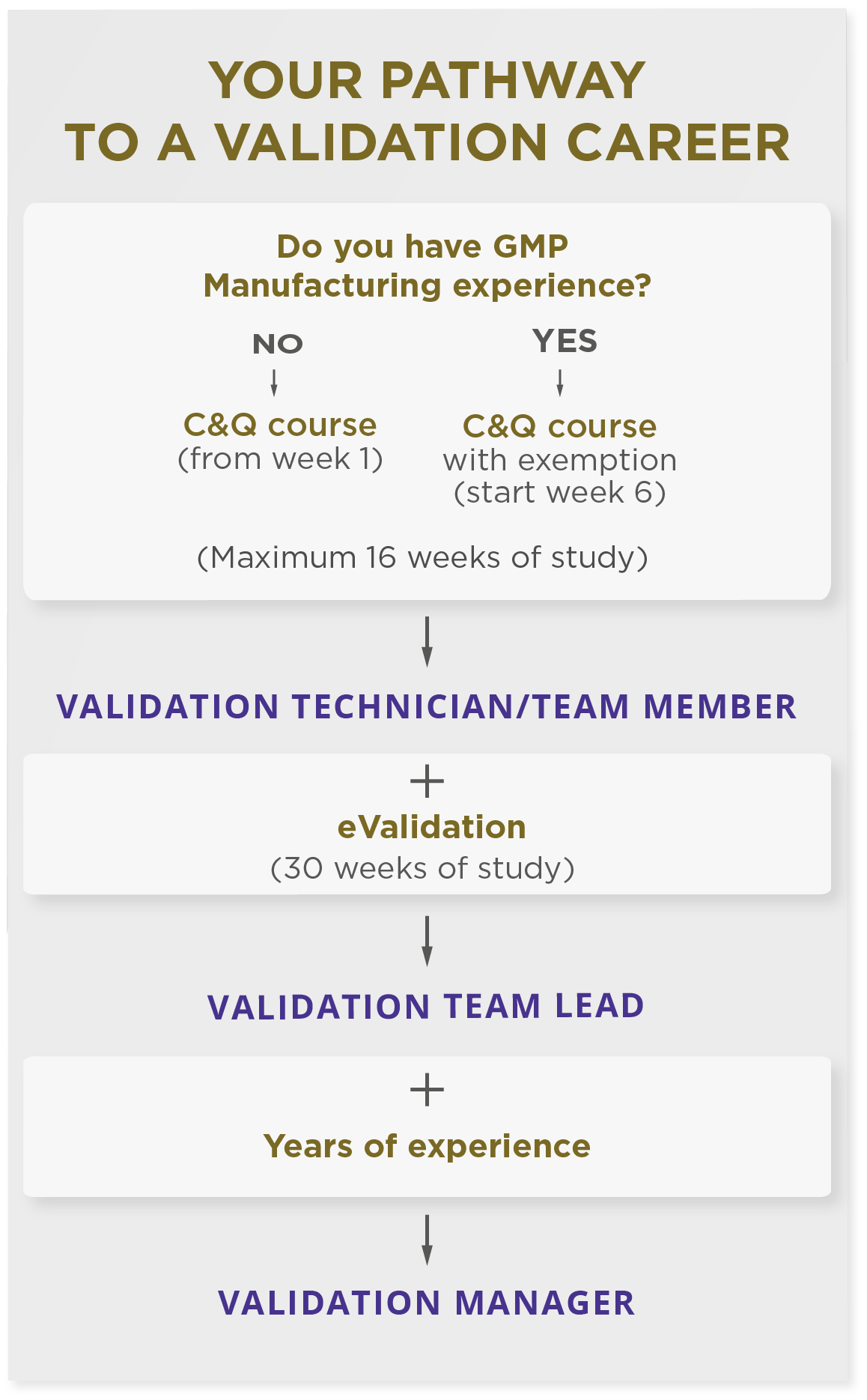 How to start your validation career
Most people start their validation career at the technician/team member level. But you can't just join and learn on the job, you will need a course to explain the basic principles of validation and how to complete the documentation.
With no validation experience…
If you don't have any previous experience in validation, check out our Pharmaceutical Validation Training Course – For Starter Validation Roles, to retrain for starter level positions such as
By the end of this 15-week program you'll:
Be familiar with the rules governing GMP regulated environments

Have developed your own 100-page equipment validation protocol

Be able to read the engineering documentation necessary

Be confident in how to qualify equipment, instruments and piping systems.
If you have experience in a GMP regulated manufacturing environment, you may qualify for an exemption for the first 5 weeks of the program (and the associated discount). You'll join the course in week 6 and complete the remaining 10 weeks of the program.
With this certification, you'll be able to join a validation team at the technician or team member level.
With validation experience…
If you already have some validation experience and can comfortably populate an equipment validation protocol, check out university accredited Certificate in Validation for Senior Validation Roles and move into senior-level validation roles that are more challenging and pay more. This is an intermediate to advance course where you will develop process validation protocols, plan a validation strategy and become a validation professional.
This program is university accredited at level 7 by Technological University Dublin, Ireland. 
Over 30 weeks you'll:
Become familiar with pharmaceutical facility design

Learn how to develop a validation masterplan

Build a portfolio of validation projects and assignments that you can take to interview.
Moving into management…
A move into the most senior roles within a validation team is usually only possible after several years of experience within validation roles.
Don't worry if you're not sure. Whichever course you apply to, we'll take a detailed look at your experience and give you a recommendation. *
* Please note that this recommendation might not be the course you applied to. If that is the case, it's always because the recommended course is the right one for you. Our primary goal is always to get students to an "employable" level of knowledge in the shortest time.
Validation Salaries
Validation roles are well-paid. Even when compared against other salaries in pharmaceutical manufacturing (which themselves, are higher than comparable jobs in other industries).
Check out our validation salary guide for more details about validation salaries in your area.