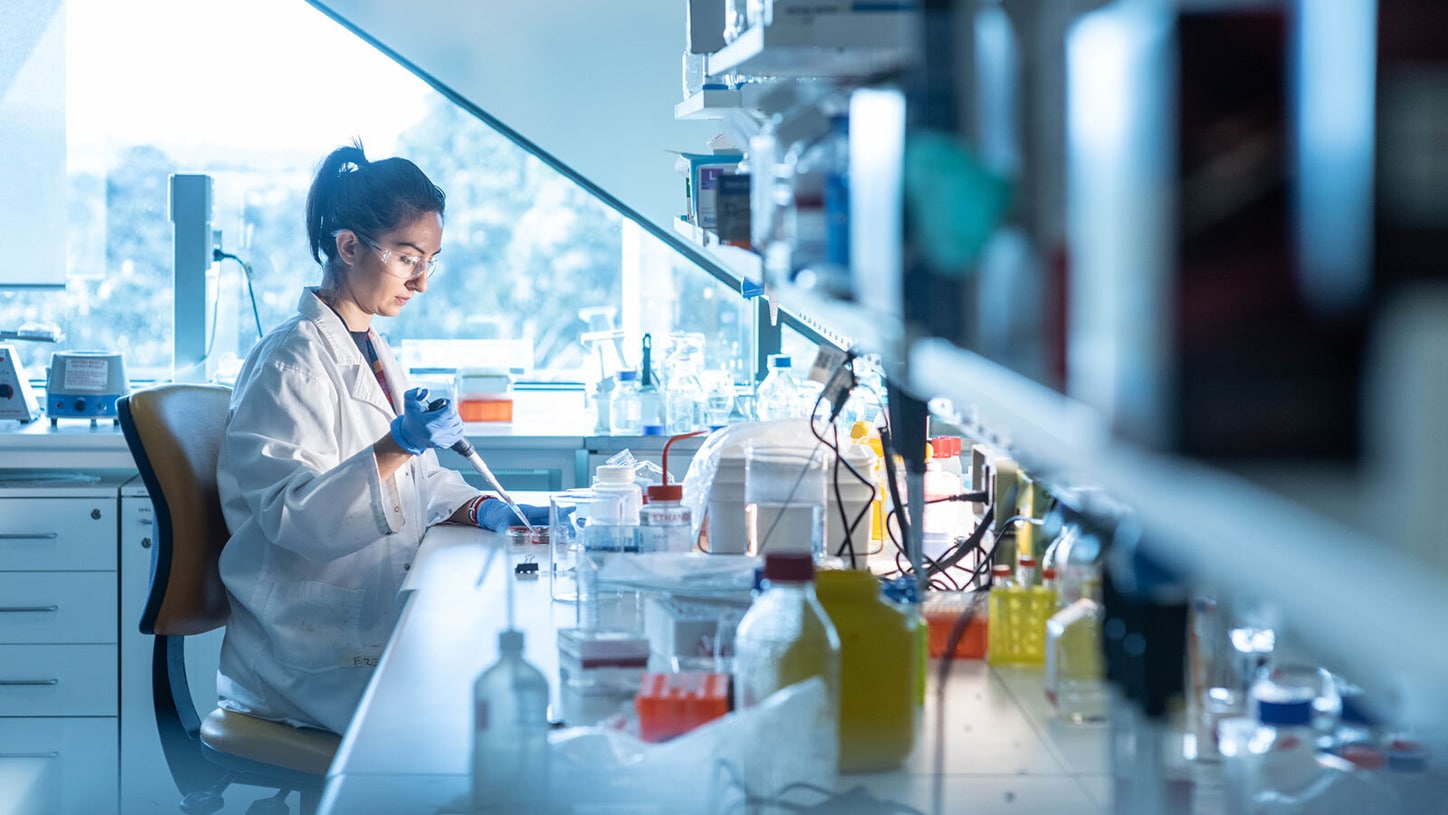 How to Convince Your Boss to Pay for Your Pharma Education
Are you thinking about going to university or getting a professional qualification? While juggling your commitments between work and home life is always a delicate balance, the biggest obstacle can be figuring out how you are going to pay for the programme. But a great way to help with this is to convince your employer to cover the cost of your tuition. Keep reading and learn the steps to take so you can make a compelling argument to your boss, manager, or company.
Key takeaways:
Create a list of ways your company will benefit from your training or education. Identify a specific company business goal, current problem or potential risk your company faces. Frame the benefits of the course you want to take as a way of helping address that goal, or problem or mitigate that risk. You can make your case stronger if you can put a solid Euro, Dollar or Pound figure against that goal, problem or risk.
Prepare an elevator pitch for your manager. Focus on how the programme or course will improve your job performance not on how it will increase your knowledge. Take the time to have prepared answers to anticipated questions they will raise.
Remember your manager may need to be able to defend the decision they make on whether to fund your education to senior management. Make sure you give them the tools to defend you with.
Have a one-page summary printed out and ready to give to your manager when you finish the meeting. Likewise, have a soft copy that you can email them after the meeting.
Job roles, job adverts and job descriptions are your friends. They give you a skill checklist you will be benchmarked against, and they are publicly available for you to review and research – so make sure you take the opportunity to do so because you can be guaranteed, others are using it.
Make it a habit to read your company's annual reports and know what their goals are. Opportunity and career advancement lie at the intersection of your goals and their goals. Again, this is public information that is what your company's business decisions are being made on. It's just smart knowing what is coming down the tracks. And you can use this information to help you frame the benefits of taking a course in a way that aligns with the stated company goals.
Here is a step-by-step process to help convince your boss or company to fund your pharmaceutical education.
BTW, if you are already working in the industry and want to upskill for a better job or a promotion, check out our Pharmaceutical Courses.
The 10-step process:
1) Figure out your reasons for studying.
Continuing your education is essential for professionals in any industry, but it can be especially important for those working in pharmaceutical and medical device manufacturing. Every situation is different. So how do you know which one is right for you?
Let's take a look at four reasons.
"You want to equip yourself with the skills, qualification or knowledge to get a promotion and advance your career." In this situation, you should look at a typical job description for the next role you want to apply for and see what is mentioned as part of the "required" and "desirable" education criteria.
"You want to stay current with the latest technologies or regulations."
If you want to be more productive at your current job or to keep on top of new industry regulations, then you have a pretty set idea of what regulation you would like to stay on top of.
You want to move departments and need the next level of qualification to support your job application" Again, in this situation, you should look at the job description for the role you want to apply for and see what is mentioned as part of the "required" and "desirable" education criteria.
"You need to get certification just to stay in your current position."
This one is pretty straightforward. If you want to stay as a Production Operator, and the company now requires you to have a university certificate to stay in that role, and you don't already have one, then what you need is a relevant university certificate course.
2) Understand what type of qualification you are looking for:
There are 2 broad categories of qualification to consider – university qualifications and industry qualifications:
University Qualifications


These will result in you obtaining a Certificate, Degree, Postgraduate Diploma or Masters composed of multiple modules. The institution giving you the final award will be a "University" or "Institute of Technology".

Industry, Technical or Training Qualifications


If you need to gain a specific skill then an industry qualification could be a better fit for you. These programmes are not university accredited. They could range in length from a few hours to a few weeks or more. Or they could even be delivered over one or two days in a hotel seminar venue. The specific training organisation or industry body will award your final qualification.




Examples of training that falls into this category include

Lean Six Sigma

Risk Management Training

Cleanroom training

Regulatory Affairs

Combination Products

Project Management

Leadership Training
3) Identify specific courses or programmes that align with your job goals.
Once you know which category of qualification you want to look at, it is time to start researching specific courses or programmes that align with your job responsibilities and goals. 
When choosing what course, qualification or programme you need, think about the following checklist:
Is it a specialised certificate/degree/master's that will actually achieve what you want?

Is it an industry-specific qualification giving you specialised information that's useful to your career?

Who is awarding the qualification?

What is the time commitment?

Is there flexibility to build a higher qualification over time?

What is the ongoing and recent work experience of those teaching you?

What is the timeline for applications and start dates? And does that align with my yearly goals?

How much will it cost?

Then make a final check…

Weighing up everything you've learned, do you still believe this is the right programme for you? Is this worth your time? 

If you're not quite sure, why not? What's holding you back? 

If you can be specific here, it's easier to spot alternatives that might suit your needs better. 

Once you have worked your way through this list, you should have exactly which course you want to pursue (or at least have a ranked list of which courses you would like to complete). 
Now it's time to think about this from your employer's perspective.
4) Research the benefits of funding this course for your company
If your employer is going to pay for your education or professional development, your manager wants to know "What's in it for us?". This is arguably the most important question to prepare for. It is a chance for you to explain how your training won't just help you but will also help your company.
So you need to create a list of ways your company will benefit from your training or education.
These benefits could include:
Staying current with new technologies and regulations
Specialising your skills in a specific area
Increasing productivity or job performance
Equipping you with the skills needed to take on new projects and move into leadership positions
Employee loyalty (This is best implied rather than stated directly as it may come across as too self-serving)
Be ready to discuss how you'll apply what you'll learn to your job. Identify a specific company business goal or current problem your company faces. Frame the benefits of the course you want to take as a way of helping address that goal or problem.
For example, let's say you wanted to take a course on equipment qualification as you know that your company spends large amounts of money on outside engineering consultancies to provide this service. You could tell your manager that gradually be able to move more of this work within the company and that you'd be better able to manage existing contractors currently doing this job as you'd have a much deeper understanding of what's involved.
Or if you wanted to take a course on leadership, you could tell your manager how it will improve your ability to motivate employees, better manage their performance and help improve the overall performance of your team.
Focus on Job Performance
For professional development courses, probably the single best bit of advice we can give you on this is to focus not on how the programme or course will improve your knowledge, but instead, on how it will improve your job performance.
Check out this video from George Brown College on "7 Top Tips to Convince Your Employer to Pay for Your Online Technical Training".
Return on Investment (ROI)
Where possible, try to include an ROI or "return on investment" calculation. If you can identify a clear problem with an associated Dollar/Euro cost that your training will address, great. This isn't always possible though. For example, if you wanted to take a risk management course that could result in you (unknowingly) preventing a catastrophic failure, it is impossible to quantify the savings from a failure that has never occurred as a consequence of your training.
5) Research funding options within your company and identify the decision maker(s)
Once you know exactly which course, you need to figure out how to get it funded. There are several different ways you can go about this:
Speak with your company's HR (or if your company has a specific training department to approach them): See what their funding options are for training opportunities. There is a training budget in every company – see what options there are in your company.
Read your company benefits manual or department about what funding is already available.
Ask your Department Head. Some companies leave a discretionary budget with the Department Head for the training of employees and this is the only person you need to persuade to grant approval for your programme. This is why you need to know who the decision maker or makers are. The Department Head may also be able to recommend industry courses he/she or other employees have completed and are of great quality.
We've come across so many employees that are reluctant to ask their company to fund their training or education. Many don't realize that most companies have a training budget and an employee development strategy for a reason.
Moreover, most companies pride themselves on their approach to "lifelong learning".
For example, Astra Zenecca Employees Talk about how the company is committed to empowering employees in conjunction with their managers to develop the careers they want
How Companies Fund Training
There will be differences in how companies fund education and training. Just to warn you in advance, there will most likely be lots of paperwork to fill out, but that is part of the deal.
Some of the different funding arrangements we have seen are:
You pay the fees, and the company reimburses you once you have got your qualification
The company pays 50% of your fees upfront, and you pay the balancing 50%
The company pays 100% of the fees upfront, and then you repay the company out of your paycheck on a monthly basis
The company pays 100% of your fees but requests that you show proof of qualification upon completion of the course
The company won't pay for the first course you ask for, however, if you pay the fees for the first course yourself and successfully complete it, the company will then pay 100% of your course fees for subsequent courses.
However, if there is nothing available, or what is insufficient, then it's time to approach your boss and see if there are any special circumstances you could be considered under…..
6) Prepare a proposal – Don't go in blind!
It's time to create a pitch. It's absolutely essential that you don't go in blind. Make sure you include the specific courses or programmes you want to take, the costs associated with them, and how they will benefit both you and the company. 
At a minimum, you should include:
The degree, certification, programme or course you want to take.

The organisation, university or college and the courses you want to enrol in.

A list of the ways the company will benefit from your education or the business goal or problem your education or training will address.

Information on any potential return on investment, as we've talked about in Step 5

Why this course is a good move for you and your career right now. If relevant, tell your boss that you want to move up the career ladder with this company and that you want to equip yourself with the relevant skills and qualifications. 

If your boss is going to be pushing your case up the line, you have to prepare a list of credible reasons that your boss can use to justify the cost of funding your tuition. 

Where you are going to find the time to study each week.
Questions that we often receive from Employers who have paid to put their employees on our own programmes include, that you can anticipate having to answer: 
How flexible is the programme?

Can the employees complete the programme on their own time?

Is there a set of ZOOM classes the employees need to be logged in for?

What is the course syllabus? 

What is the certification the employee will receive if they successfully complete the programme?

What is the background of the organization, institute of technology or university?

What is the background of the lecturer? 

Is there a LinkedIn profile for the lecturer that we can look at?

Are there any portfolio-building activities throughout the programme?

What is the final end-of-module assignment that is used to demonstrate the competency of the employee?

When are the start dates for the programme?
Your 60-second elevator pitch
We recommend that you prepare a succinct 60-second excavator pitch which both you and your manager can delve into more detail. Think about focusing on 3-5 key messages that you want someone to remember about what the proposal is – these should form the foundation of your pitch. Make sure you also include information on what is motivating you to embark on this path now in your career.
One page summary
Make sure you write an additional one-page summary that you will print off, and leave your manager (and maybe also email a copy to them) at the end of the meeting to summarise the key messages you want to impart.
This is so they have notes that they can refer back to when trying to make a decision. Some companies have specific requisition forms to fill in when it comes to funding courses. Align your pitch, and one-page summary with this as much as possible.
7) Schedule a meeting with your boss
Request a meeting with your boss to discuss your proposal. Be upfront and state exactly what the purpose of the meeting is. Don't spring the conversation on your boss unannounced. Be prepared for this meeting. Practice your elevator pitch and take your notes into the meeting with you.
8) Make your case
Present your proposal and make your case. Try to anticipate questions or concerns that your boss may have, and answer in a way that speaks directly to the benefit your education will bring your company.
Make sure to bring any supporting materials, such as brochures or information on the specific courses or programmes you want to take (along with your one-page summary).
Remember, your manager may also need to convince their manager (and any other relevant parties), of the following:
This course, programme or degree will enhance the skills of this employee in an area in which your company operates.
This course, programme or degree is related to your current role or a role or work that could reasonably be expected to be performed in the future.
So make sure you provide them with the material so that they can justify their decision to other stakeholders.
Listen to Padraig Philips from Abbott, who has already journeyed along this path you are starting. Beginning as a Cleaner, he is now a Warehouse support manager, all because he sat down with his manager and made a career plan
9) Follow up
After the meeting, follow up with your boss to discuss any next steps or decisions. 
There is a lot of variation from company to company but for programmes or courses that involve large amounts of money or employees' time, we typically see the following:
Once you have chatted with your supervisor or manager, and informally agreed on a course or pathway for you, you will most likely need to submit a formal application online. Sometimes this is a specific online form you will need to fill in. Some companies deal with this through an "Educational Assistance Programme", and call the form a "Field of Study Request".

Once you have submitted this, your supervisor/manager and any other relevant party (such as your manager's manager), will need to review and approve your application. They will need to be able to say categorically that:

This course, program or degree will enhance the skills of this employee in an area in which your company operates. 

This course, programme or degree is related to your current role or a role or work that could reasonably be expected to be performed in the future. 
So the burden is on you to provide them with the proof they need to be able to say these statements are accurate and true. So give them the tools to defend you and the decisions they make to senior management
If your proposal is approved, make sure you follow up with any additional forms, invoices etc. that will need to be submitted across the various departments. Likewise, during your studies, be sure to stay in contact with your boss throughout the education process to keep them updated on your progress and any benefits you have seen.
If the answer is no, don't give up. Ask for feedback, on how you can strengthen your application next time, take on board what their concerns are and then reapply again.
Education Contract
In some jurisdictions, you could be asked to sign an education contract if your employer agrees to reimburse your tuition. Read this document carefully and make sure there are no clauses that you don't agree with or don't understand. Some things to consider:
You could be asked to commit to staying with the company for a certain period of time. Your employer does this as they don't want to pay for your education only to have you leave and get a job with another company.
What happens if you can't complete the course or degree for some unforeseen reason? Will you be forced to repay any tuition that has already been reimbursed?
What happens if you fail the end-of-module exams? Who pays if you have to repeat an exam?
10) Volunteer to share your new knowledge with your colleagues and teams.
Finally, make sure to keep developing yourself and continue to look for opportunities to learn and grow within your field – while also helping out your colleagues to do the same. You'll have learned a lot from the process and been given a hand-up with the information in this article – so make sure to pass it on. We are after all in the business of manufacturing safe medicines for patients and we want everyone doing that job to be the best they can be.
Interested in Upskilling?
Already working in the industry and want to upskill for a better job or a promotion?
View all 13 Pharmaceutical Courses
Claire Wilson
Content Marketing and Career Coaching
Claire runs GetReskilled's Advanced Career Coaching Programme – our specially devised job hunting course that helps our trainees take that final step into employment by leading them through the job hunting process. She is extremely enthusiastic about helping people reach their final goal of employment in their new career path.
Claire has a BSc (Hons) in Medical Biology from Edinburgh University and spent 7 years working in the pharmaceutical and medical device industries.
Sinead Creaner
Partnership Director and Programme Coordinator
Sinead Creaner is a Programme Coordinator with GetReSkilled – meaning she helps students reach their goals with dedicated pastoral support. Over the last years, she has worked with hundreds of students by being their "Jiminy Cricket" when they need it.
She works primarily with our Springboard+ and BSc students. She has extensive international experience having lived, studied and worked in Ireland, Singapore, Australia, Boston MA and London UK over the last 12-years.
In her spare time, Sinead has published the definitive biography on the artworks of Brother Joseph McNally, a leading Irish missionary and educator in Singapore for 50-years and her book "The Life and Artworks of Brother Joseph McNally" was launched as part of the Singapore-Ireland Fund's McNally Legacy project.
Donagh Fitzgerald
Head of Marketing & Product Development
Mechanical/Production Engineer
Donagh looks after the marketing and product development including the training and pedagogical elements of our programs and makes sure that all GetReskilled's users can have a great online learning experience. Donagh has lived and worked in many countries including Ireland, America, the UK, Singapore, Hong Kong and Japan where he managed to pick up the language. Donagh has also served as the Program Manager for the Farmleigh Fellowship based out of Singapore.
Donagh holds Degrees in Production Engineering and Mechanical Engineering from South East Technological University, Ireland.