Check out this pharmaceutical and medical device company career page directory to help you with your job hunt. It includes over 180 links to:
Multinational Companies in Ireland
The companies listed in this section are multinational companies that have sites or facilities in Ireland. They are typically larger companies with high staff numbers. These links will take you directly to the careers page of each company.
"HOT!" means the company currently has lots of open positions!
Indigenous Companies
These are all companies that began in Ireland and are based in Ireland. These, generally, may be smaller than the companies listed above. The links will take you directly to the careers page of each company.
Engineering Consultancies
These are engineering consultancies, where you can find a whole range of roles including contract and project work.
Other Companies
These are all companies that operate in Ireland but don't have a dedicated careers page. It may still be worth your while contacting them directly to discuss possible opportunities.
Recruitment Companies
These are all Irish recruitment companies or recruitment companies with offices in Ireland, that specifically mention dealing with pharma jobs.
Contract Services
Contract service companies will hire and employ you directly and then place you to work within their client pharma or med device company.
Job Websites
These sites all have their own jobs boards – some are aggregators for several other sites. It's worth keeping an eye on a few until you can see which ones are displaying the jobs most suitable for you.
Relevant LinkedIn Groups
LinkedIn is a tool that you should definitely be utilizing in your job hunt. Here are 10 LinkedIn groups to get you started – some are just about available jobs, some are about the industry and some are about job hunting in Ireland.
Retrain Online for a Higher-Paying Job in the Pharma Manufacturing Industry in 4 Months
Take our online, part-time, Conversion Course into Pharma. Retrain for a job in the Pharma Industry OR fill in your knowledge or qualification gaps for our follow-on academic programs.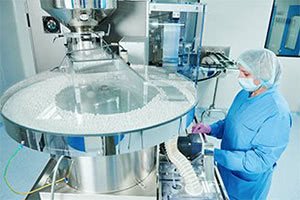 You DON't need a science or chemistry qualification to get a starter job

15 week online course – No needless travel

Higher-Paying Jobs – 30% Above Average
You Might Also Be Interested in:
If you know of a company or group we've missed from this page, or think your company should be displayed here, please contact us.