Our Graduate Success Stories
Read stories from our graduates as they share their experiences on taking our courses and the jobs they got as a result.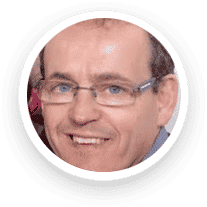 From Optician to Chemical Process Technician!
Adrian now works as a Chemical Process Technician for a pharmaceutical company. He's been doing this since October 2014 and it's an interesting job that he enjoys. It's also a job that he thinks is an option for more people than you might realise – his prior work experience isn't entirely 'traditional'.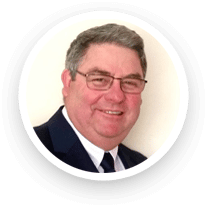 From Engineering Consultancy into Pharma
When Jeffery Kophamel started his reskilling journey into pharma, he already had a Masters in Mechanical Engineering and had over twenty-five years of engineering experience. Despite this background, he couldn't find a way in to pharmaceutical or medical device manufacturing.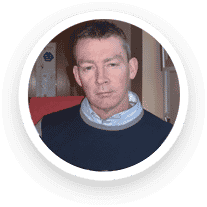 Making Car Parts to Med Device Manufacturing
I have been working in the automotive components manufacturing industry since 1992 and I recognised that I had to upskill in order to get into the medical device/ pharmaceutical industry. In 2013 I secured a six month contractual position as a process engineer.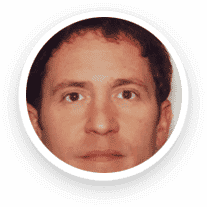 No Manufacturing Experience? No Problem.
With two Bachelor's degrees and 10 years work experience as a Health Care Professional, Aaron Bates had decided he wanted to change his career path. After some research, he decided that a new career in pharmaceutical manufacturing might be just what he was looking for. So, with the assistance of Springboard funding, he began GetReskilled's eBioPharmaChem course.
From Civil Engineering to Pharmaceutical Manufacturing
"I am Chartered Civil Engineer with over fourteen years experience in consulting engineering. After being made redundant over two and a half years ago, I found that there were no employment opportunities in Ireland within the civil engineering sector.
After receiving an email from Engineers Ireland about this course, I applied and commenced the course. I found the course, which is run by GetReskilled excellent and really interesting. It is very well delivered through weekly e-lectures and webinar tutorials which entail self-assessments at the end of each week. The course was assessed with an online exam at the end of the chemistry module and through assignments given at the end of each of the three modules, where adequate time was given for the submission of the assignments. The opportunity of being able to do the course from home and particularly during a timeframe that suited me was practical and very achievable.
During the course there was a one day coaching session on interview and cv preparation run by FPPI. I found the FPPI team very enthusiastic and encouraging and also responsible in steering me in the right direction to return to the workforce. With the help of this course and FPPI I have just completed my first month of a 9 month internship as a trainee process chemical engineer with a large multi-national pharmaceutical company in Co Clare. This placement ,I have no doubt along with the course will give me the invaluable experience required to advance in this new sector."
From Unemployed to Working on a Validation Team
"I found the this programme to be hugely beneficial, in that it afforded me a bridge back into the biotech and pharmaceutical industry after being unemployed for almost a year, and provides each student with the necessary and current skill-set to take on key roles within a project's commissioning and validation team. I found the method of delivery for each module excellent; the online course material was always on-hand and well maintained, and the style suited me since I work during the day and discovered that I could mould my study schedule around this as I saw fit. I must also commend the lecturers and co-ordinators for their knowledge base, professionalism and on-going assistance throughout the course."
Reskilling Programme in Pharmaceutical Manufacturing
"A while back I found myself in the unusual position of being out of work – I had been working for a well known Pharmaceutical company for over eleven years and was now "finished" .I was in my mid forties and thought what's next, what can I do to help myself get back on the ladder – then the first time I went to sign-on ( only the second time in my life), I saw a notice on the board there about SpringBoard courses, I looked it up online when I went home and applied that very day.
Following a few conversations and a video interview I was accepted on a Biopharma course – this I believe changed my destiny, I had been getting some interviews up to then but with no success the level of candidates had increased significantly since I last had been looking for employment – I hadn't stood still while working I had completed a number of certificates but, now everyone was studying!
The course I am pursuing is an online course delivered weekly and there is always someone there to help if needed either online or over the phone and most importantly you can do it at your own pace – trying to balance work, kids and home life can be very challenging!
When I got interviews after that the companies were very interested in my course, I felt like I had gained an advantage again, and fortunately I am now employed by one of the biggest BioPharmaceutical companies in the World that is why I'd say continuing education can only be good for your career."
Reskilling Programme in Pharmaceutical Manufacturing
"I would rate the course 10 out 10 and would highly recommend to others, the tutor managed to get excellent group interaction right from the beginning, very interesting, informative and very well presented. Relevant totally to my needs and expectations. The most practical course I have ever attended. Well done!"
Reskilling Programme in Pharmaceutical Manufacturing
"I would highly recommend this course to everyone! Before taking this course I didn`t know anything about pharmaceutical industry. I wanted to try something different and never regretted for choosing this one. It helped me not only to enhance my knowledge, but also boosted my confidence and faith to find employment again. I found that pace of course was good, lecturers were very good and professional, overall very good experience.
At the moment I am employed in a different kind of industry and my work involves some of the knowledge gained on this course."