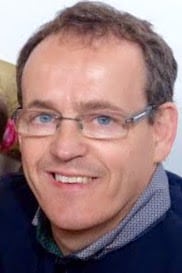 Student Profile – Adrian Fitzpatrick
Job Before: Optician
Courses Taken: eBioPharmaChem
Job Now: Chemical Process Technician
"I'm extremely proud. I worked hard at it, and it has paid off"
Adrian Fitzpatrick works as a Chemical Process Technician for a pharmaceutical company. He's been doing this since October 2014 and it's an interesting job that he enjoys. It's also a job that he thinks is an option for more people than you might realise – his prior work experience isn't entirely 'traditional' for this occupation.
A Non-Traditional Path to a Pharma Career
Adrian had spent 25 years progressing to, and working as, an optician. When the economic downturn hit in 2007, he lost his job. He did manage to find a new position as an optician but in 2012, when he lost his job again, he decided it was time for a change. A big change.
Having taken a brief course in engineering when he left school, he decided to follow that interest for his big change. He describes the very deliberate process he went through in deciding which area to focus on…
"I examined what I'd done in my previous life – which was qualify as an optician. I looked at the criteria of what I studied, and I decided to look at an industry that was comparable… I said, what could be a common denominator, and I looked at the pharma industry."
After about six months of unemployment, his mind was made up – he was going to pursue a career in the pharmaceutical industry.
He went to an industry mixer event and calls it "the widest awakening I ever got". Adrian soon realized his past experience wasn't going to be enough to get him into pharma – he was going to have to reskill.
Reskilling Through Online Learning
After taking a few day-courses organized by pharmaceutical companies, he began the eBioPharmaChem course with GetReskilled, in 2013.
Having taken various courses in his previous career, Adrian was quite familiar with the process of distance learning – where students learn at home, away from a classroom environment. However, this time he found himself studying at home while unemployed and looking after two small children. He admits that it took effort and dedication.
His tips for being successful at reskilling into a new industry? It's important to be sure about your new career path – spend some time making a decision and then fully commit to it. His tips for studying online, specifically, are extremely practical –
"Get a good computer, get a printer … the last thing is, you need to dedicate time to it."
He soon found his own personal study style, stuck to it, and put in the hours needed to succeed.
While many may think that the learning required for such a role within the pharmaceutical industry is out-with their abilities, Adrian thinks not.
"I think that most people could put their hand to it. If they work at it…it doesn't come easy"
Starting His Pharma Career
As the course continued in October 2014, Adrian had learned enough to impress employers and he began interviewing with pharmaceutical companies. While they were interested in his work history, he says that of all his experiences, "the big-hitting one was this course" – employers were keen to talk about his participation in the e-BioPharmaChem course. He was soon offered his job as a Chemical Process Technician.
His working hours now are focused on manufacturing pharmaceuticals and he happily describes his job as "very interesting". What's even more inspiring is the way he talks about being involved in the pharmaceutical industry and the role his position plays in the production of medicines…
"You're a part of something. You're making something that does make a difference."
This was something he hadn't necessarily thought about when choosing his new career but it's something he's frequently aware of now as he goes about his daily job duties. That seems an extremely satisfying thought.
Adrian is currently finishing up his second year of study and is very close to a diploma-level certification. Reflecting on his experience of reskilling he states,
"I'm extremely proud. I worked hard at it, and it has paid off."
In stark contrast to his previous occupation, he talks about his future in the pharmaceutical industry with a lot of positivity. He seems sure that reskilling was the right thing for him, and for his family.
The journey from Optician to Chemical Process Technician has certainly been a rewarding one for Adrian. If you've been inspired by his story and think that a career in pharma might be just what you're looking for, give GetReskilled a call now to talk through the options.
As Adrian himself says,
"There is nothing beyond any person if they put their mind to it."
Interested in a Pharma Manufacturing Career?
Claire Wilson
Content Marketing and Career Coaching
Claire runs GetReskilled's Advanced Career Coaching Programme – our specially devised job hunting course that helps our trainees take that final step into employment by leading them through the job hunting process. She is extremely enthusiastic about helping people reach their final goal of employment in their new career path.
Claire has a BSc (Hons) in Medical Biology from Edinburgh University and spent 7 years working in the pharmaceutical and medical device industries.