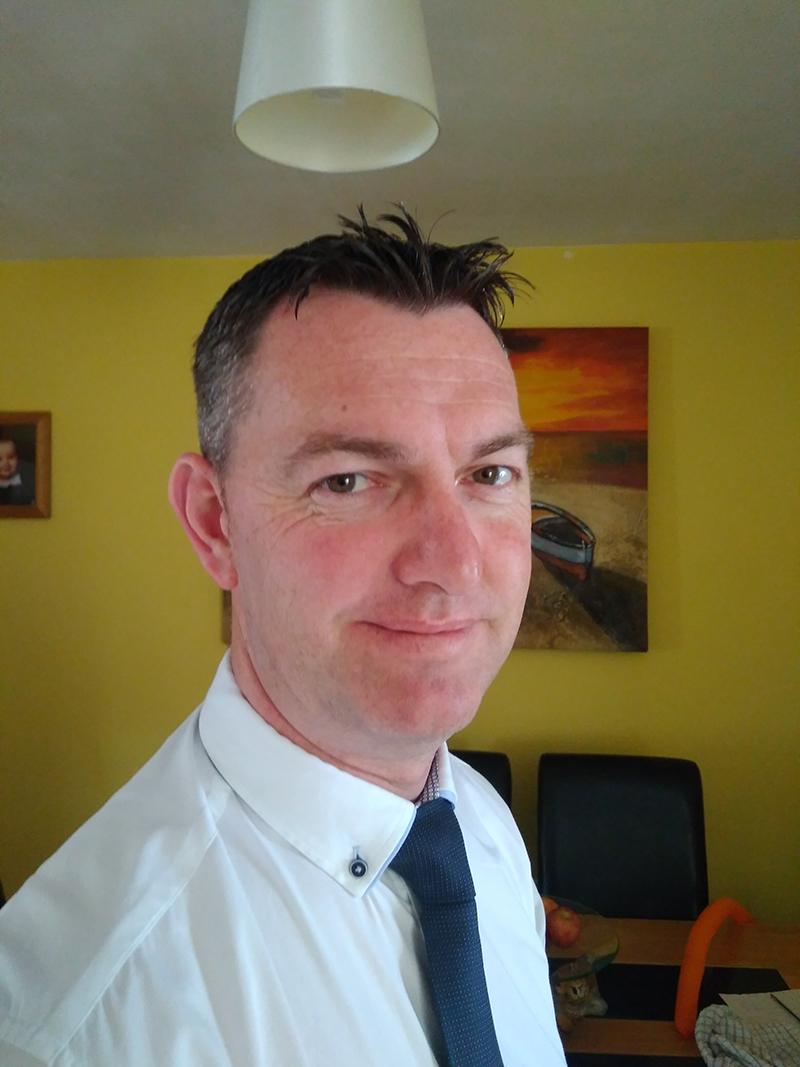 Student Profile – Jason Cummins
Job Before: Food Industry
Courses Taken: eBioPharmaChem
Job Now: Production Technician (Medical Device)
"It seems to be a booming industry… it's absolutely worthwhile investing a little bit of your own down time or private time to do this online course at home, at your leisure."
As he approached turning 40, Jason Cummins decided to make a career change. He'd worked in the food industry for the last 12 years and felt like he wanted something different.
His final role before the change was working in sales. It might not instinctively lend itself to medtech manufacturing but that's where Jason found himself drawn to.
First, he needed a course to get himself familiar with the requirements of the industry.
Returning to Education
Jason wasn't sure about returning to study after so many years but he found himself actually enjoying it.
"I thought I wouldn't be able to do it and I thought I wouldn't have the interest to do it but after a week or two I got this bug back in my body that I wanted to learn more. And I got that hunger to push myself further and further, and get better and better. I just thoroughly enjoyed it – I couldn't believe how much I enjoyed it."
Then, came the job hunt.
Contract Roles as a Route into Industry
It was actually a recruiter that noticed the eBioPharmaChem certificate on his CV and thought she had a role that might suit him.
Jason interviewed for (and was offered) a 12-month contract as a production technician for a medical device company.
He never had any doubts about taking a contract role. He went into it thinking,
"OK, perfect, it gives me 12 months to prove myself and show a bit of interest. Keep my head down and work away, and hopefully something better will come along and… it did."
He took the opportunity and used that time to gain as many skills and as much experience as he could. The original contract ended in April of this year.
Moving on From a Contract Position
Thanks to Jason's hard work and dedication within the contract role, he's now moved to a permanent position, in a promoted role with the same company.
"It's a fabulous feeling to have that weight lifted off your shoulders and to have that bit of security behind you to know that you're now a permanent member of staff… it's brilliant – absolutely brilliant."
And more than that, he's working in an industry that he clearly loves. 
"The sheer reward of knowing that I'm producing something that's going to help someone and better their life or make them more comfortable… It's really astonishing."
He's clear that it's an industry that's full of opportunity. 
"It seems to be a booming industry…jobs are well-paid…plus the benefits… it's absolutely worthwhile investing a little bit of your own down time or private time to do this online course at home, at your leisure."
Reflecting on his Decision to Reskill
"It's worked to my advantage and I can't praise the course, and the people that run the course, highly enough because I believe without them I mightn't have gotten in to the position I was, as quick as I did. And without that course I wouldn't have progressed as fast as I did."
Long-term Jason is hoping to progress his career even further within his company. He's already started thinking about the steps he'd have to take and the courses he'd have to complete to get into some of the more specialised roles.
"I'm the type of person that always wants to develop, try and get better…I'm willing to go the extra mile to get further in this environment because in such a short time, I've already seen the benefits that can come my way."
When asked about what he'd say to a friend who wanted to get into the same line of work he's in he says, 
"I would highly recommend the course – first and foremost. To start off, to get some sort of background. Because it gives you a great background for the process from start of a product right through to the final stage of a product where it's shipped out the door to the customer…That course sets you up perfectly because there isn't a day that goes by that I'm not using some bit of the course."
Jason's taken made the most of his opportunities – he's worked hard to learn, to impress employers and now, to get a permanent position. A contract role was a great start to his career in the industry and gave him the opportunity to put into practice what he was learning within the course.
His final thoughts on the concept of reskilling for a new career?
"I'd highly recommend it to anyone to get back into employment, get better wages than what they might be on, a better working environment, a safer working environment, a more stable working environment – because it seems to be growing".
Start Your Pharma Career Today
Retrain ONLINE for a Higher-Paying Job in Pharma Manufacturing in 15-Weeks
You can make this change even if you have NO previous industry experience or a science or engineering qualification.
If you have any of the following backgrounds;
Homemakers
Restaurant Sector – Chef, Cook, Restaurant Manager
Healthcare – Nurse, Radiation Therapist, Caregivers, etc
Manufacturing – Production Operator, Toolmaker, Fitter/Turner
Food Processing – Operator, Butcher
Military – Army, Navy, Air Force, etc
Construction – Electrician, Plumber/Pipe-fitter, Carpenter/Joiner, Foreman, General Operative
Warehouse – All Warehouse Workers
Sales/Business – Retail Sales, Pharma Sales, Business, Accountant, Finance, etc
Other – Farmers, Designers, Architects, Airline Staff, Beauty/Hair Saloon etc
STEP 2, you then take our Certificate in eBioPharmachem program to get a level 7 university qualification from Technological University Dublin, Ireland and get better jobs with a higher salary. Typical roles;
And with experience
Claire Wilson
Content Marketing and Career Coaching
Claire runs GetReskilled's Advanced Career Coaching Programme – our specially devised job hunting course that helps our trainees take that final step into employment by leading them through the job hunting process. She is extremely enthusiastic about helping people reach their final goal of employment in their new career path.
Claire has a BSc (Hons) in Medical Biology from Edinburgh University and spent 7 years working in the pharmaceutical and medical device industries.