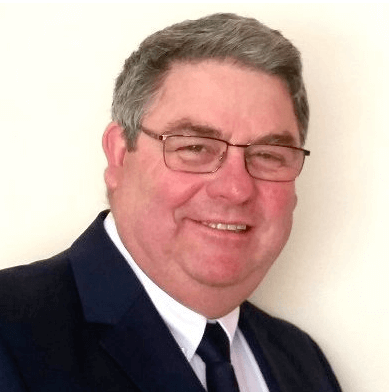 Student Profile – Jeffery Kophamel
Job Before: Engineer (Consulting)
Courses Taken: eBioPharmaChem
Job Now: Senior Projects Engineer (Medical Device)
"You just have to have a dogged determination to keep going and get where you want to be. And you will get there."
When Jeffery Kophamel started his reskilling journey into pharma, he already had a Masters in Mechanical Engineering and had over twenty-five years of engineering experience. Despite this background, he couldn't find a way in to pharmaceutical or medical device manufacturing.
Aiming for a BioPharma/MedTech Career
Until that point, Jeff had worked in engineering in a variety of industrial sectors. He had been successfully self-employed and had a great deal of consulting experience. But as the global economic downturn hit, he began to notice that the flow of new contracts was drying up.
After a careful assessment of alternative sectors, he concluded, "The medical and pharmaceutical industry seemed to be thriving" and could give him the longer-term project work he wanted. But he was left wondering, "How do I get in there?".
Jeffery tried applying for jobs but found that the unique regulatory environment of the pharmaceutical and medical device sector was a major stumbling block. He had worked in regulated industries before but never in this regulated industry, and it was counting against him. He felt doors were closed as soon as he said he had no direct experience of the regulations in this field.
He recalls beginning to get disillusioned before realising,
"In order to take the engineering knowledge that I had, and attempt to get into the pharmaceutical/medical device industry, I needed something more to give me leverage."
One Course Was All it Took
He decided to take the eBioPharmaChem course with GetReskilled. Even with his extensive engineering background, he found the course useful, getting in-depth exposure into the regulatory aspects of the industry as well as its jargon.
He realized that in having that vocabulary, he was now able to talk about his skills and experience in a way that would be relevant and of interest to employers. While he could always talk authoritatively on engineering principles, now he had the ability to discuss them using the common industry language.
He began applying for jobs while his course was ongoing and remembers that, "all of a sudden people were interested in me". He admits that it wasn't easy though and it still took a lot of applications. He sought advice in lots of places and acted on it, such as spending time improving his LinkedIn account. Ultimately, he was successful.
Jeffery now works as a Senior Projects Engineer for a medical device company and sees his success in getting to this position as very much a function of his previous experience.
Any Advice for Someone Doing the Same?
When asked for advice he'd give to someone trying to make a move into the pharmaceutical or medical device industries he says,
"You need to believe in yourself and you need to realise that you have a service to sell and that your time will come, you've just got to be able to keep pushing. Do not get disillusioned…remain positive".
He also talks about the need for confidence when dealing with companies in a new industry and maintaining a clear idea about what you can give back – see it as a two-way street. You need to fight against getting get disillusioned when things take time to come together for you.
In summary, he says,
"You just have to have a dogged determination to keep going and get where you want to be. And you will get there."
To hear more from Jeffrey about his reskilling experience, check out our first graduate webinar.
Want to Learn More About Engineering Opportunities?
If you'd like an outline of what the different engineering jobs are available within the pharma sector what skills are necessary, check out these articles:
For more information on currently available engineering roles in pharmaceutical or medical device manufacturing, head to our jobs boards and select Engineering or Engineering Projects in the "Jobs by Category" menu. We currently have jobs boards for Ireland and the UK
Interested in a Pharma Manufacturing Career?
Claire Wilson
Content Marketing and Career Coaching
Claire runs GetReskilled's Advanced Career Coaching Programme – our specially devised job hunting course that helps our trainees take that final step into employment by leading them through the job hunting process. She is extremely enthusiastic about helping people reach their final goal of employment in their new career path.
Claire has a BSc (Hons) in Medical Biology from Edinburgh University and spent 7 years working in the pharmaceutical and medical device industries.