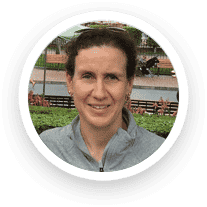 Student Profile – Regina McNamara
Job Before: Professional Painter
Courses Taken: eBioPharmaChem; eValidation
Job Now: Product Builder (Medical Device)
"I think it's a good career to be in. The industry's definitely buoyant at the moment. I just enjoy what I do really."
Regina McNamara talks about her role in medical device manufacturing with great passion. It's clear that she really enjoys her job. When asked about the reasons why she says that she likes the work and she specifically mentions the team she works in.
The Diversity in MedTech Manufacturing
Some people still think of manufacturing as being a male-dominated environment. Regina points out that couldn't be further from the truth…
"There's a real mixture between men and women there – different nationalities and different cultures. It's good to see."
With so many big companies in this industry, there are lots of opportunities for flexible working to suit many circumstances. And you don't necessarily need previous experience from within the industry.
Regina herself doesn't necessarily have the background you'd expect.
Reskilling From A Very Different Industry
A degree in Fine Art. A Masters in Multimedia Technology. A professional painter. Perhaps it's not the background you'd guess of a Product Builder within one of the world's top medical device companies. "I'm not the strongest in maths", she explains. And although she had some manufacturing experience from earlier in her career, she had no science background.
That's the background Regina brought to the industry… along with a whole lot of determination to succeed. She's a great example of someone setting their mind to something, and getting it done.
Regina came to the industry after seeing an advert for an introductory course. She was in a job that she knew was temporary and she'd always been interested in the industry so she decided to sign up. As soon as she'd completed that, she moved on to the Level 7 Certificate in eBioPharmaChem.
Turning Education into a Job
With her certificates in hand and her mind made up to keep studying, Regina landed her first industry job.
"They were impressed that I was doing all this"
Employers could clearly see the drive and self-discipline it had taken for Regina to get herself to this point.
Working as a product builder, she runs machines that manufacture catheters. This is a highly regulated manufacturing environment – her work takes place in a clean room, dressed in personal protective equipment. It's a job with many procedures, each of which must be followed closely.
"It's a very responsible job – you're dealing with people's lives"
But she wasn't done there.
Onwards To a BSc Degree
Now working a regular night shift for the medical device company, she continued to study. She completed her Level 7 Certificate in eValidation a few months later.
Motivated by her good grades, positive feedback from lecturers, and a job she was enjoying, Regina started to look to the longer term.
With her 2 courses complete, she had technically completed half of the BSc Degree in Manufacture of Medicinal Products. She could see that pursuing a degree could open up advancement in the workplace, and another new challenge.
And that's where she is today – studying towards finishing her degree and continuing with her medical device manufacturing job.
Looking to the Future
She's been in her current role for two years and still really enjoys the variety of it. She's also now taken on the role of SME Trainer, training new members of the workplace team.
"I think it's a good career to be in. The industry's definitely buoyant at the moment. I just enjoy what I do really."
Regina's doing well but says studying's not always easy. On the maths and science aspects of the course, there are times she goes away and finds additional reading, spending longer on understanding something thoroughly the first time through.
"I have to do a little bit of extra study…so that takes a little bit more time… but I want to succeed in it"
She's clear that not having a background in these things isn't a reason for someone to discount this industry as a career choice.
In the long term, Regina's hoping to finish up her studies and work towards a more advanced role in the company. It's an industry that's thriving right now and full of opportunities. Her qualifications, determination and hard work leave her well placed to make the most of that.
When asked about her motivation to keep studying she simply says…
"I suppose I have a kind of inner drive anyway… I always want to do something and do it right the first time"
Now THAT sounds like a Product Builder within one of the world's top medical device companies.
Interested in a Career in the Pharma Industry?
Retrain ONLINE for a Higher-Paying Job in Pharma Manufacturing in 15-Weeks
You can make this change even if you have NO previous industry experience or a science or engineering qualification.
If you have any of the following backgrounds;
Homemakers
Restaurant Sector – Chef, Cook, Restaurant Manager
Healthcare – Nurse, Radiation Therapist, Caregivers, etc
Manufacturing – Production Operator, Toolmaker, Fitter/Turner
Meat Processing – Operator, Butcher
Military – Army, Navy, Air Force, etc
Construction – Electrician, Plumber/Pipe-fitter, Carpenter/Joiner, Foreman, General Operative
Warehouse – All Warehouse Workers
Sales/Business – Retail Sales, Pharma Sales, Business, Accountant, Finance, etc
Other – Farmers, Designers, Architects, Airline Staff, Beauty/Hair Saloon etc
STEP 2, you then take our Certificate in eBioPharmachem program to get a level 7 university qualification from Technological University Dublin, Ireland and get better jobs with a higher salary. Typical roles;
And with experience
Claire Wilson
Content Marketing and Career Coaching
Claire runs GetReskilled's Advanced Career Coaching Programme – our specially devised job hunting course that helps our trainees take that final step into employment by leading them through the job hunting process. She is extremely enthusiastic about helping people reach their final goal of employment in their new career path.
Claire has a BSc (Hons) in Medical Biology from Edinburgh University and spent 7 years working in the pharmaceutical and medical device industries.