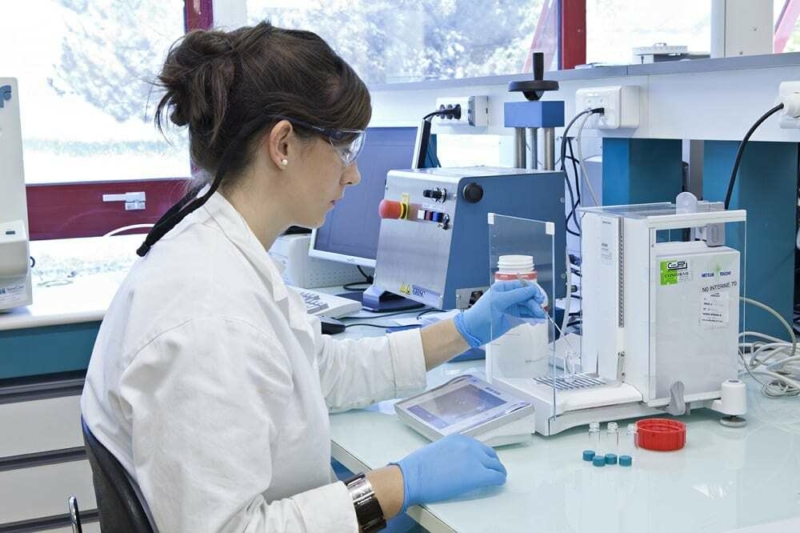 What is Quality Control Analyst?
A Quality Control Analyst tests the product of a manufacturing process to ensure that it meets with predefined criteria. The completion of this quality check ensures that the final product is safe to release for sale or distribution.
Some companies might call this role…
QC Associate

Quality Control (QC) Technician

QC Specialist
Let's take a closer look at the details of quality control and the role of a Quality Control Analyst.
What is Quality Control?
Quality Control is product oriented and focuses on testing a sample of a manufacturing process to make sure that meets the required design specifications or quality standards. The product can then be released to the next stage of the production process or deemed suitable to be released for sale or distribution. 100% sampling or Statistical Process Control (SPC) are some of them more widely used techniques in quality control.
In pharmaceutical manufacturing, the sample testing is done in a laboratory so people who work in QC usually have a science/laboratory background.
The Quality Control department will test the product at various points along the manufacturing process as well as testing the final product. Each test measurement is compared to the standards pre-defined in the Standard Operating Procedures (SOPs).
If the test shows the product deviates from standard it could be destroyed or reworked (depending on the industry) and actions taken to adjust the manufacturing process to ensure it doesn't happen again.
The standards that test measurements are compared with are internal standards, external regulations and industry-wide standards. Clear documentation must be kept to show that rigorous Quality Control has been carried out before products were authorised for release.
A job in this team carries a great responsibility. In the pharmaceutical and medical device industries, a defective product can mean significant harm to a patient. Maintaining the highest levels in product quality is essential.
What Does a Quality Control Analyst Do?
Quality Control Analysts are also sometimes referred to as Quality Control Associates or Quality Control Specialists. The tasks assigned to any one individual can vary greatly depending on the product being produced, but tasks might include:
Testing and recording measurements of various product attributes
Comparing these measurements against a pre-defined standard specification
Monitoring production practices to ensure compliance with Quality Control procedure
Providing assistance to production staff where necessary regarding the Quality Control procedures
Completion of documentation to show that tests have been carried out and recording whether the product met the standards or not
When defects are found – they are analysed and carefully logged into production documentation
Quality Control teams then work together to find solutions and implement new protocols and procedures in response to deviations
Compiling test measurements and outcomes into reports for senior colleagues
Watch this Video on a Quality Control Analyst's Role
Take a look at this short video from the About Bioscience website, produced by the North Carolina Association for Biomedical Research (NCABR). It gives a great outline of a 'day in the life' of a Quality Control Analyst.
Becoming a Quality Control Analyst
High school level education in science subjects and industry experience are usually the minimum requirements for entry-level Quality Control Analyst positions.
Many companies will provide training to candidates showing the right traits and skills. A BSc in science or engineering can replace industry experience for some candidates.
What Skills Do I Need?
The ideal skill set for someone moving into Quality Control includes:
Team working – Quality Control Associates often work in teams to gather and analyse data
Keen attention to detail – must be able to quickly spot when something isn't correct and take effective action, catching a problem early can reduce wasted time and product
Good communication skills – this role requires working with people from across the manufacturing process and often working with production staff to discuss defects, adherence to protocols and implementing new quality SOPs.
Excellent written communication – documentation is a key feature of these roles and an essential requirement of industry compliance
Prioritisation skills – often working to deadlines and ensuring the manufacturing process is working efficiently at every stage, must be able to prioritise workload
Quality Control Analyst in the Pharmaceutical Industry
If you already work in quality control in nutritional, beverage, food, or dairy manufacturing or similar industry and would like to retrain to perform the same or similar role within the pharmaceutical or medical device industry, check out our "Conversion Course into Quality Roles in Pharma".
This program is the quickest way to learn all you need to, to successfully move into Quality Control or Quality Assurance roles in Pharmaceutical or Medical Device manufacturing from a different industry.
Depending on your previous experience, here are some of the most common job titles we see advertised;
Quality Control
Quality Control Microbiology Analyst
Quality Control Specialist,
Quality Control Analyst FTC
Senior Quality Control Analyst
QC Analyst, QC Scientist
QC Micro Technician
QC Microbiology Analyst
QC Drug Product Technologist
QC Stability Co-ordinator (Senior Analyst)
QC Specialist -LIMS
QC Biochemist UA
Quality Control Analyst Salaries & Job Growth
Quality Control Analyst Resume Tips
As with all resumes, it's extremely important that you tailor your Quality Control Analyst resume to reflect the language used within the job advert. Where you have relevant experience or skills, use the words and phrases that the employer has used to describe them. Do not assume that someone will read similar wording and know what you mean.
Quality Control Analyst roles will typically be looking for the skills previously outlined:
Team working
Keen attention to detail
Good communication skills
Excellent written communication
Prioritisation skills
For more help with your resume, check out these templates and this list of 30 tips to improve your resume.
Other Relevant Pharma Job Roles 
Quality
Science/Laboratory
Validation
Our Most Popular Programs and Courses