2016 was a great year for Ireland's pharmaceutical and medical technology industries. There were some massive job announcements and some huge predictions for the future of the sector.
Let's first take a look at the highlights of 2016 before taking a look ahead to what 2017 will have in store.
A Year in Review – Irish Pharma's 2016 Highlights
This year saw over 3000 new jobs announced around Ireland. Some of the biggest announcements included:
We also saw some companies opening new sites and expansions. Some of these were:
And there were also a few firsts in 2016:
The Year Ahead – What We Already Know About Irish Pharma's 2017
After such a strong 2016, what can we expect from 2017?
Well, there are a few things we already know we can expect from the year ahead:
GE

should begin construction of the 

GE BioPark Cork

. Once completed, this project is expected to bring 500 new jobs

BMS

are expecting a big spike in recruitment as they look to fill 

230 jobs in 2017

Fort Wayne Metals

should complete their 

Mayo expansion

Shire

is expecting to begin recruitment for 

their Meath expansion

after planning permission was granted
In case you haven't already seen it – this year we also launched a new Job Announcements Infographic that we'll be updating over 2017.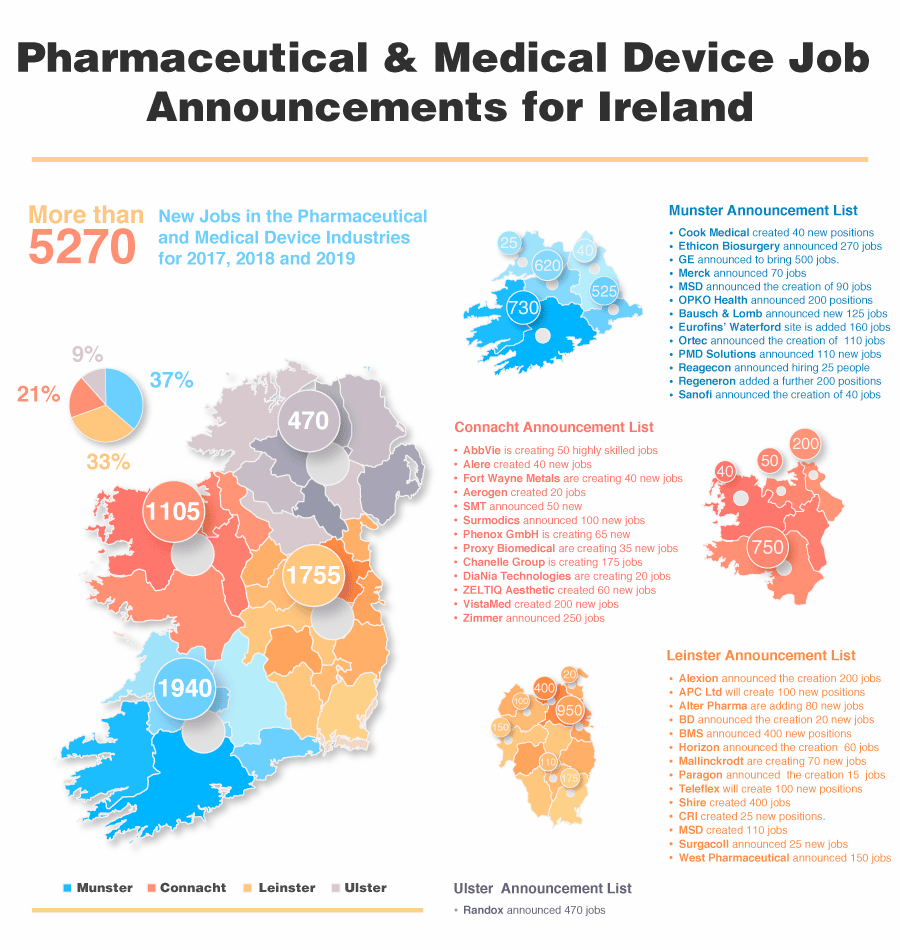 This page is the best place to keep up to date with all the industry's jobs announcements.
All the announcements currently listed on our infographic are continuing recruitment so there should be some great opportunities coming in 2017. There are a few that we know are looking to have their recruitment complete over the next year:
Alter Pharma

is adding 

80 jobs

in Dublin by 2018

Mallinckrodt

are expecting their 

70 new jobs

in Dublin to be filled in 2017

ZELTIQ Aesthetic's 

60 new jobs

in Galway should be filled by the end of the year
We also know that demand for certain roles is likely to increase or remain high over the next year.
The National Skills Bulletin 2016 identified several positions as having an 'acute need' or shortage relative to demand across Ireland. These included:
Science Roles –
Scientist

Analytical development chemist

Microbiologist

QC manager/QC analyst

QA specialist

QA/QC/validation technician
Engineering Roles –
Automation engineers

Validation engineers

Commissioning engineers

Quality/QC/QA engineers & other regulatory affairs professionals

Chemical/chemical process engineers

Mechanical engineers (polymer engineering & injection molding)

Electrical engineers
Technician Roles –
Quality assurance technicians

Injection molding technicians

Polymer engineering technicians

Biotechnology technicians

Extrusion technicians

Process technologists

Maintenance technicians

In addition, Silicon Republic recently published an article in conjunction with the recruitment firm Hays. They identified the following jobs as in high demand for Ireland's industry in 2017, reflecting the front line experience of recruiters:
Biologics Engineering

Scientific R&D

Regulatory Affairs

Senior Quality Professionals

Quality Control or Lab Analysts
Ireland is incredibly optimistic about the future of its pharmaceutical and medical device industries. In fact, this year also saw the IMDA launch its plan to make Ireland "The Global Medtech Hub" by 2020. But it has also been noted that having a sufficiently skilled and large enough pool of talent is extremely important moving forward. The Irish Times reported that Ireland could secure over 8,000 jobs over the next 5 years, but the workforce needs to be ready.
Given that, 2017 could be a great chance for you to reskill into this industry. If you're interested in making a mid-career change, contact us to discuss your circumstances and receive advice on the best first steps for you.
FREE SpringBoard Course
Take this FREE Certificate in eBioPharmaChem and Retrain for a New Career in Ireland's Booming Pharmaceutical Industry in Only 8 Months. 
Already Working but Still Thinking of Changing Careers?
Feel free to check out our Manufacturing Safe Medicines & Medical Devices (Intro) course which will help you get a start on a career path into the pharmaceutical and medical device manufacturing industry.
Contact Us
If you are thinking of re-skilling into this sector and would like more information, contact us for details.
Or call Sinead: +353 (0)21 240 9013