North West Pharmaceutical Industry and MedTech Sector at a Glance
A Key Part of the "Northern Powerhouse"
In 2017, the UK Government published the Life Science Industrial Strategy, billed as "A report to the Government from the life sciences sector" which contained "recommendations for our world leading life sciences industry to drive growth, increase productivity, improve the use of data, reinforce our science base, deepen our skills and secure benefits for patients throughout the United Kingdom".
This was closely followed by the Life Sciences Sector Deal, a set of agreements that was seen as phase one of implementing the Strategy's recommendations.
"The deal brings together the government with universities, charities and more than 25 businesses – large and small – to make a joint commitment to invest in all parts of the United Kingdom."
Life Sciences Sector Deal (2017)
Then, in 2018, the Life Sciences Sector Deal 2 was published, described as further agreements that "deepens our partnership with industry, universities and charities".
In these documents, developing clusters of industry activity throughout the country (especially in support of existing life science activity) was seen as a high priority. One of the areas highlighted in the reports is the "Northern Powerhouse".
The Northern Powerhouse includes the North West, North East, and Yorkshire regions – they account for 15 million people and one million private sector businesses. If this area were a country, it would be amongst the biggest economies in Europe.
In the Northern Powerhouse area, there are over 1,000 life science and healthcare companies. Employees in the life science sector here now account for 21% of the UK's total life science workforce, having grown by over 9% since 2012.
In 2015, the area exported £7.3bn in pharmaceutical products – 45% of all medicinal exports.
By 2017, the value of the sector to the Northern Powerhouse region was estimated to be over £13.6bn – with more investment already secured (including £1.6bn over 5 years from the Northern Health Science Alliance in response to the first Life Sciences Sector Deal).
While the government talks more broadly about the Northern Powerhouse, we also think it's useful to think about clusters and activities at a regional level, so the rest of this post will only consider the life science sector in the North West…
Local Clusters In The North West Hub
Even while we talk about the North West as a hub, it's important to understand that there are several smaller localised clusters throughout the region, each with its own speciality. These include:
Cheshire
The Macclesfield area of Cheshire is a well-established manufacturing cluster with companies including AstraZeneca (the 10th biggest pharmaceutical company in the world based on 2019 revenue).
Cheshire is also home to Alderley Park, "the UK's largest single site life science campus". The 400 acre site hosts 4 national institutions, 2000 innovators, and has attracted £247m investment. Most recently it was chosen as a site for a Lighthouse Laboratories (a network of laboratories involved in the diagnostic testing for COVID-19) and a Validation Centre of Excellence. It even has its own podcast series.
Lancaster
Liverpool
Liverpool has a long history of pharmaceutical manufacturing – in the 1940s, it was chosen by the UK Government as the site for the largest penicillin manufacturing plant in the world.
Speke was the site of the first commercial production of a biologic with Eli Lilly's manufacture of insulin. And the area has gone on to become one of Europe's leading bio-manufacturing clusters employing over 1,830 people in companies such as Allergan, AstraZeneca, Elanco, and Seqirus (check out our company profiles section below for more detailed information). The big name companies manufacturing here are supported by a growing biotechnology community, healthcare companies, and a "strong analytical and clinical supply presence".
Invest Liverpool highlights 3 key criteria that make the area such an appealing prospect for the life science industries:
Deep regulatory expertise – manufacturing teams across the region have worked with regulators such as the MHRA for many years
Dynamic pool of workers – with such a concentration of companies, there is a "dynamic talent pool of experienced staff" at all levels
Strong local supply-chain – small and medium sized companies serving the sector in a variety of ways from medical packaging to specialist logistics
LIverpool is also home to Knowledge Quarter Liverpool (KQ Liverpool), described as "the largest cluster of science, health, education and cultural minds in the region" from institutions and organisations including the University of Liverpool, Liverpool School of Tropical Medicine, Liverpool John Moores University, Liverpool Science Park, Sensor City, Accelerator, the new £429m Royal Hospital and the £157m Clatterbridge Cancer Centre.
Over the next 5-years, a further £2bn investment is predicted for KQ Liverpool.
Manchester
Manchester has a strong reputation for research and spin-outs. It is proudly the "Home of Graphene", and the permanent location for Cancer Research UK's Manchester Institute (which has temporarily relocated to Alderley Park after a fire in 2017).
The city is also home to Manchester Science Park – a campus with over 150 science and tech companies, and Citylabs Campus – the "largest clinical academic campus in Europe" that brings together the NHS, academic, the scientific community, and industry.
The Life Science Activities Of The North West
Taking all these local clusters into consideration, the North West forms quite a distinctive life science hub.
There is currently an encouraging diversity to the life science industry activities across the North West.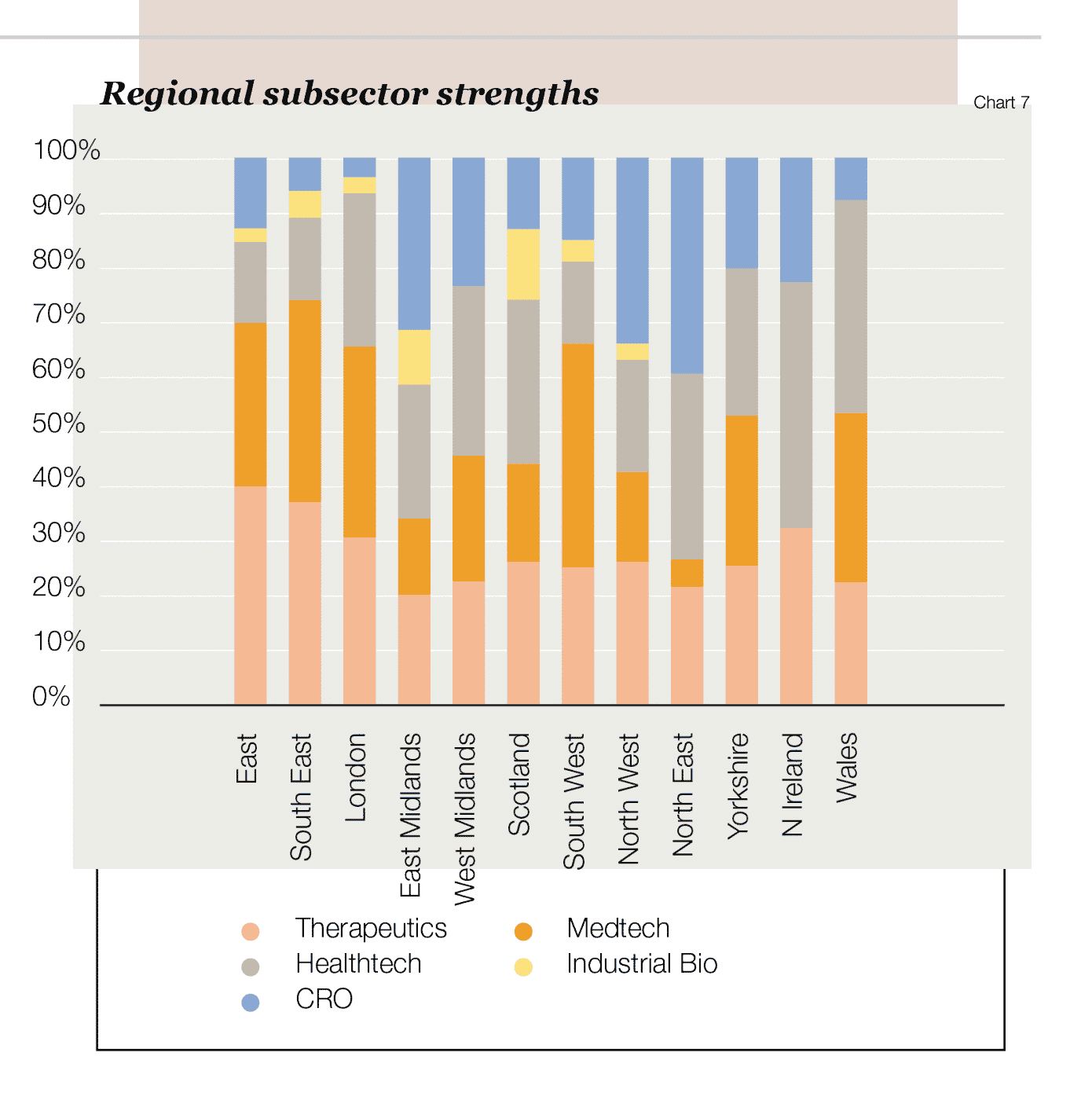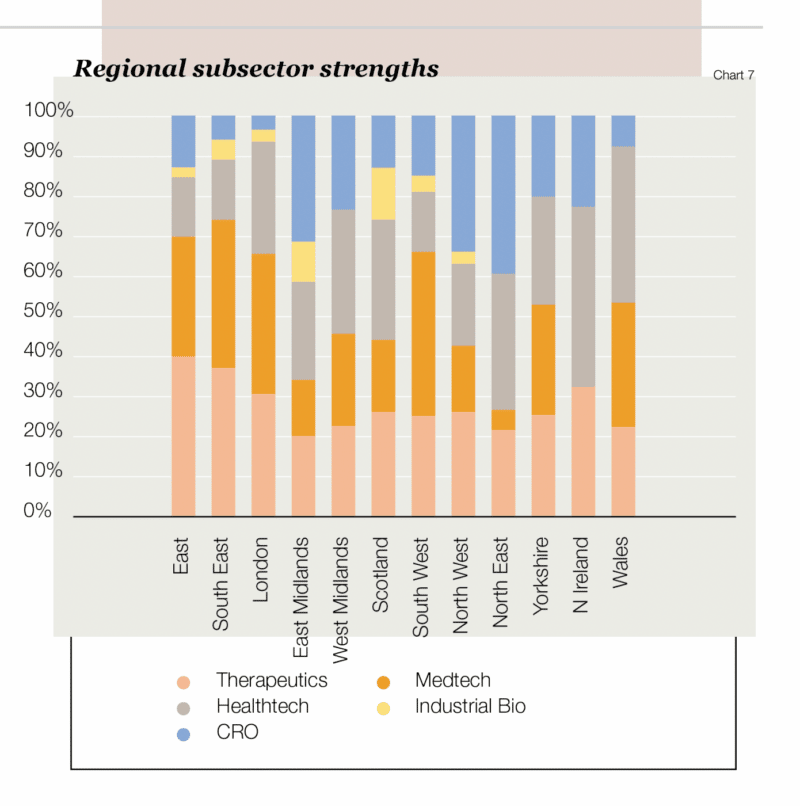 Image from: BioCity UK Life Science Start-Up Report (2019)
The area has taken a strong and well established reputation for manufacturing and continued to build on that, especially within the high-value area of biopharmaceuticals. In addition, there has been a move towards earlier stages of the drug development process – the North West is now home to over 30% of the UK's contract research organisations (CROs).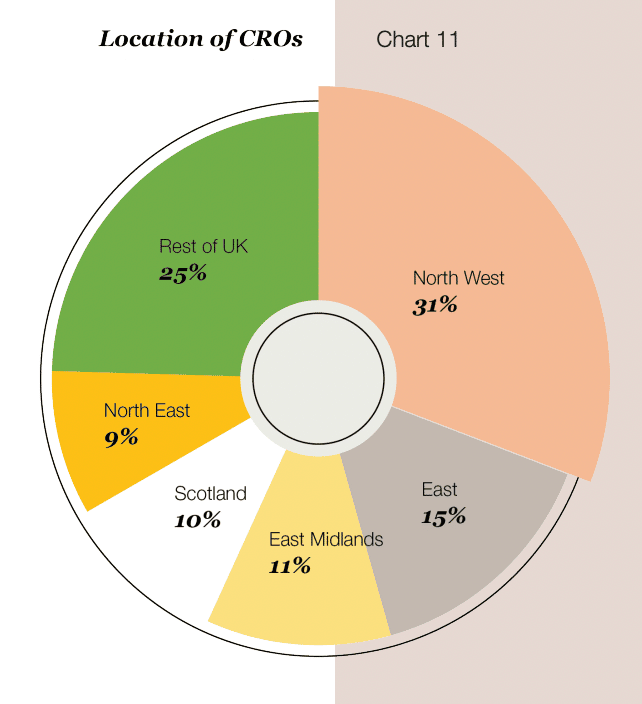 Image from: BioCity UK Life Science Start-Up Report (2019)
Similarly, the area is increasing in strength as a result of now attracting start-ups as well as large multinationals. The graph below charts the number of start-ups across multiple regions of the UK.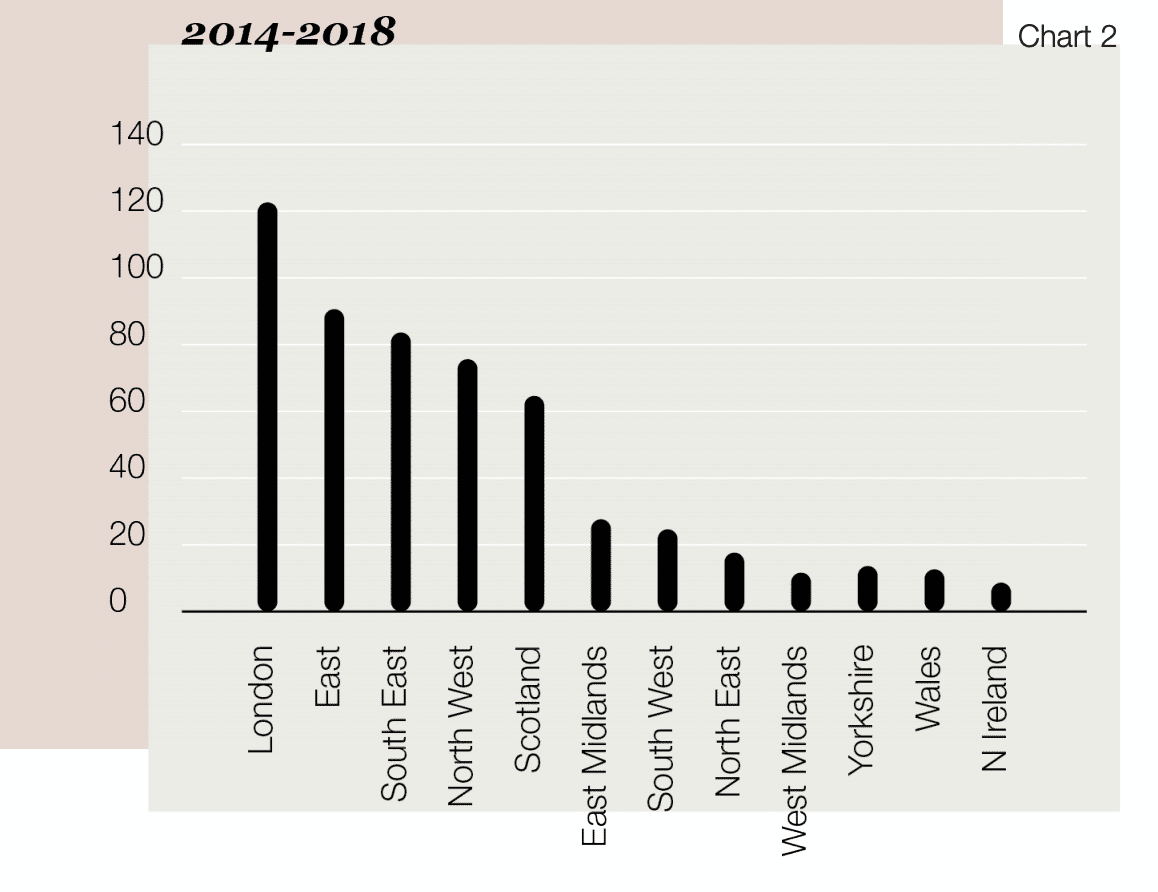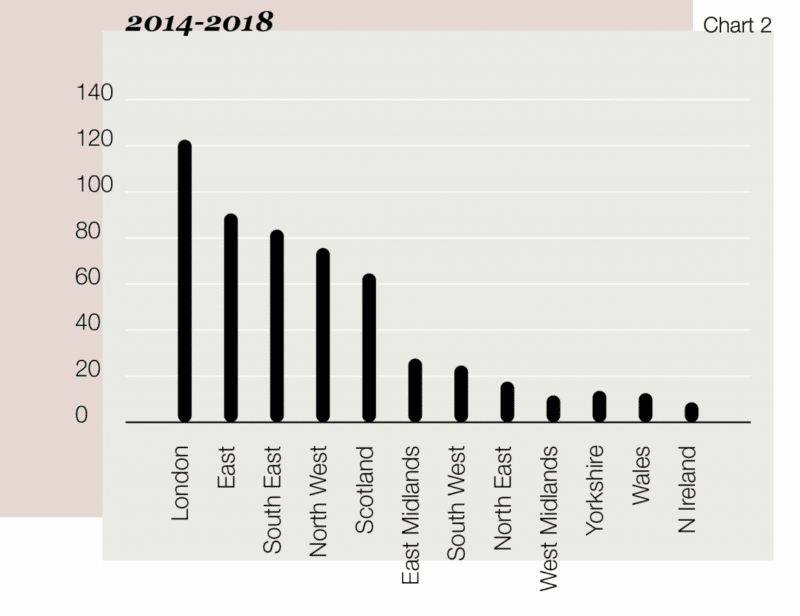 Image from: BioCity UK Life Science Start-Up Report (2019)
Why the Life Science Industries Pick the North West
Local Gov's 2020 analysis showed that the North West was second only to Cambridge for life science job vacancy numbers (and ahead of Oxford). It went on to suggest that the low cost of living compared to the South and East, were an advantage for the area in attracting both companies and talent.
But a successful industrial hub is more than just a collection of businesses – it is usually also home to a supportive local environment, academic institutions, and infrastructure that encourages start-ups and growth.
Supportive local environment
"Through the largest investment in research and development in 40 years and ambitious plans to build on our world-leading performance, we are creating more opportunities and are committed to supporting science and innovation in the North. The North is already home to many of our brightest minds and centres of scientific excellence, and plays an important role in developing the innovations that will drive productivity and the region's future economic growth."
UK Government
The UK Government commitment to the North will undoubtedly have increased company confidence in investing here. Support included provision for improving things such as transport infrastructure. The specifics of implementing the plan are to be decided alongside local stakeholders but specific projects have included the creation of two publicly-funded research centres at Alderley Park (one focused on combating drug-resistant "superbugs", and one focused on medicines technology).
The Northern Health Science Alliance (NHSA) is the North's health partnership organisation of NHS hospitals, universities, and academic health science networks that works with industry nationally and internationally to plan and encourage investment in the area. It was named as delivery partner in the North for the Government's Life Sciences Industrial Strategy Sector Deal.
By 2018 it had identified £1bn of planned investments over 5 years across the Northern Powerhouse region.
There are a range of other organisations across the region, including Bionow – a not-for-profit membership organisation that supports life science sector businesses across the North. They run a series of events and conferences, act as an advocate for the North, and work with members to develop the sector's presence in this area.
And, of course, there are also smaller, more localised, initiatives including the likes of the HealthTec Cluster within Sci-Tech Daresbury in Liverpool. This joint project from the Innovation Agency and the Science and Technology Facilities Council promotes collaboration by bringing together over 40 public organisations, private companies, and academic institutions from across the region. The aim is to increase the presence of the health technology industry in the North West and in its first year it saw 15% growth in sector activity.
The HealthTec Cluster spans four local enterprise partnerships in the North West. They come together to share knowledge and facilities specifically designed to develop health technology businesses and to transform healthcare – #HealthTecNW

— Sci-Tech Daresbury (@SciTecDaresbury) January 16, 2020
Academic institutions
"Many of our companies are collaborating with universities…We've got around 140,000 life science graduates coming out of 8 universities within an hour's drive of Alderley park, so we're an absolutely prime position to match our new graduates with many of the different companies that we have on site… our relationships with universities are absolutely fundamental"
Dr Kath Mackay, managing director at Bruntwood SciTech's Alderley Park
Universities across the whole of the Northern Powerhouse region, provide a quarter of the UK's STEM graduates.
The North West specifically is home to 3 universities that rank in the top 200 universities worldwide – University of Manchester, University of Lancaster, and University of Liverpool. These are research-intensive universities that strongly support both spin-outs and the development of a highly skilled local talent pool.
This makes the North West an attractive option for employers looking for a strong and skilled workforce as well as access to top-class academic research partners.
Infrastructure to support start-ups and growth
Local Gov's 2020 analysis of research funding allocation found that the North West had secured £18.5bn in grant funding from the 5 main scientific funding councils since 2010 – more than either Oxford or Cambridge.
There is a strong infrastructure across the North West region to support start-ups and growth.
As mentioned above, Manchester is home to Manchester Science Park – a campus with over 150 science and tech companies. The site was "purposefully designed to maximise customer interaction in order for innovative ideas to develop, and valuable partnerships to form".
The Citylabs Campus in Manchester offers clients "unique direct access to the hospital Trust's clinical resources, researchers, clinicians and procurement teams, as well as a specialist growth support and events programme".
And Alderley Park in Cheshire offers an Accelerator programme of "start-up and scale-up support to early stage and growing life science businesses on their journey to success". There's also a £5m incubation fund to support companies establishing themselves in the park.
Other Innovation Hubs (similar to the Alderley Park Accelerator) exist in Sci-Tech Daresbury and Manchester University's Incubator. These sites offer a gathering of expertise, a place for collaboration, and access to resources and professional services.
Sci-Tech Daresbury is trying to make a difference for the businesses that call us home. We are aiming to deliver an additional 10,000 high-value jobs at Sci-Tech Daresbury over the next 20 years.

Learn more about by visiting our website here: https://t.co/0pgdGUZgul pic.twitter.com/74yVx1zOTn

— Sci-Tech Daresbury (@SciTecDaresbury) March 10, 2021
Pharmaceutical and Medical Device Companies Manufacturing In The North West