How Do I Get a Job in Pharma With No Industry Experience? 
Contents
Click on a link above to jump straight to that section, or scroll down to read them all!
It's one of the first questions that many prospective students ask us. And it's one we're happy to answer.
We can be this confident in our response because we've seen so many former students go on to start careers in the pharma industry. Many of them do this before they even finish their course.
So we're SURE (especially in places like Ireland where the pharma industry is particularly strong right now) that it's possible for someone to land a job in pharma without any previous pharma manufacturing experience.
BTW,  if you are interested in a new career in pharma or want to upskill for a promotion, check out our pharmaceutical courses.
Aiming for the right jobs
Let's get this out of the way first of all… you need to aim for the right jobs.
If you aim too high, then you're likely to see adverts with a strong experience requirement.
Our students with no previous pharma industry experience typically fall into one of two camps:
Bringing a specific and relevant skill set (such as quality or engineering experience), and taking a course to get to grips with the specific rules and regulations of the industry.
Bringing a more general skill set from an unrelated industry (such as retail or hospitality), and taking a course to start a brand new career.
If you're in the first group you probably have a clear idea about the types of roles you can apply for – since they're very similar to the roles you've done in another industry.
If you're in the second group, you might find it a little more difficult to find the right roles for you. You run the risk of aiming a little high and losing motivation when all you see are jobs that require significant experience.
The second group should generally be aiming at entry level manufacturing jobs.
Even if you know that in the long run you want to move into quality, validation, or more advanced manufacturing/production roles – entry level manufacturing is where you should aim for as a first step.
You should see these roles as the easiest door to open into the industry. These roles are an great way to get experience working directly with the rules and regulations of pharma. This makes them an ideal stepping stone to move on to advanced roles later.
So what exactly are these "entry level manufacturing roles"?
Well, the issue is that different companies call these roles different things.
There's no standard job title – especially if you're willing to consider pharma, biopharma, and medical device companies (see our Ultimate guide to pharmaceutical careers page for a breakdown of the differences).
Examples of suitable job titles include:
Production Team Member / Packaging Team Member / Manufacturing Team Member
Bioprocess Associate
Biotechnician, Manufacturing
Cleanroom Operative / Production Operative
Assembler
Product Builder
Manufacturing Technician / Process Technician (BUT be aware that technician roles can be a more advanced role in some companies.)
What the job advert is REALLY telling you
"Every job advert I see needs experience". We hear this said a lot and it's simply not true. But it's an easy mistake to make.
So let's take a look at a few examples of job adverts that might look like they're asking for industry experience at first glance…
Recognising GMP experience

This first example is actually one of the most restrictive we'll show.
Although they're asking for some experience, it's in a GMP environment (and not specifically pharma). Which means that if you've worked in food manufacturing, for example, there's absolutely no reason not to apply.
Recognising experience from other industries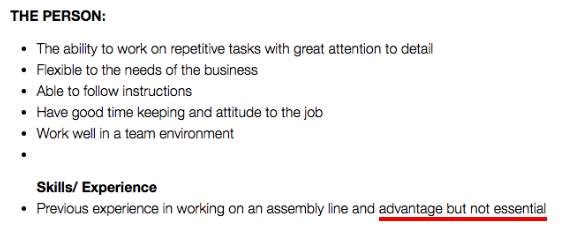 In this example we see that assembly line experience from any industry would be an advantage, but not essential.
So if you have any assembly line experience, you'd make sure that was surfaced clearly on your CV (and probably also mentioned within the personal profile section, to catch their attention).
But if you don't… you could definitely still apply! You'd just have to make sure you carefully tailor your CV to show the transferable skills they're asking for:
Ability to work on repetitive tasks
Great attention to detail
Flexibility
Ability to follow instructions
Good time keeping and attitude
Team working
Essential vs desirable / advantageous / preferable criteria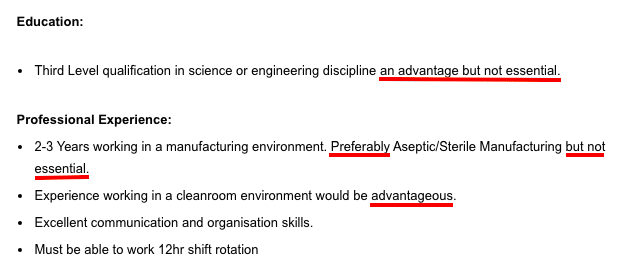 This is a similar case.
Here we see that the essential requirements are:
2-3 years working in a manufacturing environment
Excellent communication and organisation skills
Able to work 12hr shift rotation
Everything else is marked "an advantage", "preferable", or "not essential".
If you can make a case for meeting the "essential" criteria, don't worry too much about missing a "desired", "advantageous" or "preferred" criteria.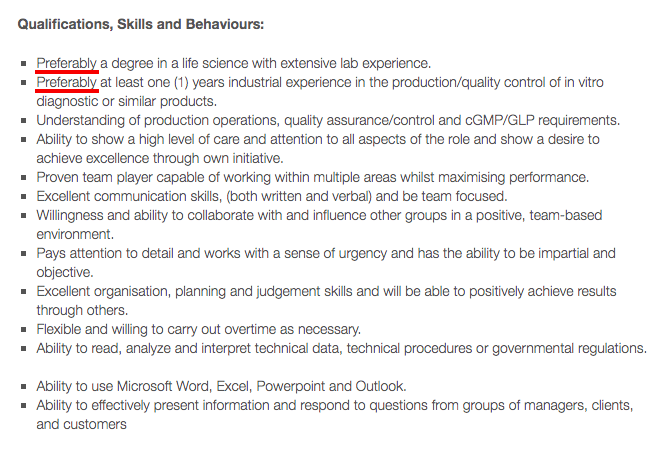 In this example we see that both the education and work experience criteria are "preferred" – not "essential".
You'll sometimes see a note that preference will be given to candidates with that "non-essential" experience, or that it'll be used to filter applications if there are a lot of applicants.
But you can definitely still apply without it.
You have no idea how many other applications they're getting or how appealing they might find some of the other skills or experience on your CV.
Different criteria for different applicants

In this example we see that GMP manufacturing experience is required for a candidate with a Level 6 qualification. But a candidate with Level 7 qualification, doesn't have that requirement.
Always make sure you're reading the criteria that's applicable to you.
If you happened to have a Level 7 qualification and GMP manufacturing experience, you'd still be sure to highlight that prominently on your CV and cover letter. It might not be an essential criteria for you, but you've got a good clue about something they think is important, you wouldn't ignore that.
The "ideal candidate"