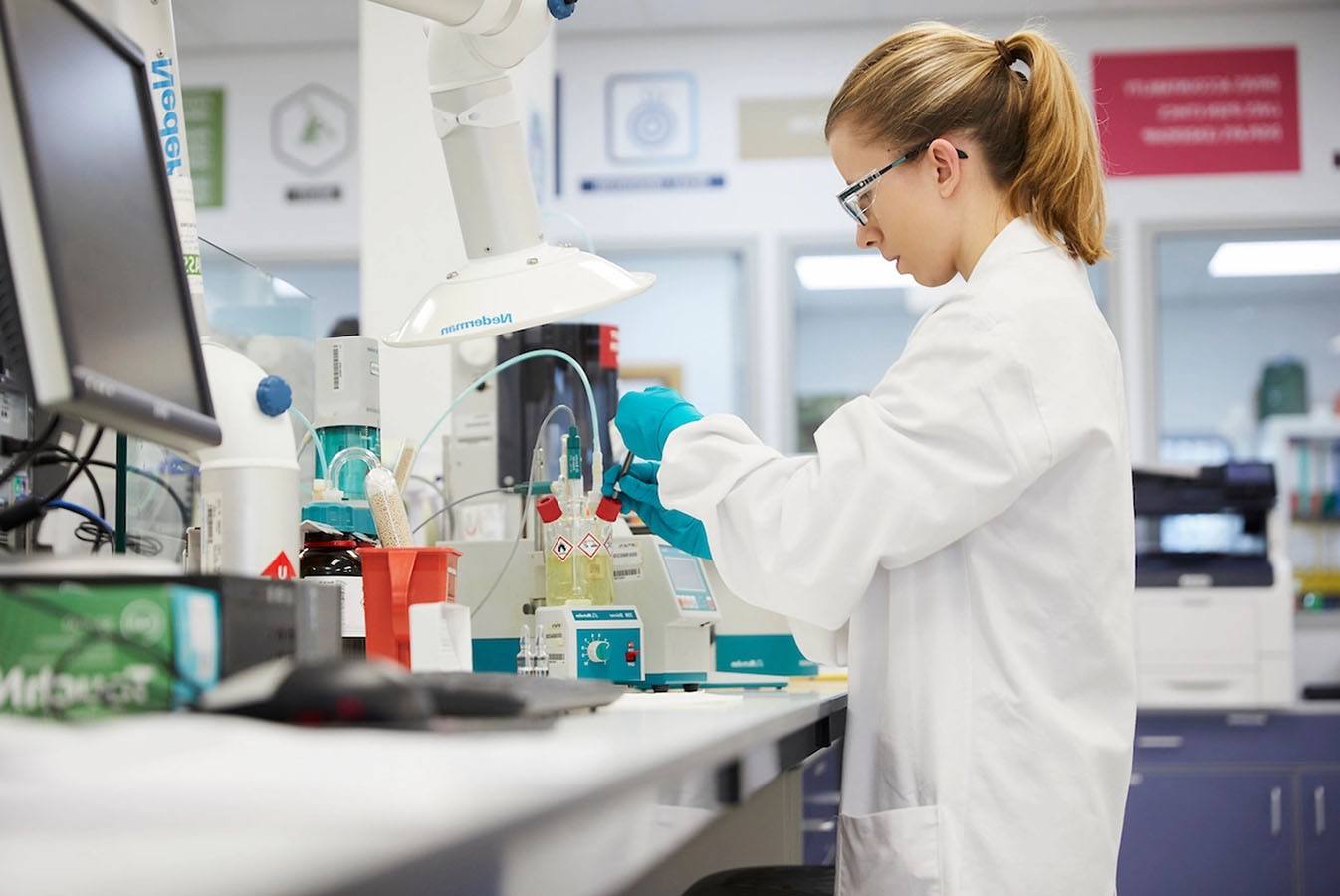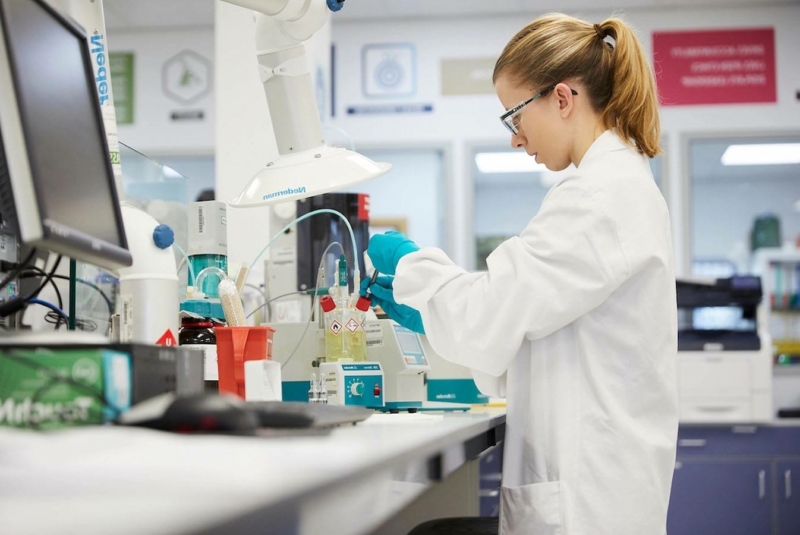 Welsh Life Science Sector at a Glance
Why the Life Sciences Pick Wales
"The Welsh life sciences sector is evolving at a record pace. Across the country, pioneering companies, research organisations and academic institutions are acting with a level of dynamism and agility that would be the envy of many nations across the globe."

Life Science Hub Wales (2020)
There are a few key reasons that the industry picks Wales:
A supportive devolved government that has the ability to make things happen quickly (including supporting initiatives like the Life Sciences Hub Wales – you can read more about that below)
First-class, tailored facilities – including dedicated life science incubators such as the Cardiff Medicentre and Institute of Life Science Swansea
A first-class combination of academic institutions, industry and government developing innovative solutions
Easy access to the UK market (with a population of 65 million)
Business-friendly tax – lowest in the G20
A growing talent pool – with more than 12,000 students studying relevant programmes at local universities
"Our universities are renowned internationally for their academic and clinical research excellence. The delivery of health and social care in Wales is evolving to place innovation at its centre and lead in holistic approaches that produce the best patient outcomes."
It's also worth taking a closer look at the government support that's helping Wales achieve this level of growth…
UK Government Support
The UK government's Life Sciences Industrial Strategy highlights support to Wales' Life Sciences sector, "particularly around developing manufacturing and supporting growth and infrastructure".
It gives special mention to developing the hub of advanced manufacturing (attracting companies such as stem cell regenerative therapy firm, ReNeuron) and the medtech clusters of excellence in in-vitro diagnostics, single-use technology and wound care.
The Strategy lays out plans to "optimise fiscal incentives to support long-term investment".
Welsh Government Support
In 2010, the Welsh government began a strategy to promote Wales' Life Sciences sector. It has gone on to signal its support of the industry through establishment of growth-supporting initiatives such as:
Life Sciences Hub Wales (see below for more details)
Wales Life Science Investment Fund (a £100m fund created in 2013 with initial government investment of £50m)
Life Sciences Bridging Fund (a £3m fund specifically aimed at moving early research findings towards the development pipeline, created in 2015)
Life Sciences National Research Network
Life Sciences Hub Wales is a collaborative business space and organisation, established in 2014, and based in Cardiff bay. They are tasked with "working collaboratively with industry, health, social care and academia to make Wales the place of choice for health, care and wellbeing innovation."
They have a target to increase the contribution of the sector to the country's economy by £1bn by 2022 and are involved in coordinating and assisting with many different initiatives. One example is the successful development of a business case to access funding of £20m to establish a Centre of Excellence for Precision Medicine in Wales.
Life Sciences Hub Wales have five key priority area:
Healthy Ageing
Digital and Artificial Intelligence (AI)
Precision Medicine
Value-Based Healthcare (VBHC)
Advanced Therapies
You can see more about the Welsh priority area of Advanced Therapies, and how they're pursuing progress in this area, in the video below.
And here are some specific examples of Life Science companies that have benefitted from Welsh government support:
Magstim (medical device manufacturer) – received a £2.7m government funding package to double the size of its Welsh headquarters
BBI Group (diagnostic technology company) – received £1.8m of government funding towards building a new £8.5m global headquarters in South Wales
Oxford PharmaGenesis (health science communications company) – used government support to open a Cardiff office
GE Healthcare (leading healthcare company) – opened the Innovation Village in Cardiff, a government-backed initiative to support life science start-ups
Regional Level Support
And finally, Life Sciences has been recognised as a priority area at a regional level. The Cardiff Capital Region, for example, is "focusing specifically on medical diagnostics and devices" to maximise the growth opportunities attracted by an established hub of SMEs and start-ups, as well the talent produced within the region's universities.
Cardiff Capital Region – A True Life Science Hub
The image below from Life Sciences Hub Wales shows some of the key clusters of academia, business, and research throughout the country.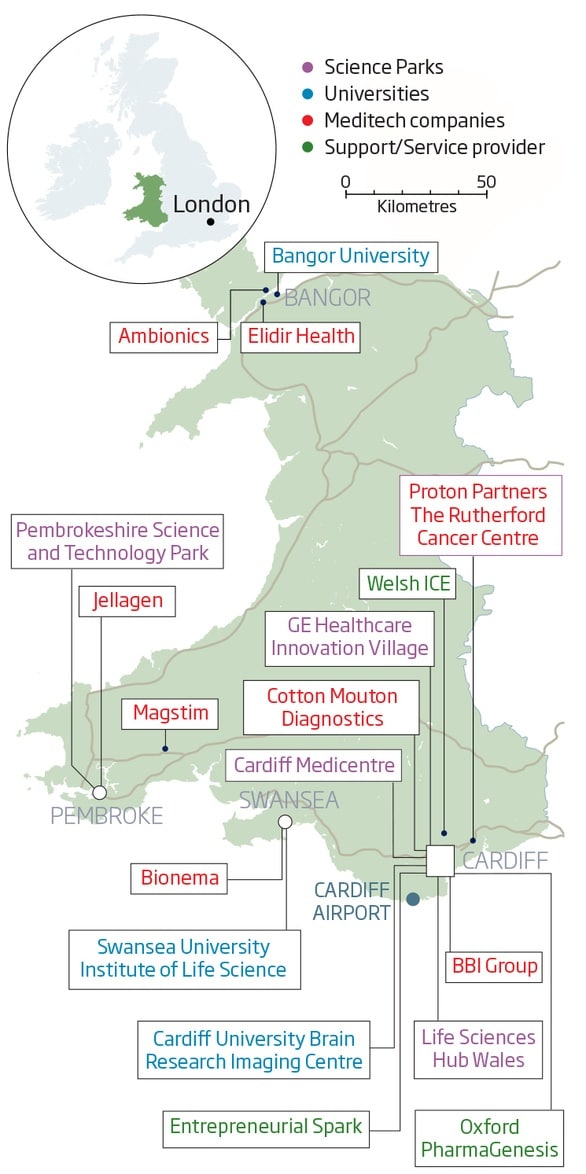 As you can see, as well as several localised and developing clusters throughout the country, the Cardiff Capital Region is quickly establishing itself as a true hub for the Life Science Industry and – more specifically – medical diagnostics and devices.
An industrial hub is generally considered to be a geographical area that has:
1. A strong presence of companies of various sizes
In the Cardiff Capital Region, there are a cluster of over 200 businesses working in medical diagnostics and devices conducting various stages of research, development, and manufacturing.
This sector is one of the fastest-growing in the area and currently employs over 8,000 people.
Companies that are manufacturing in this area include:
2. Strong local academic institutions providing a well-qualified talent pool and complimentary research
"We now have to continue to fill the sector with graduates who are ready to step in to this new and exciting sector and continue to help it grow into something even bigger and better."
– Cardiff Capital Region, 2020
The Cardiff Capital Region is strongly supported by local academic institutions, including:
The University of South Wales is a modern university with 3 campuses across the Cardiff Capital Region. It has a focus on preparing students for life after graduation, and 95% of graduates are in work or further study within six months of graduation.
The university feeds directly into the talent pool for the Life Science industries of the Cardiff Capital Region with courses including:
Cardiff University is the 10th largest university in the UK and has a long history of research (that's included two Nobel Prize Winners). The university ranks 3rd in the UK for effectiveness in converting research into successful companies.
Cardiff University spinouts adding to the Life Sciences cluster of the Cardiff Capital Region have included:
3. Infrastructure to support industry
Supporting organisations and companies can come in many forms within an industrial hub.
Across the Cardiff Capital Region, examples include:
Cardiff Medicentre – a joint venture between Cardiff University and Cardiff and Vale University Health Board. Described as "a business incubator facility that provides space and support for biotech and medtech startups" – ranging from desks and office space to laboratories.
GE Healthcare Innovation Village – established as a result of GE Healthcare's commitment to collaboration. The campus aims to support and grow emerging life science businesses and academic spinouts. GE Healthcare works with tenants, providing advice and support to help turn their ideas into market-ready products.
The Life Sciences Hub (as described in the section above)
Renishaw Healthcare Centre of Excellence – the global precision engineering company opened its Healthcare Centre of Excellence in 2016. This facility allows for the manufacture of custom medical devices and provides "education and training for the life science community" through features including a mock non-sterile operating theatre.
This category also includes suppliers and services that work in support of, or in a complimentary way to, the industry. The Compound Semiconductor Cluster is a good example of this within the Cardiff Capital Region's hub.
4. The support of local government and industry bodies
As outlined above, one of the Cardiff Capital Region's official priorities is "focusing specifically on medical diagnostics and devices".
This means that local industry can get direct support for projects that help towards the region's goal of developing this hub. Their current approved projects include:
What Life Sciences Contributes to the Welsh Economy
"Our nation hosts 20% more life sciences businesses than the UK average. Ranging from pioneering SMEs and start-ups to global blue-chip corporations. Combined, the sector…contributes over £2 billion in turnover to the Welsh economy."
Wales' Life Science sector turnover is over £2bn (3.6%) and the Gross Value Added to the economy (GVA) is 3.8%. From that strong start, the life sciences sector in Wales is continuing to grow and it is expected to add £1bn GVA between 2017 and 2022.
While R&D activities are prevalent, the sector currently exports products worth approximately £980m.
And although there is a range of Life Science activities present throughout the country, MedTech is the largest subsector – accounting for around 60% of companies and over 50% of the Life Sciences workforce in the country.
Pharmaceutical and Medical Device Companies in Wales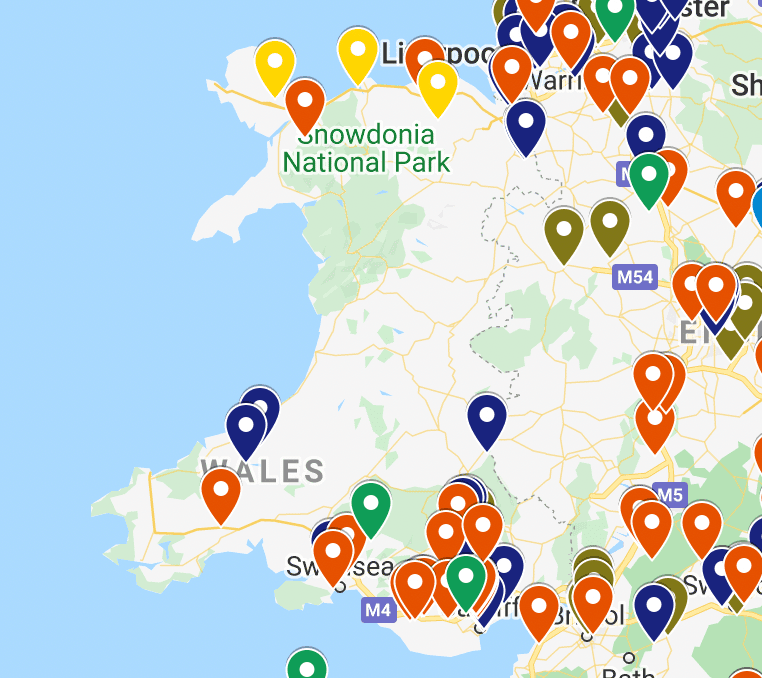 There are over 360 life science companies operating throughout Wales.
In our interactive map, we specifically detail pharma and med device manufacturing sites across the country.
And now let's take a closer look at some of the biggest life science companies manufacturing in Wales…


Wockhardt UK manufactures and supplies generic and branded medicines – they currently have over 250 product lines.
The company has its head office in Wrexham, North Wales. This site is also the home of their sterile injectable manufacturing facility, operating as CP Pharmaceuticals. This facility is approved by the MHRA as well as other global regulatory bodies.
The CP Pharmaceuticals site is a high-tech 612,000 square-foot manufacturing facility that employs over 400 people.
Products manufactured at the site include insulin for diabetes, heparin for anticoagulation and pain management – and take many forms including cartridges, vials, and ampoules.
Most recently, the site has been involved with fill-finish activities for the AstraZeneca/Oxford COVID-19 vaccine.
Fill-finish is the final step in vaccine manufacture, where the vaccine is put into vials or syringes, and the final product is inspected before being packaged for distribution. The vaccines manufactured here are solely for use within the UK, and almost all of the vaccine supply is processed through this site.
In the video below, you can see inside the plant and hear from Alice Kan, an Engineer and Vaccine Programme Manager at the Wrexham site:
"I love to understand how things work, and how can I make things better." 💜

Alice is an engineer at @WockhardtUk where vials are filled with the @AstraZenecaUK vaccine being supplied across the UK.

Watch her story ⬇️ #WomenInScience pic.twitter.com/iRQq74D50P

— Dept for BEIS (@beisgovuk) February 11, 2021
The company was initially awarded a contract from the UK government that reserved one fill-finish line for 18-months. This was later extended to 24-months, meaning that the site will continue that work through to August 2022. This contract extension led to the creation of 40 new jobs.
Check out this short video from BBC Breakfast about the company's current COVID-19 vaccine manufacturing activities.
Inside the factory saving lives across the UK

Exclusive access on #BBCBreakfast looking at the manufacture, packing and distribution of the Oxford-AstraZeneca vaccine ⤵️ pic.twitter.com/P8vTM90OVo

— BBC Breakfast (@BBCBreakfast) March 26, 2021

Ipsen's presence in the UK began in 1981 and the country is now one of the company's three "core operating hubs" alongside Boston, USA and Paris, France. There are three sites across the UK.
The Wrexham site is a state-of-art biologics development and manufacturing campus employing around 400 people – making it the town's 3rd largest employer. There are a variety of activities carried out here including development, manufacturing, and fill-finish. It is also home to their global specialised toxin production.
It is also the company's first site to use 100% renewable power and in 2018 it was awarded the Bronze Medallion from the prestigious Shingo Prize Awards (the "world's highest standard for organizational excellence").
The company has invested a significant amount in the facilities here and have already announced plans for further expansion of this facility by 2025, backed by another £150m investment. It is expected that these plans will increase employment at the site to over 600, and will support the production and export of vials across the world.
Check out the video in the tweet below for more information about the company's ongoing investment plans.
How are we preparing for #Brexit? @BBCWalesNews visited to hear about our robust plans ahead of Brexit and the ongoing investment in our Wrexham site. pic.twitter.com/h59iuOsNtl

— Ipsen (@IpsenGroup) November 14, 2018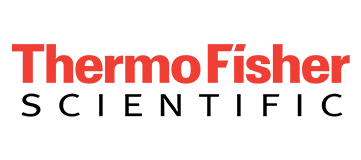 In May 2011, Thermo Fisher Scientific – one of the world's largest healthcare companies – acquired Sterilin Ltd, a "leading provider of single-use plastic products serving the microbiology, life sciences and clinical markets". The company is headquartered in Newport, South Wales and employs approximately 270 people at their 140,000-square-foot facility.
The site manufactures products such as disposable plastics (including petri dishes, sample containers, and pipettes), Iwaki tissue culture plastics, packaging products, and silicon devices. They also offer custom manufacturing.

BBI first began in 1986 after John Chandler of Cardiff University developed and manufactured gold nanoparticles for the first time and supplied them to the electron microscopy industry.
In the years since, the company has added to its product line and is now a "leading expert in immunoassay development and manufacturing services", providing a wide range of products to diagnostic companies around the world.
In 2018, the company opened their £14m global headquarters in Crumlin, after investment support of £1.8m from the Welsh government. At the same time, the company consolidated manufacturing and development from sites around the UK, to the state-of-the-art Crumlin facility.
Check out this short video from the BBC, filmed at the time of the announcement of the new jobs brought to the area with that investment.
Activities at the Welsh site now include enzyme production, gold nanoparticle manufacturing, conjugation, and lateral flow development and manufacturing.
Most recently, the facility has also been working as part of a UK government consortium to develop and manufacture COVID-19 point of care antibody testing. This brought a range of new roles to the site, to support expected high volume production.
In 2020, the company was shortlisted for "Manufacturer of the Year" and in the "Medical Life Sciences and Healthcare" awards at the Insider Media "Made in Wales Awards". They also featured in "Insiders Top 100 Manufacturers" in Wales.
We are pleased to be profiled amongst some great Welsh businesses in 'Insiders Top 100 Manufacturers' in Wales, in part for our work as a member of the UK-RTC https://t.co/7d8HxLg7JF #diagnostics #welshbusiness #ukrtc #covid19 https://t.co/LDQsiI2rmD pic.twitter.com/hwjZeaLZIq

— BBI Solutions (@bbi_solutions) October 23, 2020
The Welsh-born company now have manufacturing sites on three continents and are seen as a leading supplier of biological raw materials. Their glucose oxidase is used in over 5 billion blood glucose monitoring test strips every year.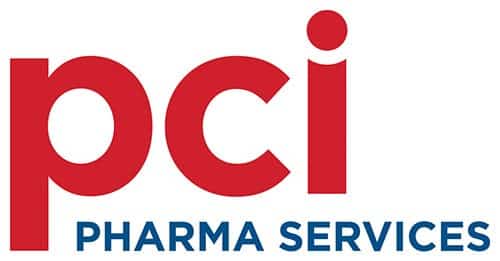 PCI Pharma Services provides "a comprehensive range of pharmaceutical services from the earliest stages of development through to commercial launch and ongoing supply".
Service includes:
Drug development and manufacturing
Clinical trial services
Commercial packaging technology
The company has two sites in Wales – a manufacturing and development site in Tredegar that employs around 440 people, and a packaging site in Bridgend.
Since opening its Tredegar facility in 2013, the company has made continued investment and upgrades to the flagship manufacturing site.
In July 2020, the company had plans approved for a £9m expansion of the Tredegar drug development and manufacturing site, which is expected to double the site's capacity and bring between 50 and 100 new jobs. The company believes it can recruit locally to fill these new vacancies, and the project is expected to be finished by the end of 2021.
We are pleased to announce we have begun an expansion of our Tredegar facility in Wales, UK to enhance its drug manufacturing and development capabilities, including both clinical and commercial supply. More Info: https://t.co/TpSq7M4QvI pic.twitter.com/MLIu28oTd7

— PCI Pharma Services (@PCI_Social) December 11, 2019
Wales Stepping up in Response to COVID-19
"So many outstanding stories highlight the incredible part our nation has played in the response to Covid-19 throughout 2020. This includes the establishment of a Lighthouse Lab in Newport, the manufacturing of the Oxford AstraZeneca vaccine in Wrexham, as well as the multitude of innovative diagnostic and manufacturing companies supporting health and social care."

Cari-Anne Quinn, CEO of Life Science Hub Wales (2021)
On 28th February 2020, the first person in Wales was confirmed to have tested positive for coronavirus.
In March, Life Sciences Hub Wales, Industry Wales, and the Welsh government issued a joint call to businesses to offer their support to NHS Wales in any way they could, to help the fight against COVID-19.
Over 150 businesses responded and Life Sciences Hub Wales coordinated these offers of help with NHS Wales.
Some Welsh businesses have flourished as a result. It is estimated that new business activities have added £34m to the Welsh economy and supported over 620 jobs.
Here are just a few examples of the innovation shown throughout the country's industry during this time:
Wales was also the site for one of the UK's network of Lighthouse Labs, which increase the country's COVID-19 testing capabilities. This led to 200 new jobs in Newport.
Check out this video from Life Sciences Hub Wales about the Welsh business response to the COVID-19 pandemic:
To date, Health and Care Research Wales have coordinated over 36,000 people across Wales to take part in 114 COVID-19 research studies.
Useful Links
ABPI Cymru Wales – Welsh branch of the Association of British Pharmaceutical Industry, established in 2003.
Life Sciences Hub Wales – organisation that aims to facilitate cooperation between the country's academia, government, and industry.
MediWales – independent, not-for-profit company acting as representative body and life science network for Wales, founded in 1992.
Interested in a Pharma Manufacturing Career in Wales?