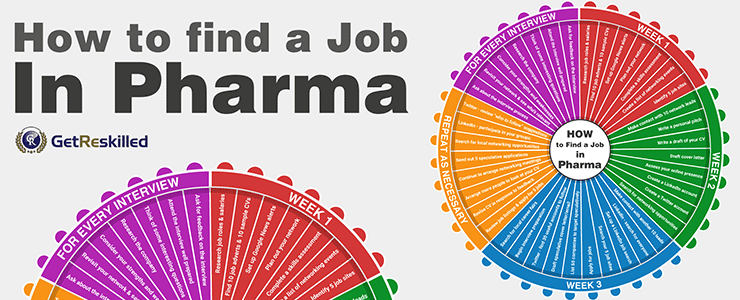 Finding a Job in Pharmaceutical Manufacturing and Medical Device Manufacturing – (with Giant Infographic)

Even with the current strength of the pharma and medical device industries, finding a job can still be a long process. We see lots of really accomplished people struggling to get traction in the job market and wasting precious months making the same mistakes over and over again.
Why is that?
Probably the main reason is that job hunting is a highly involved skill set, it requires tons of practice to get good at it and people consistently underestimate the amount of time, effort and skill required.
But the biggest mistake is that they don't have a consistent well-defined process.
Here at GetReskilled, we have spent almost ten years helping people make mid-career changes into the pharmaceutical and medical device industries and we'd like to think we know a thing or two about this.
So with that in mind, we'd like to present to you our Giant Infographic on 'How to Find a Job in Pharma" with a cogged wheel which breaks down the process into.
25 different task over the first 3 weeks of your job hunt,
8 tasks that need to be repeated every week thereafter and
7 tasks that need to be completed before every interview.
To use the infographic, read clockwise from 'midday':
Start with the tasks in weeks one to three, in order
Repeat week four tasks for as many weeks as necessary
Work through the tasks in the final section in preparation for every interview you secure
If you're struggling to find time then give yourself longer for each set of tasks – don't be tempted to jump ahead and miss out steps.
Of course, there may be other things you want to add in – you'll know the areas that you might want to spend a little extra time preparing. But following the steps outlined here will keep your job hunt progressing and give you a great chance at securing a new job in pharma!
The infographic itself is designed as top-line information and something to jog your memory once you get going. To get the most benefit from it, use it alongside this article which has links to lots of useful resources and takes a more in-depth look at each task in turn.
So what's in each week? Let's take a quick overview first before we dive into the details. (You can click on any of these if you want to jump ahead for more information about a particular point).

Week 1
Week one is about laying the groundwork. In this week you assess your skills and network, and begin research into your local pharma industry environment.
Week 2
Week two is where you begin CV writing and initial social media efforts.
Week 3
In this week we focus on establishing social media routines focused on job hunting and begin to research opportunities for speculative applications.
Week 4 – Repeating As Necessary
The tasks in this week are the tasks that should be carried out weekly for as long as it takes you to find a job. You should keep doing these tasks even if you manage to secure interviews or assessment centres – the only thing that should stop these tasks repeating weekly is a contract of employment signed by both you and an employer.
For Every Interview
Following this set of tasks will help you prepare for an interview – leading you through researching the company as well as your strengths and weakness for the role.
Now let's take each task in turn and look at the details involved…
Week 4 – Repeating
With weeks one to three taking care of most of the set up for your job hunt, the tasks in this next section should be repeated every week until you have a job. So you can think of these as the tasks for week five, week six, week seven… You get the idea!
One of the biggest mistakes we see people making is stopping their job hunt when they have an application that is going well. Either they see a job that is so perfect for them that they put everything else on hold until they see what happens with that application, or they get word of an interview and their job hunt comes screeching to a halt until the outcome of that is known.
In reality, the process of applications and interviewing for a job can take a while. If you stop everything else until you hear from one job, you've likely wasted a lot of time in you are ultimately unsuccessful. And by the time you get your applications back up and running again, you can end up with a huge gap in your job hunt.
As we said at the start, the only thing that should stop you from completing the following tasks from week four onwards, every week, is a contract of employment signed by both you and the employer. To further emphasize our point, we wouldn't even recommend stopping your job hunt after a verbal offer of employment, things go wrong all too often.
So, on to these tasks…
Review Job Listings & Apply for 5 Jobs
Review your preferred job listings websites and apply for at least five jobs (yes, that's right, five applications per week!). Ideally at least three of these applications should be in response to job adverts but you should consider speculative applications for the rest. With your list of companies to target speculatively that you put together in week three, this should be very straightforward.
If you haven't had to job hunt for a while, this number may seem a little high to you but we know from experience that this is a realistic number of applications and the number you should be aiming at for a successful job hunt that progresses quickly.
Revise CV in Response to Feedback
As we mentioned in week two, the job of writing a CV is never one you should consider complete. You should make time every week to reflect on your CV and make changes based on feedback, new information or skills gained and of course, for every application.
Arrange More People to Look at Your CV
If you've not yet managed to have three people look at your CV, continue trying to arrange this. As we mentioned previously, it is better to wait a week or two and send a CV that has been reviewed by others than to begin applying for jobs with a potentially sub-optimal CV.
Continue to Arrange Networking Meetings
Continue to work through your network and arrange meetings with people.
As this progresses you should find you begin to get 'referrals' to meet with other people (contacts of people within your network), use this as an opportunity to expand your own network.
Also make sure you follow up on any information or resources (such as websites or local groups) you get from these meetings.
Search for Local Networking Opportunities
Keep up to date with your searches for local career fairs, business events and networking opportunities, updating the list you created in week one.
LinkedIn – Participate in Your Groups
Maintain an active presence on LinkedIn.
Do this by:
Twitter – Review 'Who to Follow' Suggestions
On Twitter there are some basic things you should make time for every week:
Be sure to keep your social media activities structured and precise – spending hours looking through a Twitter feed and doing nothing else is not effective job hunting!