Photo: Global Manufacturing
Scotland's Pharma Industry at a Glance
Over 5,600 people

directly employed by Pharmaceutical Companies in Scotland

The industry exports over £575 million worth of manufactured goods
Salaries per head are around £11,000 higher than the Scottish average
Global companies including GlaxoSmithKline and Merck with facilities in Scotland
Now let's take a closer look at the pharma industry in Scotland…
BTW, if you are interested in a career in pharmaceutical manufacturing, check out our University Certificate in Pharmaceutical and Medicinal Product Manufacturing
Pharma Employment in Scotland
A 2021 report from the Fraser of Allander Institute (FAI) at the University of Strathclyde showed outlined that the pharmaceutical industry directly employs 5,600 people (full-time equivalent) across Scotland.
Pharmaceutical employment in Scotland has also grown consistently faster than in the UK as a whole.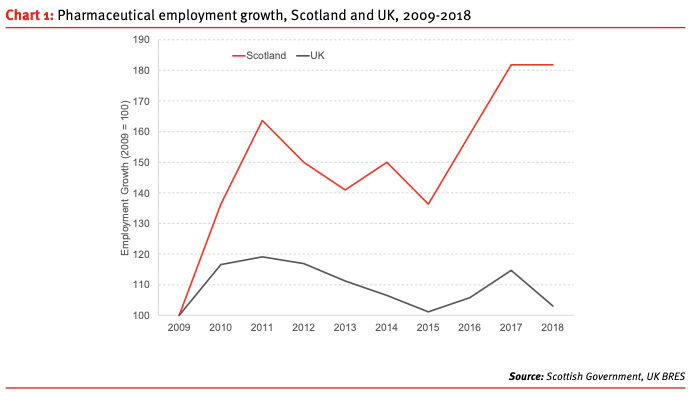 What's more, the FAI estimate that for every 10 jobs in the wider pharmaceutical industry a further 17 are supported in the wider economy.
Importantly, these are well-paid jobs.
The Association of the British Pharmaceutical Industry (ABPI) reporting on the analysis outlines that the pharmaceutical industry is providing high-value jobs with salaries significantly above the national average.
"The average annual salary for someone working in Scotland's pharmaceutical industry is £35,600, significantly higher than Scotland's annual median income of £24,486."
The FAI report also highlights that these jobs are found all across Scotland, including in smaller towns and rural communities, highlighting that in Highland and North Ayrshire, the pharmaceutical industry directly employs upwards of 800 people.
What Pharma Contributes to Scotland's Economy
The Scottish Government has identified Life Sciences as one of six Growth Sectors. These are sectors where the Government believes the country has a "distinct comparative advantage".
In 2021, the Scottish Government reported that the Gross Value Added (GVA) of the Life Sciences sector was £1.57 billion – an increase of 3.7% on the previous year.
Total exports from the Life Sciences growth sector stood at £1.8 billion in 2019, accounting for 2.1% of Scotland's total exports – an increase of 16.5% over the previous year.
Scotland continues to be at the forefront of science with a thriving pharmaceutical industry supporting research jobs across the country https://t.co/WV8fGwJkD4 pic.twitter.com/yRpl6fPLKL

— ABPI (@ABPI_UK) January 18, 2021
The 2021 FAI report summarised that:
pharmaceutical industry exports contributed £575 million to the Scottish economy

the sector supported £2.5 billion worth of industrial output

overall, the sector has a GVA worth £1.8 billion
The report also highlights that GVA in Scotland's pharmaceutical industry has experienced significant growth, narrowing the gap between itself and the UK's pharmaceutical industry. Scotland's pharmaceutical industry's GVA has almost doubled since 2009.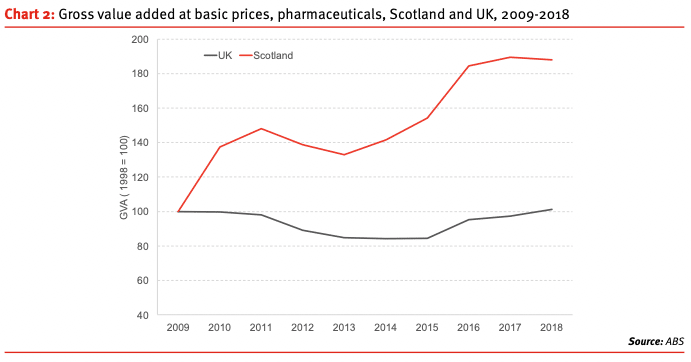 (Image: FAI 2021 report)
Commenting on the report, Alison Culpan, Director of ABPI Scotland said:
"Scotland's industry is stronger today than it was three years ago with more people employed in good jobs, more being spent on research and development, and exports topping half a billion pounds."
Why Pharma Picks Scotland
Check out this video below to see Dave Tudor from GSK outline why they continue to choose Scotland for manufacturing…
Scottish Development International describes Scotland as "a thriving biocluster, providing the ideal environment for innovation and company growth"
They outline…
…a "talented workforce" in medical technologies
…a "history of drug discovery excellence" in pharma services
…"world-class MHRA-accredited GMP ATMP manufacturing facilities" in regenerative medicine.
And Scotland continues to work hard to create an environment where the Life Sciences sector can flourish.
This includes the development of Life Sciences Scotland – a group formed by representatives from both Government and Industry. They aim to "develop, drive and deliver the Life Sciences strategy in Scotland. By developing an environment where ingenuity and innovation can create jobs and wealth for Scotland"
In the Life Sciences Strategy for Scotland 2025 Vision, Life Science Scotland outline the specific mission as:
"To increase the Life Sciences industry contribution to the Scottish economy to £8bn by 2025. This will be achieved through the creation of a dynamic and competitive environment with a robust business base capable of attracting key skills, talent and investment."
Here are the factors that Life Science Scotland identifies as Scotland's Advantages…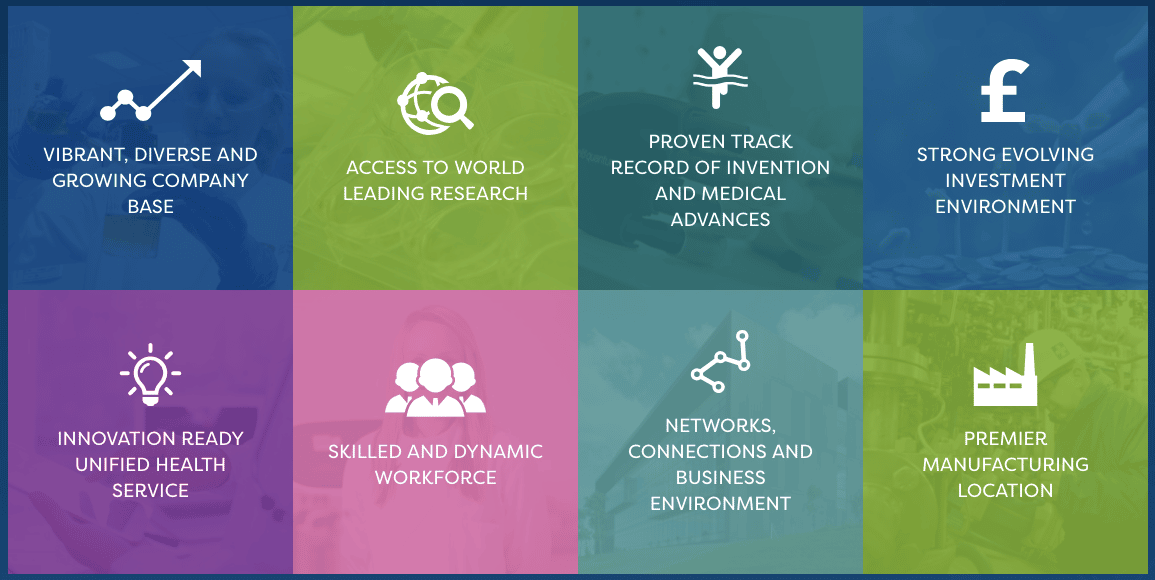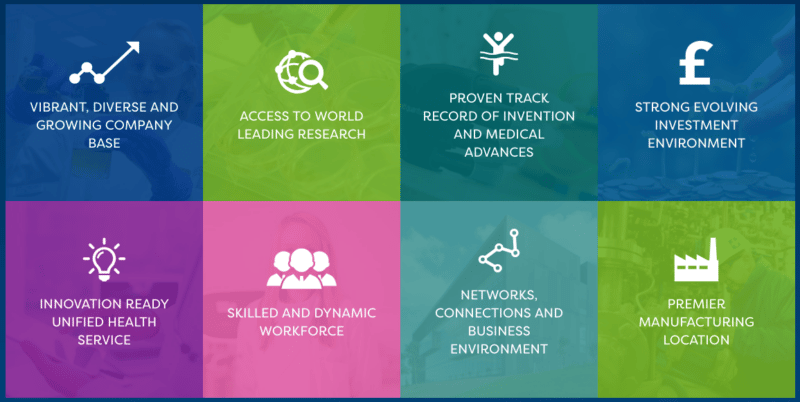 You can check out this link for more information about each of the points above.
What Pharma Does in Scotland
The pharmaceutical industry has a strong history of R&D in Scotland. In fact, it's the second-highest industry in the manufacturing sector, spending almost £165 million on R&D.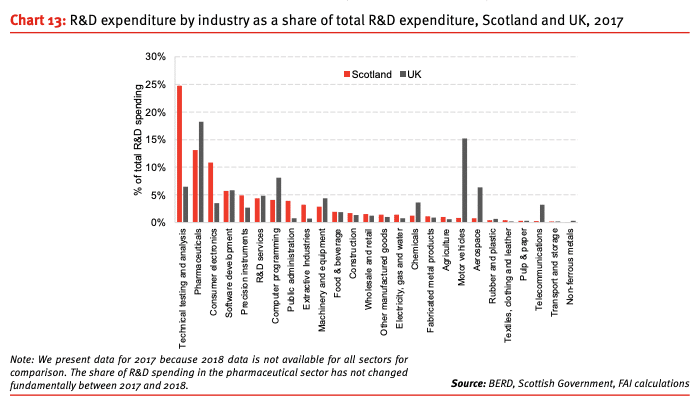 (Image: 2021 FAI report)
And R&D does continue to be a strong focus…
In June 2018, a £56 million investment was announced to create the Medicines Manufacturing Innovation Centre (MMIC) in Renfrewshire. The centre is expected to employ 80 people by 2023 and lead to £80 million in R&D investment by 2028.
But the focus is now also expanding from traditional R&D activities. Life Science Scotland outlines current key subsectors as:
Digital healthcare

Animal bioscience, aquaculture & agritech

Regenerative medicine

Industrial biotechnology

Medical technologies

Pharmaceutical Services
So let's now take a closer look at the pharmaceutical and medical technology manufacturing that's happening in Scotland…
Pharmaceutical and Medical Device Companies in Scotland
Charles River (Tranent)
Provides research services for all stages of drug development. With over 750 employees they are one of the largest private-sector employers in East Lothian.
Merck (Irvine & Glasgow)
Merck's facility at Irvine manufactures liquid media, buffers, and reagents used in the biopharmaceutical industry. They currently employ over 170 people with that number growing at a rate of 20% per annum since 2017.
Their Glasgow facility provides clinical manufacturing of intermediates and final products used in viral vaccines and