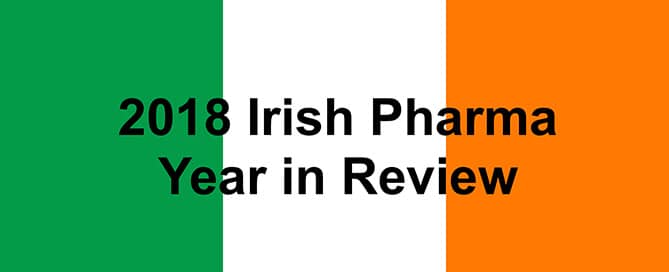 What Was New in 2018?
Several new facilities opened across Ireland in 2018, including…
Agilent
On November 16th, Agilent officially opened its new purpose-built R&D extension within its Little Island, Cork site. This new facility will allow both cell analysis and biosensor development.
The opening also marked the company's integration of the newly acquired biotech start-up Luxcel Biosciences. The company celebrated the day by allowing academic and industry experts to tour the new facility.
Agilent Technologies Ireland Ltd. today held the official opening of a new, purpose-built research and development extension to its Little Island, County Cork facility.https://t.co/VbnZaMoZeZ pic.twitter.com/Ut3lcolbwd

— IDA Ireland (@IDAIRELAND) November 16, 2018
Almac
Early in the year, Almac opened its new cold storage facility at its Craigavon headquarters. The 95,000 sq ft facility has been "purpose built in response to customer requirements", with a focus on meeting the needs of new client product areas, changes to industry regulations and compliance in supply chain data.
This is one of largest such facilities in Europe and brought an estimated 100 new jobs to the area.
BD
BD opened its new R&D site in Limerick in July, after a €21m investment. The site, known as BD's Research Centre Ireland (RCI), brought 100 new jobs to Limerick.
The site was "established to serve as a global R&D hub" and is seen as key to the company's long-term growth plans.
For more information about the site, check out this video from Silicon Republic with R&D site director Kieran O'Gorman…
Gilead Sciences
In May, Gilead opened a €9.5m expansion of its Cork operations. The new quality control lab is expected to lead to increased production serving Europe, Middle East and Africa. The manufacture of 11 new products was moved to the Irish site recently, leading to this increase in demand for quality control testing.
Shire
In November 2017, Shire announced a $400m investment in a new biotech manufacturing facility in Dunboyne, Co Meath. A year later they held an "official site dedication event" to mark the progress on the 120 acre site. The facility is expected to be fully operational by 2020 and bring 400 jobs to the area. Recruitment for some roles has already begun.
Hear from Susan Hynes, Dunboyne Site Lead about the site and the type of candidates they're looking for …
SK Biotech
SK Biotech became the first South Korean pharmaceutical company to invest in Ireland as it officially opened its Swords manufacturing site at the start of 2018. The site will be manufacturing active pharmaceutical ingredients (APIs) on a contract basis. Although the company does intend to bring R&D and additional manufacturing, in the longer term.
West Pharmaceutical Services
West opened its new site in Waterford in July. The facility will serve as a Global Centre of Excellence within the company's manufacturing activities. Initially the plant will employ approximately 100 people but there are already plans to increase this number over the next few years. The site will be producing packaging material for insulin used in pen injectors, as well as finishing for other components.
To find out more about West's decision to invest in Waterford, check out this video from the the initial investment announcement in 2014…
Job Announcements
There were 4,440 pharma and medtech jobs announced in 2018.
Some of the biggest announcements included:
Wasdell Group is opening a new facility in Dundalk that will create 800 new jobs. The facility, which represents a €30m investment, is expected to open in Spring 2019.
Last year, Wasdell Group established a #Pharmaceutical packaging & distribution facility in #Dundalk, creating 300 jobs over 5 years. To learn more about this project see https://t.co/B70r4jmag2 and https://t.co/PgtCj42nzD 🧪👩‍🔬🥼More info on #pharma in #Ireland coming soon… pic.twitter.com/6szhfWoP8L

— IDA Ireland_UK (@IDAIreland_UK) August 29, 2018
Edwards Lifesciences is creating 600 new jobs in Castleroy, Co Limerick. The €80m investment and the site is expected to be completed in 2021.
Abbott is creating 500 new jobs at its site in Donegal. This adds to the 500 people already working at the site, manufacturing blood glucose test strips.
IDA Ireland welcomes today's statement from Abbott in Donegal that it is to expand its existing manufacturing facility which will result in the creation of c.500 new jobs over the next number of years.https://t.co/rQ8gvflp7V

— IDA Ireland (@IDAIRELAND) July 24, 2018
Chanelle Group announced further €86m investment and 350 new jobs at its Galway site over the next 5 years. Construction is expected to begin in 2019.
"I'm as enthusiastic today as I was when I started the company with 2 people in 1985", Michael Burke, MD of Chanelle with An Tánaiste @simoncoveney at yesterday's announcement of our €86 million investment programme, set to create 350 jobs over the next 5 years @mccoy_chanelle pic.twitter.com/KXCSsgifxw

— Chanelle Group (@Chanelle_Group) September 7, 2018
MSD announced 350 new jobs at a new biotech manufacturing facility in Swords, Co Dublin. It also announced 170 new jobs at a new manufacturing plant within its Carlow site.
MSD to construct a second manufacturing facility at its existing site in Carlow – New investment will create 170 new jobs https://t.co/7pP587k10M via @IDAIRELAND

— IDA Ireland (@IDAIRELAND) October 16, 2018
Rockshel Life Sciences announced 200 new jobs in Cashel. The jobs come as the company invest €14m to renovate a former pharmaceutical plant.
*** If you're looking for a new pharma job in 2019 – be sure to check out Ireland's biggest pharmaceutical jobs board (updated every 2 weeks) ***
Investment Announcements
Several companies also announced big investments in their Irish facilities:
AbbVie
Early in the year, AbbVie announced a €113 million expansion of its sterile manufacturing capabilities at its Sligo site. Once complete, the expansion will be used to manufacture cancer drugs. This investment comes on the back of a previous $115m expansion, announced in 2014.
See more about working in AbbVie Sligo in this video…
Edwards Lifesciences
In October, Edwards Lifesciences announced Castleroy, Limerick as the home of its new €80 million Irish facility. Earlier in the year, the company had announced the investment but hadn't yet decided on a specific "mid-west" location.
Edwards Lifesciences Corporation plans to complete a new, purpose-built manufacturing facility in the Mid-West of Ireland in 2020. The company expect it will employ approximately 600 people, & investment in the project is expected to amount to c.€80m https://t.co/vREUVLnjRS

— IDA Ireland (@IDAIRELAND) March 5, 2018
BioMarin
BioMarin announced a €37 million investment in its Shanbally site in September. The Co Cork site was first opened 7 years ago and has been expanding almost continuously ever since. This most recent investment is to develop finish and packaging facilities.
Almac
In January, Almac announced it was investing €34 million in its new Dundalk campus. The site, due to open in January 2019, will include a clinical trial distribution centre, packaging and laboratory facilities.
Takeda
Takeda announced a €25 million investment to build a new regenerative medicine facility in Grange Castle. The expansion of the current site will provide a modular cell therapy facility which will manufacture stem cell therapies.
Takeda to invest €25m and create up to 70 new roles in a new facility at their Grange Castle site in Dublin https://t.co/ebABAHSCvW

— IDA Ireland (@IDAIRELAND) February 28, 2018
Helsinn
In May, Helsinn announced a €6m investment in its Dublin drug product supply centre. The investment will provide additional anti-counterfeiting processes such as adding tamper evidence features and application of unique serial numbers.
*** Remember you can see all the factories in your area on this table that tracks job numbers by company, and also on this interactive factory locator map (best viewed on desktop). ***
Award Winners
Pharma Awards 2018
Winners on the night included:
Chanelle Pharma – Pharma Industry Company of the Year

GetReskilled & DIT – Pharma Education & Training Award
Congratulations to @Chanelle_Group on winning Pharma Industry Company of the Year! #PharmaAwardsIRL pic.twitter.com/su5ot6vfsT

— Pharma Awards (@PharmaAwardsIRL) October 23, 2018
Irish Medtech Excellence Awards 2018
Winners here included:
Merit Medical – Medtech Company of the Year
axial3D – Emergin Medtech Company of the Year
Other awards of note:
And although it's not an award – special mention to Stryker, who celebrated 20 years in Ireland.
Leading medical technology company Stryker celebrates 20 years in Ireland. Over 3000 people are employed across 7 sites – https://t.co/f6hMVp15UK

— IDA Ireland (@IDAIRELAND) September 28, 2018
Looking Forward to 2019
2019 is already looking to be a busy year for many of Ireland's BioPharma/MedTech companies…
The industry in Ireland is expected to keep growing…
It's going to be a busy year – be sure to keep an eye on our monthly news updates to keep up with all the latest developments.
Want to Make 2019 the Year you Start a Career in Pharma or MedTech?
There's never been a better time to consider a change of career into Pharmaceutical or Medical Device manufacturing. The industry's strong and growing, and salaries are extremely competitive.
Check out our eBioPharmaChem programme to give you the industry-specific knowledge you'd need to make that change.
Already in the Industry?