Ireland's BioPharma/MedTech manufacturing industry is extremely strong right now. Arguably, the strongest it has ever been.
All the signs of continued growth are extremely positive, just check out the graph above showing steadily rising job vacancy numbers since 2015.
With the lockdown due to Covid this year, numbers did drop, but they began a bounce back almost immediately.
If you're already working in the industry, there might never be a better time to:
Negotiate a higher salary
Get a promotion
Persuade your company to pay for training
Change companies for a better job with a higher salary
Ireland's Booming BioPharma/MedTech Industry
Not only are there over 69,000 people currently employed directly in BioPharma/MedTech manufacturing in Ireland, it is expected that a further 4,350 new jobs will be created by the end of 2025.
Here's a quick rundown of where the jobs currently are (on the left), as well as where there are already new job announcements (on the right).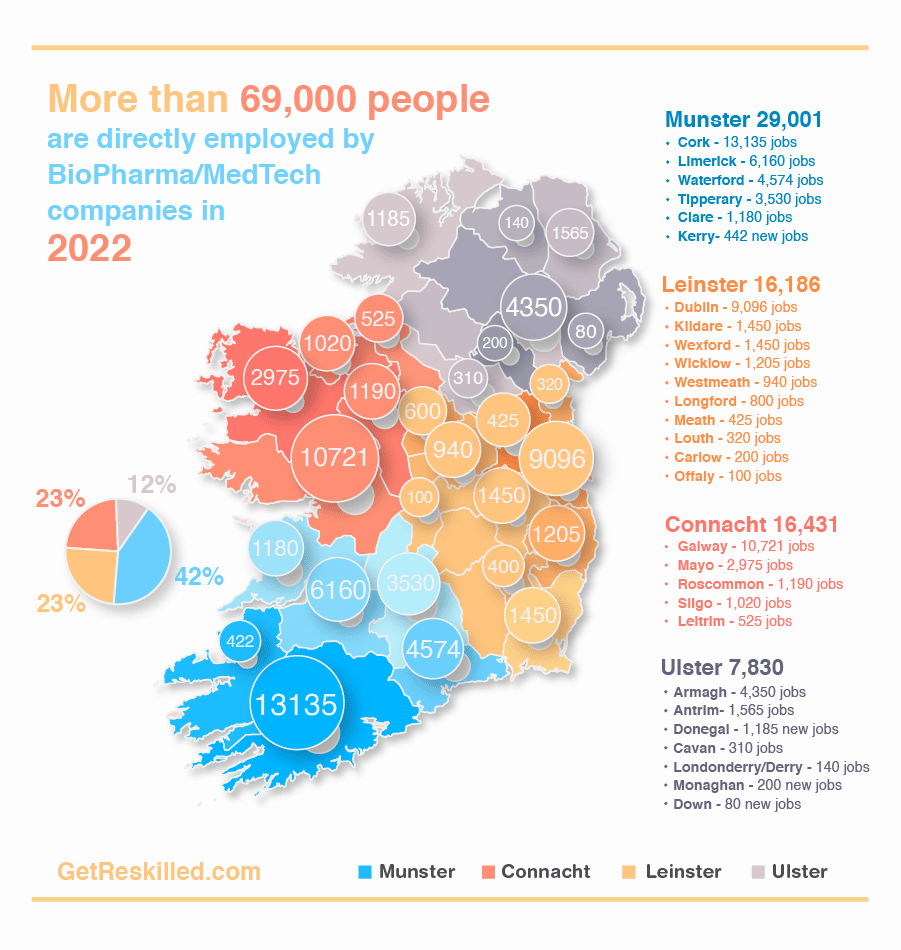 It's fairly obvious that if you're not already in the industry, there's a big opportunity for reskilling and starting a new career. But what about if you're already there? How can you make this current industry situation work best for you and your career?
The answer really depends on how happy you are in your current job. There are typically 3 categories:
You're

unhappy

with your current company

You're not unhappy but could be

open to a great offer

You're

happy

with your current company
No matter which group you fall into, there are things you can do to maximise the effect this industry boom can have on your career.
Before we consider each in turn, there are a few key pieces of advice that are relevant no matter which group you fall into…
Know your options
Whether you're actively looking to move company or not, it's worth knowing what your local industry options are. You can check out our interactive Factory Locator Map to see the locations of Ireland's BioPharma/MedTech factories. You can also take a look at this table to see how many employees there are at each site and what products they're making.
Be clear about your career goals
Where do you want to end up?
What is your dream job within the industry?
Do you know what lies between you and that dream job, and how can you actually get there?
If you're really not sure, revisit the feedback you were given at your last performance review. What were the things you were praised for? Looking at what your line manager sees as your strengths can be a useful place to start.
Keep up with networking
We've written a comprehensive article about the need for industry networking when job hunting but in reality, networking isn't just a task for job seekers. It's something you should be doing regularly.
Many opportunities never make it to a jobs board and employers often look for people within their own network. Make sure you're in a position to hear about opportunities as early as possible. Even if you're not looking to move, having a clear grasp of the industry through networking leaves you in the best position to maximise the career opportunities that come your way.
With that general advice in mind, let's now consider how you can use this current booming industry to your advantage.