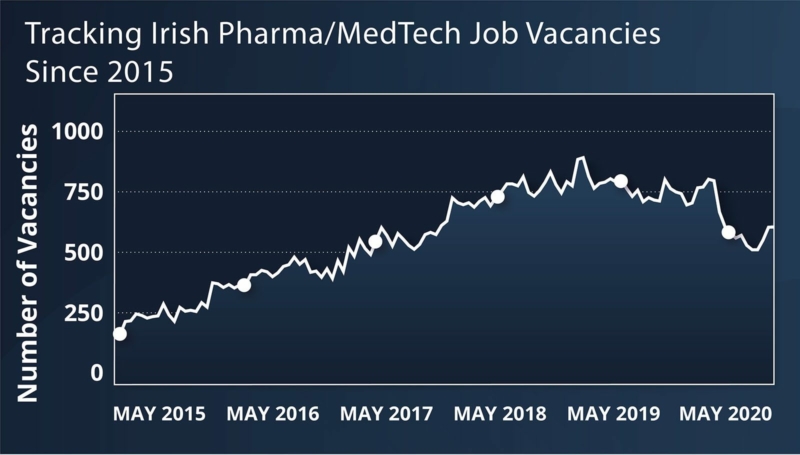 If you've paid any attention to Ireland's pharma/medtech industry recently, you'll know it's booming.
Investment announcements are a regular occurrence and people with completely unrelated backgrounds can now be trained to work in this manufacturing sector (many have even done so for free through the government's Springboard programme).
But how do you actually quantify "booming"?
One measure would certainly be to look at the number of job vacancies posted over time to see if that has changed. And that's exactly what we've done.
Before we go any further in explaining the job vacancy trend, let's take a quick look at where we got our data.
The GetReskilled Jobs Board
Twice every month, GetReskilled checks over 150 company career pages to pull together a jobs board of Ireland's pharma/medtech current job vacancies.
Check out the jobs board here.
This jobs board is now Ireland's largest pharmaceutical jobs board and if you type "pharmaceutical jobs" into Google in Ireland, it's the result at the top of the page.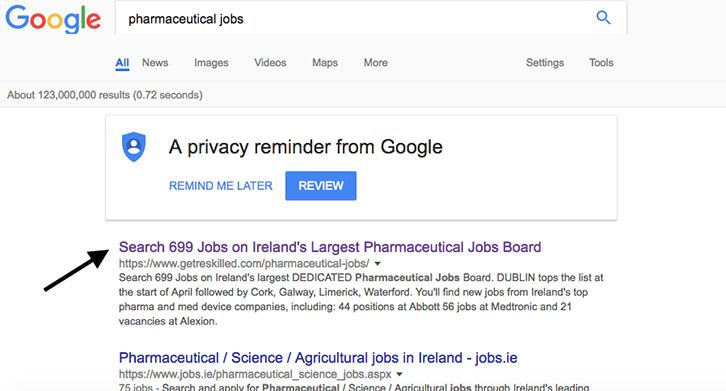 The GetReskilled jobs board is made up of jobs from 6 specific areas of this industry:
And it lists jobs from all Irish counties. (The most "popular" on the jobs board are usually Dublin, Cork, Galway, Limerick, Waterford and Westmeath.)
We've gone back and looked at how many jobs were posted on this board, at every publication since May 2015. And here's what we found…
As you can see from the graph above, the number of jobs has been trending upwards since May 2015.
If you're looking for a bit more detail, here are some key points:
Our graph starts in May, with the number of vacancies below 200

Through the rest of 2015, job vacancies generally remain between 200-300

Vacancy numbers rise at the start of 2016 and continue at the new level – moving beyond 400 in May 2016.

The 500 barrier is first broken in March 2017

In February 2018, we saw the number of vacancies cross 700 for the first time

The 800 barrier, was broken in August 2018 and this continued into the start of 2019

With the Covid lockdown in 2020, numbers did drop but bounced back almost immediately
Of course, there are seasonal changes and some dips here and there but, if we look at the trend in general, it's rising.
The Future?
Obviously we can't say for certain that the trend will continue upwards. What we do know right now is that specialist research on both the biopharmaceutical and medtech sectors predicts more jobs coming to Ireland.
In combination, these sectors are expecting over 5,500 new jobs by the end of 2023.
With that in mind, this trend of increasing vacancy numbers is most likely set to continue.
To track these as they happen, check out our Job Announcement Infographic that gives details of the most recent job announcements across the country
Want a Career in Ireland's Pharma/Medtech?
Take this quiz to see if you're a good fit for the pharma/medtech industries.
Or head to this page and select your work experience background from the list on the left.