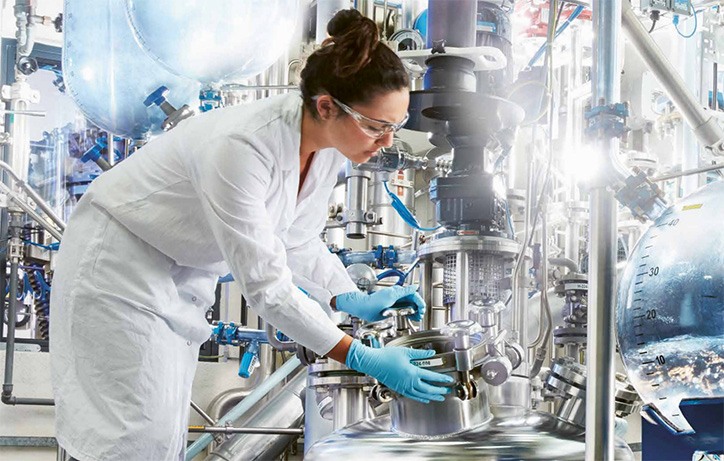 There are a host of reasons why re-skilling into pharma and med device industries is a good idea, today we're giving you our top five. We've got a lot of exciting information to share but if you're just after the headlines, here they are:
Both the pharmaceutical and medical device industries are growing – they have shown stable and continual growth for many years
Ireland's next goal is to be a centre of excellence in innovation in both of these areas
These industries pay well on all rungs of the career ladder – it's never too late in your career to get involved
Even in the face of the global financial downturn, when other industries struggled – pharma and medical devices in Ireland continued to grow and provide stability
With all this growth, the pool of talent is struggling to keep up. The industry has many 'in demand' roles just waiting on someone with relevant skills and experience
So that's the top-line information, let's get into the details…
1. The Pharma and Med Device Industries are growing
Since initial growth in the 1960s, Ireland's pharmaceutical and medical device industries has changed a lot. One thing that hasn't changed, however, is their performance and growth. We've previously told you in detail about the strength of the Irish pharmaceutical industry, but how has that strength actually converted into industry growth? Let's take a quick look;
In 1988, the pharmaceutical industry directly employed 5,200 people; today over 69,000 people are directly employed within the pharma and medical device manufacturing sector with many thousands more employed in roles and supporting and servicing this industry. In recent years, job growth has averaged 2,000 new jobs per year.
€5 billion capital has been invested in the last five years in new biological production capacity in Ireland. In 2003, Ireland was home to two biologics manufacturing sites. In 2022 there are now 16 sites.
At the end of 2021, the industry body, the Irish Medical Device Association, announced that the medical device sector in Ireland had added more than €500 million in investment and financing in the previous 12 months and the results of a sentiment survey of its members showed that more than 74% of medical device companies expect their R&D activities to increase.
Figures from the Central Statistics Office show that exports of medical and pharmaceutical products totalled €62,6 billion in 2021, an increase of €16 billion (34%) from 2018.
At least 4,350 new jobs have been announced to come on stream over 2022, 2023 and 2024
2. Host of new innovations
Ireland's past successes have come not only from the growth of existing opportunities but from embracing new technologies and innovations. Ireland has learned well from these successes and continues to strive to be a centre of excellence for innovation within the sector.
As part of the National Development Plan in 2007, the Irish government gave over €8 billion of funding towards Science, Technology, and Innovation. Some of this funding was used to develop research centres, this investment in research has ensured that Ireland is building its own future in innovation. Examples include the Biomedical Diagnostics Institute which is developing next-generation medical devices and the Shannon Applied Biotechnology Centre which is working with natural resources to develop molecules as targets for drug development.
Moving forward, Enterprise Ireland has outlined the following areas as opportunities for growth over the next five years: value-added generic pharmaceuticals; early-stage pharmaceutical research; contract services for the pharmaceutical industry; gastrointestinal disorders; products bringing together technologies from different platforms in collaborations. This forward-looking strategy has identified areas of high potential and made them a priority in Ireland – working in this way will make sure Ireland stays at the fore.
IMDA (the Irish Medical Devices Association) estimates that over 80% of Irish medical device companies are "innovative active" i.e. currently involved with research and development. This process is increasingly bringing together different sectors (e.g. biotech, devices, software, etc.) to produce truly innovative medical products. With such a selection of interested companies in one area, Ireland is the perfect place for companies to be collaborating in this forward-thinking way.
In 2021, Ireland ranked 19th out of 129 countries on the Global Innovation Index.
Ireland is already a well-respected centre of excellence for manufacturing within these industries, what it is striving for now is to be as well regarded for its efforts in innovation too.
3. It supplies well-paying jobs
As well as there being good growth and a solid focus on innovation – both of which should lead to job creation – the additional good news is that jobs in the pharmaceutical and medical devices sector pay well. The Central Statistics Office reports that people working in the pharmaceutical industry earn approximately 25% more than Ireland's national average and the IPHA (the Irish Pharmaceutical Healthcare Association) suggests that salaries are higher when compared against other manufacturing roles.
Pharmacareers Ireland reports typical production operator/technician salaries of €40,000 – 50,000 for employees with four or more years of experience. For more information about specific job roles, have a look at our page on roles and salaries where we take you through some of the roles the industry has to offer as well as what they typically pay based on experience levels.
And if you'd like to get a sense of salaries in the sector, check out this salary calculator from Morgan McKinley https://www.morganmckinley.com/ie/ireland-salary-guide-calculator
The important thing about the well-paying jobs within this sector is that they are throughout the career ladder – from entry-level positions onwards – so it's never too late to reskill into this area and take advantage of its benefits.
4. It doesn't suffer from cyclical ups and downs
Before committing to a change of career though, it is important to consider the security of your new role. Whilst nothing can ever be guaranteed, what we can tell you is that the medical device and pharmaceutical industries in Ireland have not faced the same historical ups and downs of other industries. We spoke at length before about growth but it's important to note that growth has been sustained over many years – this industry has performed well throughout many dips in other sectors.
Many manufacturing sectors showed a decline after 2002, the pharmaceutical and medical device sectors did not, they have continued to grow year-on-year. There are two main factors at play here: the high level of foreign direct investment which has led to new companies as well as an expansion of established ones; and the amount of final product which is exported – these industries have shown great stability. Even in response to the global economic crisis, these industries have grown year-on-year and even research and development funding has continued to grow, a sign of confidence in the market.
The medical technology industry is of great importance to the economy of Ireland, the country has not been without its financial struggles and the stability of the pharmaceutical and medical device industries has been important in its recovery.
5. It offers rich opportunities for career growth
One of the main draws of Ireland for medical device and pharmaceutical manufacturers is the talent pool that exists in the country. However, with the industry growing at the rate it currently is, the talent pool is becoming increasingly sparse.
In 2016, the body that advises the Irish government on current/future skills needs of the country, the Expert Group on Future Skills Needs (EGFSN), specifically singled out a few job roles where skills were identified as an acute need for the country, these were in the groups of:
Scientists
Engineers
Technicians
Other groups have also reported recruitment troubles in areas including:
Lab technicians
Engineers
Production specialists
Quality specialists
All of these employment areas are expected to remain "in demand" for quite some time – this means it's an excellent time to consider reskilling and getting involved.
Having so many of the world's top medical device and pharmaceutical companies here is a unique offering in career progression – not only do companies of this size often invest significantly in the development and training of staff, often promoting from within, they can offer scope to move to different departments and even different locations with the company. But first, you need to help you start in this industry. To that end check out our own courses.
Updated: March 2022
Interested in a Career in Pharma and Medical Device Manufacturing?