Limerick's Pharmaceutical and Medical Device Industries
Currently, there are over 6,000 people directly employed by Pharmaceutical and Medical Device companies in Limerick. Many more are employed indirectly.
Limerick consistently ranks in the top 3 counties for available Pharmaceutical and Medical Device jobs in Ireland.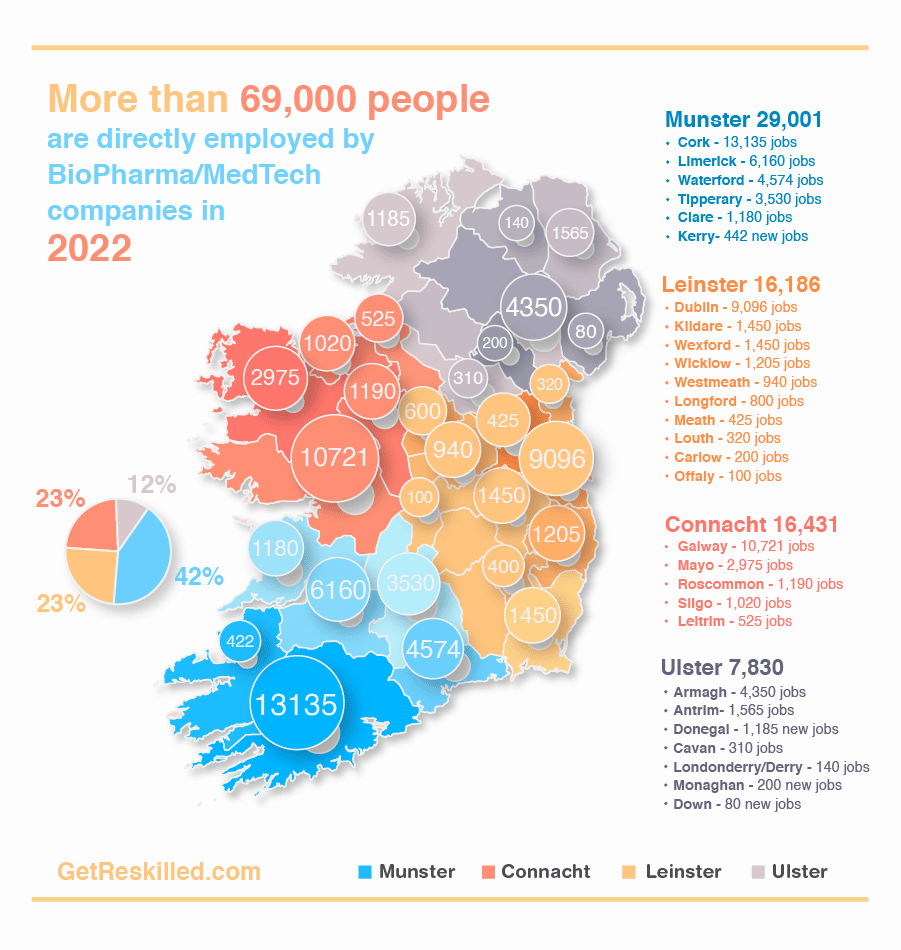 We are continually updating this page and try hard to keep this information as accurate as possible. But if you know of a company we've missed or see data that needs correction, please contact us.
BTW, if you are interested in a career in the Pharmaceutical or Medtech industries or are considering upskilling for a better job or a promotion, check out our range of pharmaceutical industry courses.
Pharma & Medical Device Job Announcements in Limerick
There are also more jobs coming to Limerick…
In 2018, Edwards Lifesciences announced an investment of €80m to build a new manufacturing site in Limerick.
Expected to be fully operational by the end of 2021, the site will "manufacture delivery components for its transcatheter heart valve therapies". At the time of that announcement, it was expected that 600 new jobs would be created.
BUT in April 2019, the company announced they were doubling their investment to €160m, to create a larger plant on the same site. That doubling of investment is now expected to create 1,200 new jobs.
Here's a video from the IDA, taken on the day of the first announcement, that outlines why Limerick was such an attractive opportunity for the company…
Top Medical Device Companies in Limerick
Activities: Medical Devices – Healthcare
Employees in Limerick: 980
Cook Medical manufacture minimally invasive technology – aiming to reduce the need for open surgery.
Cook Medical began its Limerick operations in 1996 and has undergone two significant expansions since then.
At this site, the company focuses on the areas of urology, peripheral vascular interventions, and gastroenterology. In addition to manufacturing, the site also hosts R&D and business development teams.
Cook Medical was the winner of the Irish MedTech Company of the Year and Limerick Chamber's Company of the Year in 2011.
Check out the video below to hear Cook's Bill Doherty talking about why Limerick is such a great place to do business…
Activities: Medical Devices – Contact Lenses
Employees in Limerick: 950
Johnson & Johnson is the 2nd biggest MedTech company in the world (based on 2019 revenue).
Johnson & Johnson Vision Care (previously Vistakon) has had a manufacturing site in Limerick since 1996.
The site operates a largely automated 24/7 production process to produce Acuvue brand contact lenses. There are currently 36 production lines within the Limerick site.
In 2015, the company invested €100m to expand the site.
Then in April 2019, it announced it was extending the site again with another €100m investment. This most recent investment is expected to add 100 new permanent manufacturing jobs.
Watch the video below to see inside the Johnson & Johnson Vision Care plant and hear about the types of staff they employ…
Activities: Medical Devices – Surgical Implants
Employees in Limerick: 770
Stryker is the 10th biggest MedTech company in the world (based on 2019 revenue).
The Limerick site is one of five Stryker facilities across Ireland – four manufacturing sites and their R&D innovation centre. The facility at Limerick currently produces Orthopaedic Knees & Bone Cement.
Check out the video below for a look inside the Stryker Operations & Engineering Building at Limerick…
Activities: Medical Devices – Catheter & Tubing Device Manufacturing
Employees in Limerick: 300
Teleflex manufactures single-use medical devices used primarily in critical care and surgery.
The company has had a presence in Limerick since 1983 and this site specialises in extrusion and medical devices.
Top Pharmaceutical Companies in Limerick
Activities: Pharma – Biopharma Manufacturing
Employees in Limerick: 800
Regeneron's Limerick site is said to be "Ireland's largest bioprocessing campus". Launched in 2014, the Industrial Operations and Product Supply (IOPS) facility is a 37,000 square metre production facility.
The company has already invested in the site twice since then – first in 2015 and then again in 2017. This brought total investment in the site to $750m.
Most recently, in August 2020, Regeneron announced further expansion of the site creating 400 additional jobs.
2020 also saw Regeneron ranked number 6 in Ireland's Best Workplaces.
Activities: Pharma – Infant Nutrition
Employees in Limerick: 600
In 2012, Wyeth Nutrition became part of Nestle.
The company's Limerick site produces a wide range of infant and maternal nutritional products (both powdered and liquid). Total production exceeds 40,000 tonnes per year, much of which is exported to countries outside the EU.
In January 2019, Nestle opened its first Irish R&D centre after a €27m investment within the Limerick site. The work done here will continue to focus on infant nutritional products, employing a further 40 people.
In 2021, the site became the first factory in Ireland to achieve the prestigious Alliance for Water Stewardship (AWS) Standard Platinum Certification, in recognition of its water stewardship initiatives.
Interested in a Pharma Manufacturing Career?
You Might Also Be Interested in:
If you know of a company or group we've missed from this page, or think your company should be displayed here, please contact us.
Claire Wilson
Content Marketing and Career Coaching
Claire runs GetReskilled's Advanced Career Coaching Programme – our specially devised job hunting course that helps our trainees take that final step into employment by leading them through the job hunting process. She is extremely enthusiastic about helping people reach their final goal of employment in their new career path.
Claire has a BSc (Hons) in Medical Biology from Edinburgh University and spent 7 years working in the pharmaceutical and medical device industries.