A Career in Pharma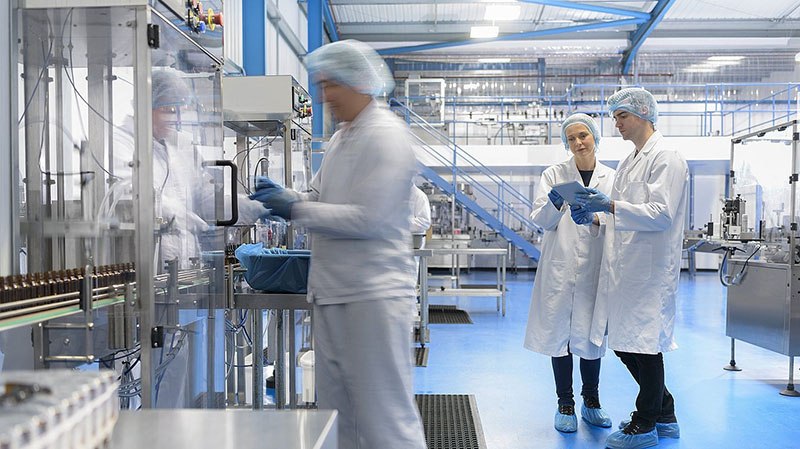 While it's important you understand what the entry-level roles and salaries look like in the Pharma industry, we also think it's important that you can see the longer term career options.
The strength of the industry in both the UK and in Ireland means that there is a large and diverse range of career options open to you once you have some industry experience. And actually, starting that career with an entry-level manufacturing role is a great way to gather "on the floor" experience for a whole range of more senior roles for later in your career.
There are two ways to consider the career opportunities that would be open to you within the Pharma industry:
The options for movement upwards within the production / manufacturing department
The options for movement into other departments within Pharma companies
1. Moving upwards within the Production / Manufacturing Department
There are 2 main groupings of job roles within most departments:
Technical roles – where you're coming into direct contact with the product, the processes, and the equipment that makes it
People management roles – where you're responsible for a team of people in technical roles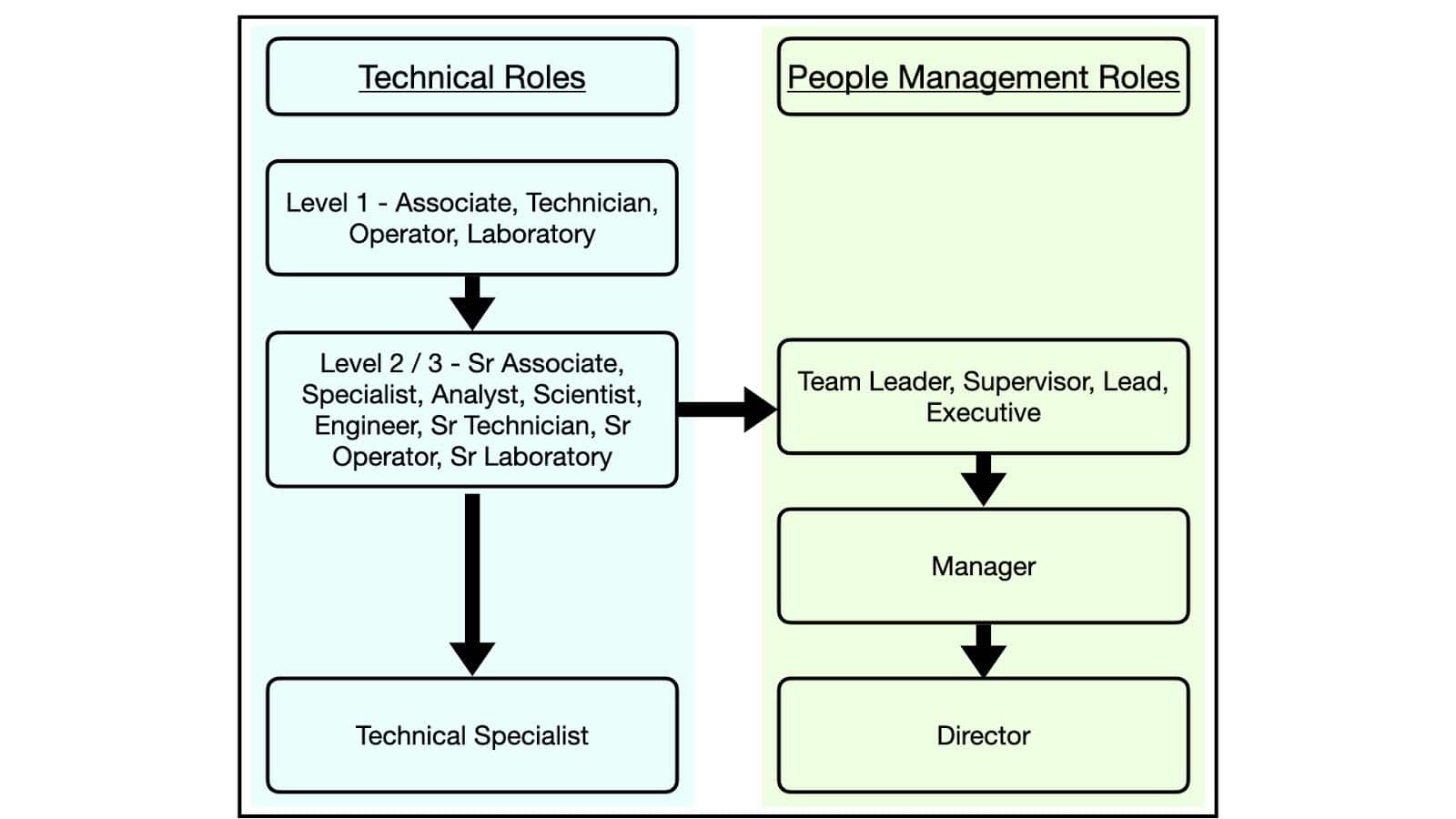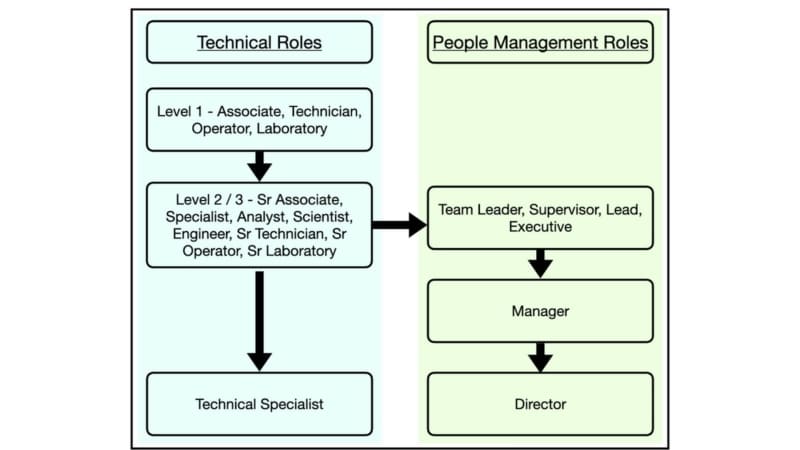 Most people will start within a Level 1 technical role (associate / operator / technician / laboratory) – this is where you would start after successfully completing the Pharma Manufacturing Essentials course.
With time and experience, they'll progress to more senior roles there before deciding whether to continue on that track and become a technical specialist, or to switch to the people management track at the level of team leader or supervisor.
Let's think a little more closely about each of the roles on the diagram above:
Technical Roles
Level 1 – Associate / Technician / Operator / Laboratory
Front line working, ongoing direct contact with the product and processes.
Level 2 / 3 – Senior Associate / Specialist / Analyst / Scientist / Engineer / Senior Technician / Senior Operator / Senior Laboratory
Still front line working, some additional responsibilities, typically acknowledging time spent in a Level 1 role in the department.
Technical Specialist
A very high level technical role for individuals with lots of technical expertise, often brought in to troubleshoot issues or lead the implementation of new ideas.
People Management Roles
Team Leader / Supervisor / Lead / Executive
Moving into people-management, responsibilities for executing team priorities. May still involve some front line work depending on the size of the department and company.
Manager
Unlikely any front line work. Responsibilities might include management of people, budget, schedules, project implementation, etc. Reporting into director level with accountability for success of teams' responsibilities.
Director
Strategic decision making, working at a high level to set and implement company goals within their department. Large degree of accountability for success of teams' responsibilities.
All of these options would be open to you long term in your Pharma career.
2. Moving into other departments within Pharma companies
Alternatively, if you don't see a long term career in production, Pharma companies offer a lot of opportunities for sideways moves into other departments.
Your ability to do this will of course depend on the size of the company and the specific opportunities they have, as well as your willingness to take on additional training that might be required.
But understanding the basics of production (and, essentially, the rules and regulations that govern the industry) is a great starting point for many more specialist roles.
Departments within a typical pharmaceutical company include:
Research – during this stage, experiments are done to find new products or improve existing ones. This looks very different in the different industries. In pharma/biopharma, there's a strong focus on lab-based science roles (filled by candidates with specific experience and advanced degrees). In medical devices, engineering (including design engineering) is dominant.
Clinical Trials – all products undergo strict testing procedures to prove they perform as expected. In pharma, this involves teams of nurses, pharmacists, coordinators, and administrators.
Development – at this point, testing and planning is carried out to establish how products can be made reliably at scale. There are many opportunities for engineering and science roles at this stage.
Validation – this is a specialist department that assesses and documents all parts of the manufacturing process to ensure that products are made consistently and reliably. Work in this department typically requires staff to have a detailed understanding of the manufacturing process as well as the requirements of validation. Depending on the size of the company, and the scale of the validation project, validation professionals might be employed directly by a company, or hired in as a contractor through an engineering consultancy.
Quality – this is another specialist department that sits alongside production, with a couple of notable sub-specialities.

Quality Assurance professionals take a largely preventative role. They create, revise, and implement documentation to ensure that the manufacturing process is operating as it should. Doing so requires detailed knowledge of the manufacturing process and regulatory requirements.
Quality Control professionals sample and test the manufacturing output at several stages, including the finished result. In pharma, Quality Control testing is typically carried out by scientists in a lab setting.

Regulatory Affairs – another highly specialised department, this time dealing with the documentation that is required by regulators. Entry-level roles are not common, and professionals typically end up here after significant experience in other departments.
Operations – this department ensures the functioning of the manufacturing plant and its equipment. There are a range of roles available here from entry-level technical roles, through to specialist engineering opportunities and management.
Sales & Marketing – often based within company head offices and sometimes as a customer-facing sales team, this department advertises and promotes the products in line with all applicable rules and regulations.
You Don't Need to Decide Now
While we think it's important that you have an idea of the career opportunities available within the Pharma industry, the single most important thing right now is that you don't need to make any of those decisions at this point.
For now, all you need to focus on is the Pharma Manufacturing Essentials course and the entry-level jobs you'd be aiming at first. Remembering of course, that a big part of the course is giving you all the job hunting skills and support you need to secure your first industry job.
So don't feel overwhelmed if you're confused by the options laid out above or it all seems a little daunting – that's perfectly understandable.
In fact, as well as the job hunting support you receive as part of the Essentials course, we also run a Career Roadmap module free of charge for our graduates once they're in the industry. This lays out career options and helps them sort out where they're aiming for.
So at every step of the way, we've got you covered and will walk you through the information you need, at the time you need it.
Got More Questions?
Fill in your details below and we'll get back to you within 48 working hours at the latest.