Serving Our Military and Veteran Students
Top 10 Pharmaceutical & Medical Device Industry Hubs in the USA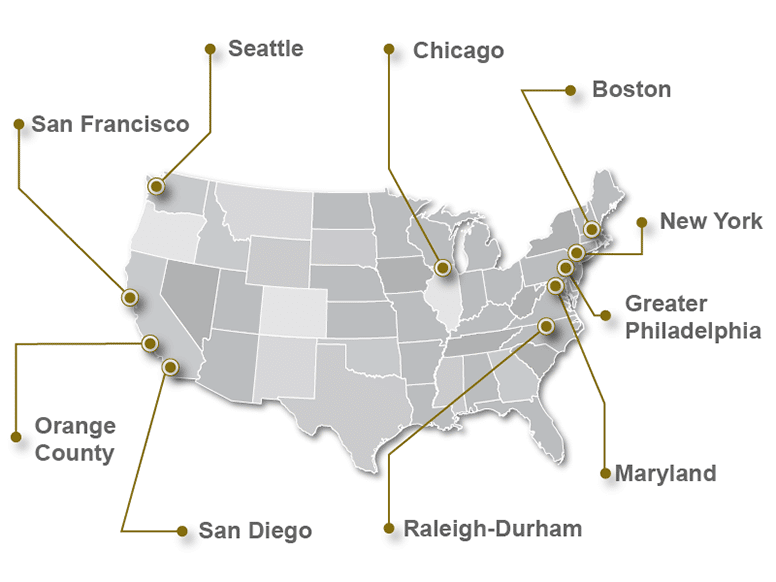 Let's take a closer look at the 10 biggest pharmaceutical and medical device industry hubs in the US and where it would be the easiest for you to find a job.
If you live within a commutable distance of one of these hubs then focusing on a career within these industries is a great idea.
Alternatively, if you think this is the career for you and are flexible about your location, should concentrate your job hunt in these areas.
Let's begin.
10. Chicago, IL
Jobs: 53,054
Industry Overview:

3.0% growth in biopharma manufacturing jobs (2006-2015)
12.9% growth in medical device manufacturing jobs (2006-2015)
Companies include - Abbott, Baxter, Sigma-Aldrich, Takeda

Lab Space (in square feet): 3.5m
NIH Funding 2016/17: $252.5m
Venture Capital Funding 2016: $69m
Patents Awarded (total since 1976): 1,143
9. LA/Orange County, CA
Jobs: 120,688
Industry Overview:

100+ pharmaceutical & biotechnology companies, many are R&D stage start-ups
8.9% growth in CA biopharma manufacturing jobs (2006-2015)
8.0% growth in CA medical device manufacturing jobs (2006-2015)
LA - 20% of CA life science employees; average salary $73,368
OC - 15% of CA life science employees; average salary $94,324
Companies include - Amgen, Astellas

Lab Space (in square feet): 2.0m
NIH Funding 2016/17: $337.4m
Patents Awarded (total since 1976): 1,479
8. Raleigh-Durham, NC (incl. Research Triangle Park)
Jobs: 35,073
Industry Overview:

Biopharmaceutical cluster
500+ pharmaceutical & biotechnology companies across NC
11.7% growth in NC biopharma manufacturing jobs (2006-2015)
Companies include – Biogen, GSK, Merck, Novartis, Pfizer
$1.2bn investment by state over the last decade (e.g. infrastructure, incentives, university facilities etc)

Lab Space (in square feet): 11.1m
NIH Funding 2016/17: $349m
Venture Capital Funding 2016: $211m
Patents Awarded (total since 1976): 928
7. Seattle, WA
Jobs: 24,320
Industry Overview:

55 pharmaceutical & biotechnology companies
Average industry salary of $78,840
Companies include – BMS, Novo Nordisk, Seattle Genetics, Juno Therapeutics

Lab Space (in square feet): 4.6m
NIH Funding 2016/17: $374.4m
Venture Capital Funding 2016: $169m
Patents Awarded (total since 1976): 1,887
6. Greater Philadelphia, PA
Jobs: 53,614
Industry Overview:

700+ life science companies
15 leading pharmaceutical companies (11 are company headquarters)
Average industry salary of $99,226
Companies include – Teva, GSK, Merck, AstraZeneca

Lab Space (in square feet): 6.4m
NIH Funding 2016/17: $389m
Venture Capital Funding 2016: $125m
Patents Awarded (total since 1976): 1,365
5. Maryland / Virginia / DC Metro
Jobs: 39,145
Industry Overview:

Biotechnology and vaccine cluster
Area is also home to the NIH & the FDA
Centrally located – 80% of US pharma industry is within a 2-hour drive
31.4% growth in MD biopharma manufacturing jobs (2006-2015)
Companies include – GSK, Emergent Bio-Sciences

Lab Space (in square feet):9.5M
NIH Funding 2016/17: $420.7m
Venture Capital Funding 2016: $146m
Patents Awarded (total since 1976): 4,108
4. San Diego, CA
Jobs: 63,730
Industry Overview:

Medical device cluster
1,100+ life science companies
13% of CA life science employees; average salary $138,951
8.9% growth in CA biopharma manufacturing jobs (2006-2015)
8.0% growth in CA medical device manufacturing jobs (2006-2015)
Companies include – Illumina, Genentech, Takeda, ThermoFisher, Pfizer

Lab Space (in square feet): 11.9m
NIH Funding 2016/17: $352.9 m
Venture Capital Funding 2016: $650m
Patents Awarded (total since 1976): 4,383
3. New York – New Jersey
Jobs: 127,308
Industry Overview:

3000+ life science companies
13 of top 20 biopharmaceutical companies have headquarters or major facility here
Average industry salary of $89,490
Companies include – Regeneron, Johnson & Johnson, Novartis, Merck

Lab Space (in square feet): 12.7m
NIH Funding 2016/17: $787.3m
Venture Capital Funding 2016: $132m
Patents Awarded (total since 1976): 3,208
2. San Francisco Bay Area, CA
Jobs: 67,738
Industry Overview:

Biotechnology cluster
24% of CA life science employees; average salary $162,226
8.9% growth in CA biopharma manufacturing jobs (2006-2015)
8.0% growth in CA medical device manufacturing jobs (2006-2015)
Companies include – Genentech, BioMarin, Novartis, Bayer, Gilead Sciences

Lab Space (in square feet): 19.3m
NIH Funding 2016/17: $520.6m
Venture Capital Funding 2016: $2,200m
Patents Awarded (total since 1976): 10,312
1. Boston / Cambridge, MA
Jobs: 86,235
Industry Overview:

R&D cluster
33.6% growth in MA biopharma manufacturing jobs (2006-2015)
Predicted 11,600 additional jobs by 2022
Average industry salary $147,423
Companies include – Sanofi, Biogen, Shire, Novartis, Boston Scientific

Lab Space (in square feet): 19.9m
NIH Funding 2016/17: $1,055m
Venture Capital Funding 2016: $3,060m
Patents Awarded (total since 1976): 6,496
Next Steps