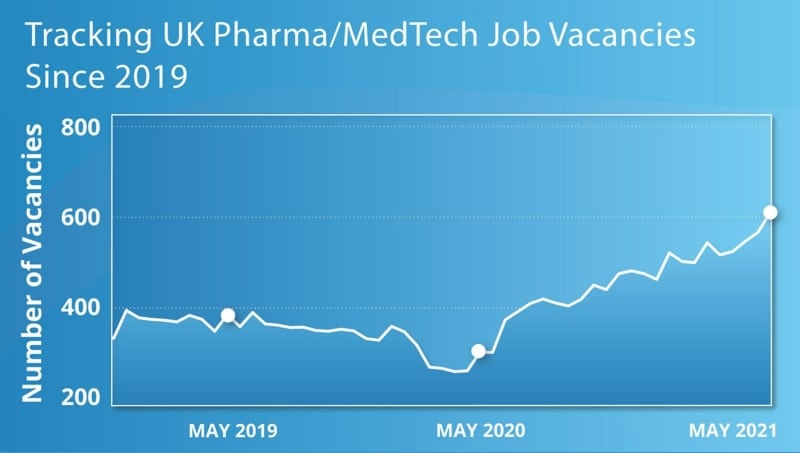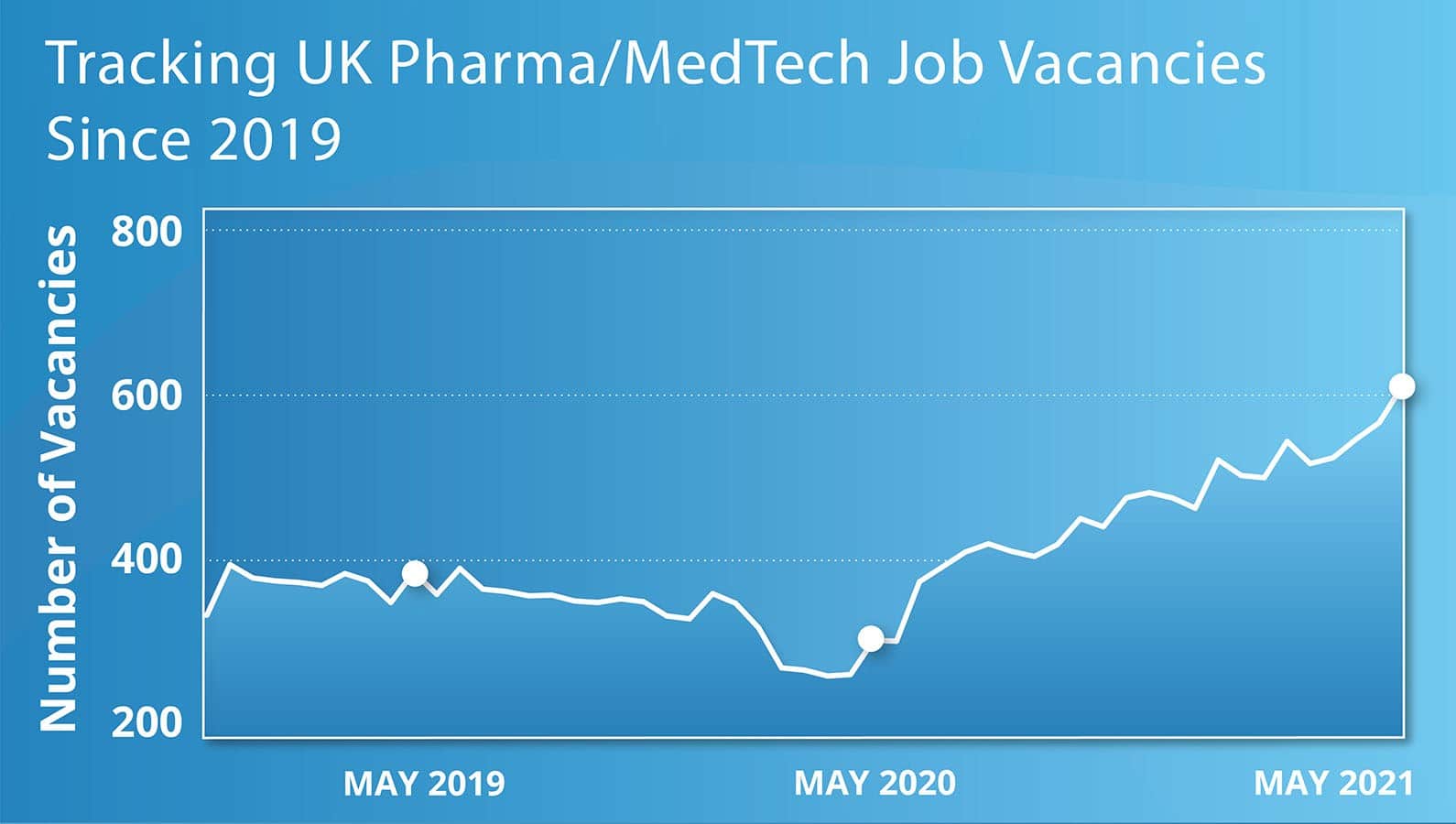 The Life Sciences industries have been an important part of the UK economy for many years.
And while the spotlight is often directed towards R&D activities and clinical trial capabilities, Pharmaceutical and Medical Device manufacturing make up a significant proportion of this sector.
For many years, we've observed Pharma and Med Device manufacturing to be strong industries that provide stable jobs, generally separate from the ups and downs of other industries in times of economic difficulty.
Most recently, during the COVID-19 pandemic which has led to some of the most challenging times many sectors have ever endured, the Pharma and Med Device industries have gone beyond strength and stability – they have provided new jobs opportunities.
But before we get into the details of what we've observed, let's take a closer look at where we get our data…
The GetReskilled UK Jobs Board
The GetReskilled UK Jobs Board is a collated list of vacancies in Pharma and Medical Device manufacturing across the UK.
To compile this jobs board, we check the listed vacancies of over 250 companies and bring relevant manufacturing roles together into this one central list.
As well as providing an extremely valuable immediate resource for anyone currently looking for (or interested in) a new job in Pharma or Med Device manufacturing, we also track the number of vacancies over time to give an ongoing picture of industry recruitment.
The jobs board brings together manufacturing jobs in the categories of:
Engineering
Maintenance
Production / Manufacturing
Quality
Science
Validation
It is also searchable by county.
Key Points From the Data
Looking through our historical data from the jobs board, we can see several interesting points:
From January 2019 to January 2020 we saw a fairly stable job market, with expected seasonal peaks and dips (we say expected, because we observe the same thing in other jobs boards we track).
We see a clear drop in advertised vacancies as the UK begins to feel the impact of COVID-19 through Quarter 1 of 2020, leading to national lockdown in March. We speculate that this significant drop in vacancies was likely as a result of decreased administrative activities and a hesitance to interview candidates in person, rather than an actual drop in manufacturing activities.
Quarter 2 of 2020 saw an immediate recovery of vacancy numbers (likely as a result of easing of national lockdown alongside implementation of adapted procedures such as remote interviewing of candidates) and by the middle of the year, vacancies were at a new high.
The second half of 2020 actually saw jobs board vacancies cross the 400 mark for the first time and they continued to rise through 2021 (crossing the 600 mark for the first time) as we saw the industry react to increased demand for treatments and vaccine manufacture.
Several companies announced expansion of activities and new jobs associated with that, including:

Randox (Antrim) – announced the recruitment of 200 new staff in May, to help support the COVID-19 testing capabilities.
Thermo Fisher Scientific (Perthshire) – began an expansion to ramp up production to support the manufacture of COVID-19 test tubes, with 200 new roles created
Valneva (West Lothian) – announced the creation of 75 new jobs as the site expanded to support COVID-19 vaccine manufacture
The Future
We can't predict the future of the Pharma and Med Device manufacturing industries in the UK – and we won't even try.
All we can say for sure if that in recent years, these industries have provided strong and stable careers for thousands of people across the UK. And in a time of global financial uncertainty, that strength remained.
What we do know is that this sector is a priority area for the UK government and, in November 2020, they announced the new Medicines and Diagnostic Manufacturing Transformation Fund – a £20m fund designed to support the improvement of medicine supply chains within the UK and "create thousands of jobs".
We'd recommend you keep an eye on our UK Job Announcements page for all the latest news of plant expansions and company investments in the UK. As well as, of course, watching the UK Jobs Board for an up to date picture of recruitment across Pharma and Med Device manufacturing in the UK.
Want to Join this Strong and Stable UK industry?