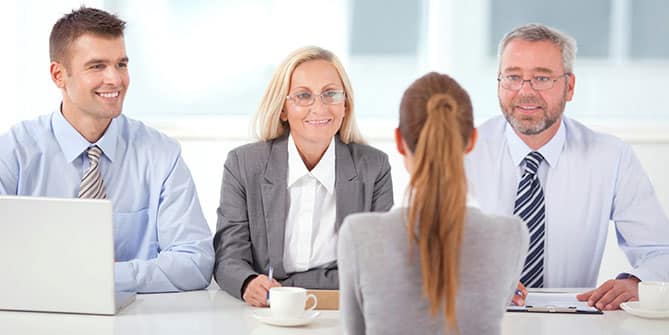 10 Job Interview Mistakes to Avoid for Pharma
So all your hard work has finally paid off and you have a number of job interviews lined up over the next few weeks. However, for some of you it may have been a long time since you last did a formal job interview. So what shouldn't you do? Let us take you through the most common job interview mistakes and our tips for avoiding them.
1. Being Unprepared for Interview Questions
There are many different ways that companies conduct interviews – there are lots of ways they can ask you about your past work experiences and your reasons for wanting their job. Some questions can be a little tricky if you're unprepared – by preempting these difficult questions you can prepare for how you might answer them. This way, your answers will sound more confident. There is a huge amount of material out there on how to best prepare for a job interview.
GetReskilled Top Tips:
Here is one particular link we like but there are many others.
How to answer the 64 toughest interview questions
The key is to read about different types of questions as well as considering specific things you might get asked.
If at any point you are unsure about a question, don't be afraid to ask for some clarification. It's MUCH better to do that before you begin an answer.
One thing you'll almost certainly be asked is if you have any questions of your own, make sure you've thought of a few relevant, insightful questions to create a good impression and show your genuine interest in the role.
2. Dressing Inappropriately
When you interview for a job, it's imperative to look professional and polished. Although your everyday working attire may vary based on the position you're applying for, it's important to look well-dressed and put together for an interview, no matter what the company.
GetReskilled Top Tips:
In the pharmaceutical and medical device industries, always go with professional attire.
3. Arriving Late
Everyone knows that first impressions are very important; make sure you don't make a bad first impression before you even arrive. Running late not only suggests poor time management skills, but it shows a lack of respect for the company, the position and even your interviewer.
GetReskilled Top Tips:
Go the extra length to make sure that you aren't late – in fact, aim to be early. Plan your time so you make it to the interview location about 15 minutes before the scheduled start time. That way, if something unforeseen comes up on your way, you have some time in hand. It's always good to give yourself a little time waiting at the location to calm any nerves and focus your thoughts towards all that preparation you've been doing.
4. Being Distracted
Once you're in that interview room, the only thing you should be thinking about are the questions being asked and your answers. Distractions come in many forms – there are some you can control and some you can't. It is your responsibility to ensure you've dealt with all the ones you can control, both before you enter the room and throughout your time with the interviewer.
GetReskilled Top Tips:
Before you go in, deal with any outside distractions – switch off your mobile phone (or at the very least ensure it's silenced). Once in the room – keep your focus on the interviewer. It can be really easy to anticipate what you think they're going to ask or what you want them to ask and answer that. Really listen to the question; take a second if you need to consider your answer and give it, making sure you address all parts of the question.
If you're finding it difficult to stop you're mind from racing and distracting you, try sitting forward in your chair and employ some good 'active listening' techniques.
If you find that your interviewer is the one who seems distracted or disorganised then it's even more important that you focus on making your 'key facts' heard and remembered.
5. Neglecting to Research the Company
"What do you know about this company?" It's often one of the first questions an interviewer will ask. It's a good way to start, to assess your level of interest in this specific role and it soon sorts out those who want a job from the ones who want this job. Faltering in answering this question is an awful way to start an interview and a terrible first impression to have to try to overcome. Luckily, it's one of the easiest questions to prepare for and you can easily turn it into an excellent opportunity…
GetReskilled Top Tips:
Most companies have a website; most company websites have an 'About us' section. As an absolute minimum you should know the content of that page. You can also look for the company's presence on social media (e.g LinkedIn, Facebook, etc), this will often give you big clues about their current strategies. Also, put the company's name and 'news' into a search engine to see if there's anything current you should know about.
But once you're in the interview, do more than just relay a list of facts back to the interviewer – take the opportunity to shine. When discussing what you've learned, you should tell them why knowing this makes you want to work for them, what makes you a good fit or what can you add to the pursuit of their company goals. You can easily use this question to get an excellent start to your interview, make sure you make the most of it! 
6. Fuzzy Resume Facts
Even if you submitted a resume when you applied for the job, you may also be asked to fill out a job application. Stumbling to remember your own past doesn't make a great impression and may even lead people to wonder how honest you've been. Make sure you know the information you will need to complete an application, including dates of prior employment, graduation dates, and employer contact information.
GetReskilled Top Tips:
It's understandable that some of your older experiences may be hard to recall so review the facts before your going in to your interview. It can be helpful to keep a copy of your resume for yourself to refer to during your interview, just be careful not to use it as a crutch.
Of course, everything written on your resume should be the truth – the more honest you are on your resume, the better you will be able to discuss your past experience during your interview. Areas such as gaps in your career history can be especially tricky, we discuss dealing with these in our Job Hunting Tips page.
7. Being Unprepared for the Process
Every job selection process is different – you can't just assume you'll go for an interview and a few days later hear whether you got the job or not. Companies use all sorts of techniques to ensure they pick the best candidate, if you know the process before you start then you're in a better position to perform well.
GetReskilled Top Tips:
Ask for specific details about this interview – who will you be interviewing with? Is it just one interviewer or may there be more? What is their role within the company? Will there be any tests/assessments within this interview? How long is the interview scheduled to last? 
Also ask about the rest of the process – are they making a selection based on these interviews alone? Is there a second stage of interviewing? Are there tests/assessments to do on a separate occasion?
These are all things you are perfectly entitled to ask and should be – having a clear idea of the process lets you confidently focus best on each task in turn with no surprises. 
8. Talking Too Much
Of course, your interview is a time to talk … appropriately. You may feel like you've got a lot to say and not much time to say it in, but talking too much really can harm your chances. Rambling can make you look disorganised. Keeping talking can make you look like you're not paying attention or not able to respond to social cues. Talking about your personal life can make you look unprofessional. Having said all that, saying too little can be just as damaging as saying too much – it's more about being personally aware than anything else. Here are our tips …
GetReskilled Top Tips:
Listen to each question carefully and consider your answer – it's better to take a second before you answer than start to answer and realise you've misinterpreted the question or not used your best example.
When giving long and detailed answers, be sure to keep looking to your interviewer for clues that they're looking to move on (e.g. Do they keep taking a breath to start to speak? Are they watching a clock?). Don't feel rushed, just be aware when they are trying to move things along.
Don't ever get sidetracked and start talking about your personal life. Your spouse, your home life or your children are not topics you should delve into, no matter how warm and welcoming your interviewer may be.
9. Badmouthing Past Employers
When you're asked hard questions, like "Tell me about a time that you didn't work well with a supervisor. What was the outcome and how would you have changed the outcome?" or "Have you worked with someone you didn't like? If so, how did you handle it?" never fall into the trap of bad mouthing other people. It's sometimes a smaller world than you think, and you just never know who your interviewer might know. You also don't want the interviewer to think that you might speak that way about his or her company if you leave on terms that aren't the best. And, most importantly, it's just not professional. Instead, review how to answer difficult questions.
GetReskilled Top Tips:
You want your interviewer to know that you can work well with other people and handle conflicts in a mature and effective way.
If you have to explain a situation, keep it factual. Keep the explanation as succinct as possible and focus more of your answer on explaining how you went about finding a solution. Keep it positive.
The best advice really is only to speak about people like they are in the room.
10. Sitting back and waiting… indefinitely
Sometimes things really do just take time, especially in recruitment – there are many things that can hold the process up. But if you've had your interview and not heard anything back, you shouldn't just sit back and wait indefinitely. It can be difficult to know what's for the best, you've got to be careful that you don't ruin all your chances by being seen as annoying with continued, unsolicited contact.
GetReskilled Top Tips:
Do try to avoid this headache altogether by agreeing a plan for follow up whilst you're still in the interview – ask when you should expect to hear, suggest that you'll call on a certain day for an update if you've not heard.
If you're still left unsure, whether it's after your initial application or after an interview, have a look at this article for some great advice.
Follow up on your job application
If you've still not managed to land yourself an interview for your dream job, have a look at our up to date vacancies page where you'll find jobs in the pharmaceutical and medical device industries from all across Ireland.
I'm Thinking of a Career in Pharma. What Should I Do Now?
Check out this tool "Is a Pharma Career For Me?" to see how suitable you are for a career in pharma or medical device manufacturing based on your career and educational history.
You might like to check out our post 5 reasons you should re-skill for a more comprehensive look at what the industry offers as a re-skilling option.
And finally, you can Download the Ultimate Guide to Finding a Job in Pharma
FREE 30 Week Conversion Course
Our eBioPharmaChem 30 Week Conversion Course will help you get a start in the industry and is FREE for Unemployed people in Ireland who qualify under the Springboard Scheme.
If you would like more information, contact us for details.
Contact Us
Email: [email protected]
Or call Sinead: +353 (0)21 240 9013